Thanksgiving is a day built on culinary ritual, and we've come up with a dozen different menus to suit every preference.
From a classic Southern spread to a completely vegetarian feast, our Ultimate Thanksgiving Menu has something for everyone. Cook all the recipes from one menu or mix and match to create your own unique Thanksgiving feast.
Key Takeaways:
Explore our Ultimate Thanksgiving Menu for a variety of recipes to suit different dietary preferences and tastes.
Create a personalized Thanksgiving feast by mixing and matching recipes from different menus.
Plan your Thanksgiving menu in advance to ensure a stress-free cooking experience.
Find inspiration for Thanksgiving dessert ideas to add a sweet finale to your meal.
Enjoy the holiday and create cherished memories with your loved ones as you savor the delicious flavors of our Ultimate Thanksgiving Menu.
Also Read:
Ultimate Thanksgiving Menu: A Classic Southern Thanksgiving
Experience the flavors of the South with our Classic Southern Thanksgiving menu. This menu features traditional Thanksgiving dishes that have been cherished in Southern kitchens for generations. From succulent turkey to mouthwatering sides, we've got all the classic recipes that will transport you to a cozy Southern holiday celebration.
Traditional Thanksgiving Dishes
Our Classic Southern Thanksgiving menu includes all the beloved dishes that make this holiday special. Start your meal with a comforting bowl of creamy butternut squash soup, followed by a perfectly roasted turkey seasoned with a blend of aromatic herbs and spices. Serve it alongside homemade cranberry sauce and rich, savory gravy.
No Thanksgiving feast is complete without a medley of delicious sides. Indulge in buttery mashed potatoes, creamy mac and cheese, and green bean casserole topped with crispy fried onions. To add a touch of Southern flair, serve up spicy collard greens simmered to perfection and sweet potato casserole topped with a crunchy pecan streusel.
Side Dishes for Thanksgiving
Looking to elevate your Thanksgiving spread even further? Our Classic Southern Thanksgiving menu offers a variety of delectable sides that will complement your meal beautifully. Serve up fluffy cornbread muffins, buttery corn pudding, and tangy pickled okra for a true taste of the South. Don't forget to add some heat with spicy jalapeno cornbread and homemade pimento cheese spread.
Thanksgiving Cooking Tips
To ensure your Classic Southern Thanksgiving is a success, we've included some helpful cooking tips. When roasting your turkey, make sure to brine it first to lock in the moisture and infuse it with flavor. Basting the turkey throughout the cooking process will also result in a juicy, tender bird. And for those delicious sides, consider preparing some elements in advance to save time on the day of your feast.
With our Classic Southern Thanksgiving menu, you can bring the warmth and flavors of the South to your holiday table. Whether you're a fan of traditional Thanksgiving dishes or want to explore the culinary heritage of the Southern states, this menu is sure to impress your guests and create lasting memories. Get ready to savor the rich, comforting flavors of a Classic Southern Thanksgiving.
An Elegant Thanksgiving Feast
Create an effortlessly elegant Thanksgiving table with our menu filled with impressive dishes that are surprisingly easy to prepare. Start with appetizers and a cool, citrusy punch while you put the final touches on the decadent sides. Cook the turkey to perfection and end the meal with a brown butter walnut pie with sour whipped cream. Our Thanksgiving cooking tips will help you achieve a stress-free and elegant holiday celebration.
Appetizers to Delight Your Guests
Set the tone for your elegant Thanksgiving feast with a selection of delicious appetizers. Impress your guests with a visually stunning charcuterie board featuring an assortment of cured meats, artisanal cheeses, and a variety of pickled vegetables. Serve alongside a homemade cranberry-orange relish for a burst of tangy sweetness.
Add a touch of elegance by offering delicate smoked salmon canapés. Layer thinly sliced smoked salmon on crispy crostini, top with a dollop of cream cheese, and garnish with fresh dill and a squeeze of lemon juice. These bite-sized delights will leave your guests wanting more.
Turkey Tips for a Perfectly Roasted Bird
Cooking the turkey to perfection is a key element of an elegant Thanksgiving feast. Follow these tips to ensure a moist and flavorful bird:
Brine the turkey overnight to enhance its juiciness and flavor. Use a mixture of water, salt, sugar, and aromatic herbs and spices.
Generously season the turkey with a mixture of herbs, spices, and butter before roasting to create a crispy and flavorful skin.
Use a meat thermometer to check the internal temperature of the turkey. It should reach 165°F (74°C) in the thickest part of the thigh.
Remember to let the turkey rest for at least 20 minutes before carving to allow the juices to redistribute and ensure a tender and juicy result.
Decadent Desserts to Indulge In
No elegant Thanksgiving feast is complete without a showstopping dessert. Impress your guests with a rich and indulgent brown butter walnut pie. The nutty flavor of brown butter combined with crunchy walnuts creates a harmonious and delightful dessert. Serve it with a dollop of sour whipped cream for a tangy contrast that balances the sweetness of the pie.
With our menu of elegant Thanksgiving dishes and useful cooking tips, you can effortlessly create a memorable holiday celebration. From stunning appetizers to perfectly roasted turkey and decadent desserts, your guests will be treated to a feast fit for royalty. Embrace the joy of cooking and the spirit of gratitude as you gather around a beautifully set table and enjoy the company of your loved ones.
A Vegetarian Thanksgiving Delight
For those who prefer a vegetarian Thanksgiving, our menu offers a delightful array of meat-free dishes that still capture the essence of the holiday. From hearty main courses to flavorful sides and delectable desserts, we've got you covered with a menu that celebrates the bountiful flavors of the season.
Main Courses
Roasted Vegetable Wellington – A savory pastry filled with a medley of roasted vegetables and a rich mushroom duxelles, this centerpiece is sure to impress. Serve it with a tangy cranberry and orange sauce for added flavor.
Stuffed Acorn Squash – These individual acorn squashes are filled with a delicious mixture of quinoa, cranberries, and pecans, creating a festive and satisfying main dish.
Side Dishes
Wild Rice and Mushroom Pilaf – This earthy and flavorful dish combines nutty wild rice with sautéed mushrooms, onions, and garlic. It's the perfect accompaniment to any Thanksgiving feast.
Roasted Butternut Squash with Maple Glaze – Sweet and savory, this side dish features tender roasted butternut squash drizzled with a sticky maple glaze. It adds a touch of sweetness to balance the other savory flavors on the table.
Desserts
Pumpkin Cheesecake Bars – Creamy and spiced pumpkin cheesecake layered on a buttery graham cracker crust. These bars are the perfect sweet ending to your vegetarian Thanksgiving meal.
Apple Cranberry Crisp – A warm and comforting dessert, this crisp combines tart apples and cranberries with a sweet oat topping. Serve it with a scoop of vanilla ice cream or a dollop of whipped cream for a truly indulgent treat.
| Main Courses | Side Dishes | Desserts |
| --- | --- | --- |
| Roasted Vegetable Wellington | Wild Rice and Mushroom Pilaf | Pumpkin Cheesecake Bars |
| Stuffed Acorn Squash | Roasted Butternut Squash with Maple Glaze | Apple Cranberry Crisp |
With this vegetarian Thanksgiving menu, you can savor the flavors and traditions of the holiday while enjoying a delicious and satisfying meal. Whether you're a vegetarian or simply want to add more plant-based options to your Thanksgiving table, these dishes are sure to please everyone. Plan your menu, gather your loved ones, and celebrate the season with gratitude and good food.
A New England Thanksgiving Tradition
Indulge in a Thanksgiving feast that celebrates the traditional flavors and comforting dishes of New England.
When it comes to creating an authentic New England Thanksgiving spread, classic dishes take center stage. Start by serving a succulent roasted turkey as the centerpiece of your meal. Accompany it with rich and creamy mashed potatoes, tangy cranberry chutney, and a side of steaming hot cider. These iconic New England dishes will transport you to a time-honored Thanksgiving tradition.
"A New England Thanksgiving is all about embracing simplicity and savoring the flavors that have been cherished for generations."
To complete your New England Thanksgiving experience, no dessert is more fitting than a slice of warm and spiced pumpkin pie. The sweet aroma of cinnamon, nutmeg, and cloves will fill the air, inviting your loved ones to gather around the table for a moment of pure delight.
Table: A Taste of New England
| Traditional Dishes | Ingredients |
| --- | --- |
| Roasted Turkey | Turkey, Salt, Pepper, Butter |
| Mashed Potatoes | Potatoes, Butter, Milk, Salt, Pepper |
| Cranberry Chutney | Cranberries, Sugar, Orange Zest |
| Hot Cider | Apple Cider, Cinnamon Sticks |
| Pumpkin Pie | Pie Crust, Pumpkin Puree, Sugar, Eggs, Cinnamon, Nutmeg, Cloves |
Experience the warmth and tradition of a New England Thanksgiving with these mouthwatering dishes.
A Mexican-Inspired Thanksgiving Fiesta
Add some spice to your Thanksgiving table with a Mexican-inspired menu that showcases the vibrant flavors of Mexico. From turkey cooked in mole-like sauce to brussels sprouts with chorizo, this festive menu offers a variety of sweet, spicy, and savory dishes that will please everyone. Don't forget the sauteed potatoes and chiles for an extra kick of flavor.
To start off your Mexican-inspired feast, serve an array of traditional appetizers such as guacamole, salsa, and chips. These flavorful bites will set the tone for the rest of the meal and get your guests excited for what's to come.
For the main course, prepare a turkey with a Mexican twist. Instead of traditional stuffing, stuff the turkey with a mixture of cornbread, chorizo, and spices. Cook it to perfection and serve it alongside a rich and velvety mole sauce, made with chocolate, chilies, and other spices. This combination of flavors will take your Thanksgiving turkey to a whole new level.
To complement the turkey, serve brussels sprouts with chorizo. The smoky and spicy flavors of the chorizo pair perfectly with the roasted brussels sprouts, creating a tantalizing side dish that will have everyone coming back for more. Don't forget to add some sautéed potatoes and chiles for an extra kick of flavor on the side.
"This Mexican-inspired Thanksgiving menu is a delicious twist on traditional holiday flavors. The combination of spices, chilies, and bold ingredients will bring a new level of excitement to your Thanksgiving feast."
| Menu | Recipes |
| --- | --- |
| Turkey with Mole Sauce | Recipe Link |
| Brussels Sprouts with Chorizo | Recipe Link |
| Sautéed Potatoes and Chiles | Recipe Link |
Finish off your Mexican-inspired Thanksgiving fiesta with a dessert that adds a touch of sweetness to the meal. Opt for a caramel flan or a Mexican chocolate tart to satisfy everyone's sweet tooth. These indulgent treats will leave your guests craving more and complete the meal on a high note.
With a Mexican-inspired Thanksgiving menu, you can infuse your holiday celebration with vibrant flavors and create a memorable feast that will have your guests raving. So, why not add some spice to your Thanksgiving table this year and embark on a culinary journey to Mexico?
Effortless Thanksgiving with Quick and Easy Recipes
Preparing a delicious Thanksgiving feast doesn't have to be a time-consuming endeavor. With our quick and easy recipes, you can spend less time in the kitchen and more time enjoying the holiday with your loved ones. These recipes are designed to be simple, yet full of flavor, and will impress your guests without all the hassle.
Start off your Thanksgiving meal with a roasted turkey over root vegetables. This one-pan dish is a time-saver, as the turkey and vegetables cook together, infusing the meat with delicious flavors. Serve it with a side of cranberry sauce and mashed potatoes for a classic Thanksgiving combination.
For a refreshing twist, try our raw brussels sprouts and kale salad. This vibrant dish is packed with nutrients and can be prepared ahead of time. Toss the vegetables with a tangy vinaigrette and top with toasted almonds for added crunch.
No Thanksgiving meal is complete without delectable side dishes. Consider adding a creamy corn casserole or a green bean casserole with crispy onions to your menu. These crowd-pleasing dishes can be made in advance and baked just before serving.
| Recipe | Preparation Time | Cooking Time |
| --- | --- | --- |
| Roasted Turkey over Root Vegetables | 10 minutes | 2 hours |
| Raw Brussels Sprouts and Kale Salad | 15 minutes | N/A |
| Creamy Corn Casserole | 5 minutes | 45 minutes |
| Green Bean Casserole with Crispy Onions | 10 minutes | 30 minutes |
With these quick and easy recipes, you can create a Thanksgiving feast that is both effortless and impressive. So, relax, enjoy the company of your loved ones, and savor the flavors of the holiday season.
Tips for Planning the Perfect Thanksgiving Menu
Planning the perfect Thanksgiving menu requires careful consideration and thoughtful preparation. By taking the time to plan ahead and consider the preferences and dietary restrictions of your guests, you can create a memorable and enjoyable holiday meal. Here are some tips to help you get started:
1. Start Early and Explore New Recipes
Begin planning your Thanksgiving menu well in advance to allow for time to research and try out new recipes. Browse cookbooks, food blogs, and online recipe databases to find inspiration that fits your desired theme or style. Don't be afraid to experiment with unique flavors and combinations to create a menu that stands out.
2. Consider Dietary Restrictions and Preferences
When planning your menu, be mindful of any dietary restrictions or preferences that your guests may have. Whether it's vegetarian, gluten-free, or dairy-free options, make sure to include a variety of dishes that cater to different needs. This will ensure that everyone can enjoy a delicious Thanksgiving meal without feeling left out.
3. Create a Cooking Timeline and Delegate Tasks
To avoid getting overwhelmed on the day of the event, create a cooking timeline that outlines when each dish needs to be prepped and cooked. This will help you stay organized and ensure that everything is ready to be served at the right time. Additionally, don't hesitate to delegate tasks to family members or friends who are willing to help. Not only will this alleviate some of the stress, but it will also give others a chance to contribute and feel involved in the celebration.
By following these tips for planning the perfect Thanksgiving menu, you can create a memorable and delicious feast that will impress your guests and make the holiday truly special. Remember to enjoy the process and embrace the spirit of gratitude as you celebrate with your loved ones.
Table: Essential Ingredients for the Perfect Thanksgiving Menu
| Dish | Ingredient |
| --- | --- |
| Roast Turkey | Fresh or frozen turkey, butter, herbs, salt, and pepper |
| Mashed Potatoes | Potatoes, milk or cream, butter, salt, and pepper |
| Stuffing | Bread, onion, celery, chicken or vegetable broth, herbs, salt, and pepper |
| Cranberry Sauce | Fresh cranberries, sugar, water, orange zest (optional) |
| Green Bean Casserole | Green beans, cream of mushroom soup, fried onions |
| Pumpkin Pie | Pumpkin puree, condensed milk, eggs, sugar, spices |
Conclusion
As you prepare for the upcoming Thanksgiving holiday, let our Ultimate Thanksgiving Menu be your guide to creating a memorable and delicious feast. With a variety of menus to choose from, including classics like the Southern spread and the New England tradition, as well as vegetarian and Mexican-inspired options, there is something to satisfy every palate.
But planning a Thanksgiving menu is not just about the recipes; it's also about the careful planning and execution. Our Thanksgiving menu planning tips will help you organize your menu, consider dietary restrictions, and create a cooking timeline, ensuring a stress-free and enjoyable day for you and your loved ones.
And when it comes to cooking, our Thanksgiving cooking tips will provide you with the knowledge and techniques to achieve culinary perfection. From roasting the turkey to preparing tantalizing side dishes, you'll be equipped with the skills to impress your guests and create a meal to remember.
So, as the holiday approaches, let the spirit of gratitude guide your planning, cooking, and celebration. With our Ultimate Thanksgiving Menu and helpful tips, you can savor the holiday, create cherished memories, and enjoy a delicious feast with your loved ones. Happy Thanksgiving!
Source Links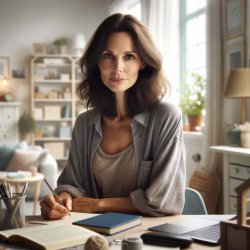 Latest posts by Samantha Clarke
(see all)