Christmas cookie season is here!
Baking Christmas cookies is my favourite holiday tradition to share with family and friends. 
Whether you need inspiration for cookie plates, homemade gifts for teachers and neighbours, or holiday desserts, these Christmas cookies are perfect for all seasons.
Whether you're still learning the basics of how to make cookies or want to use pro tips you've mastered over the years, there's no better time to bake from scratch than in holidays.
I have rounded up 30 of my favourite Christmas cookies recipes, so that you can find the perfect treats for your cookie plate.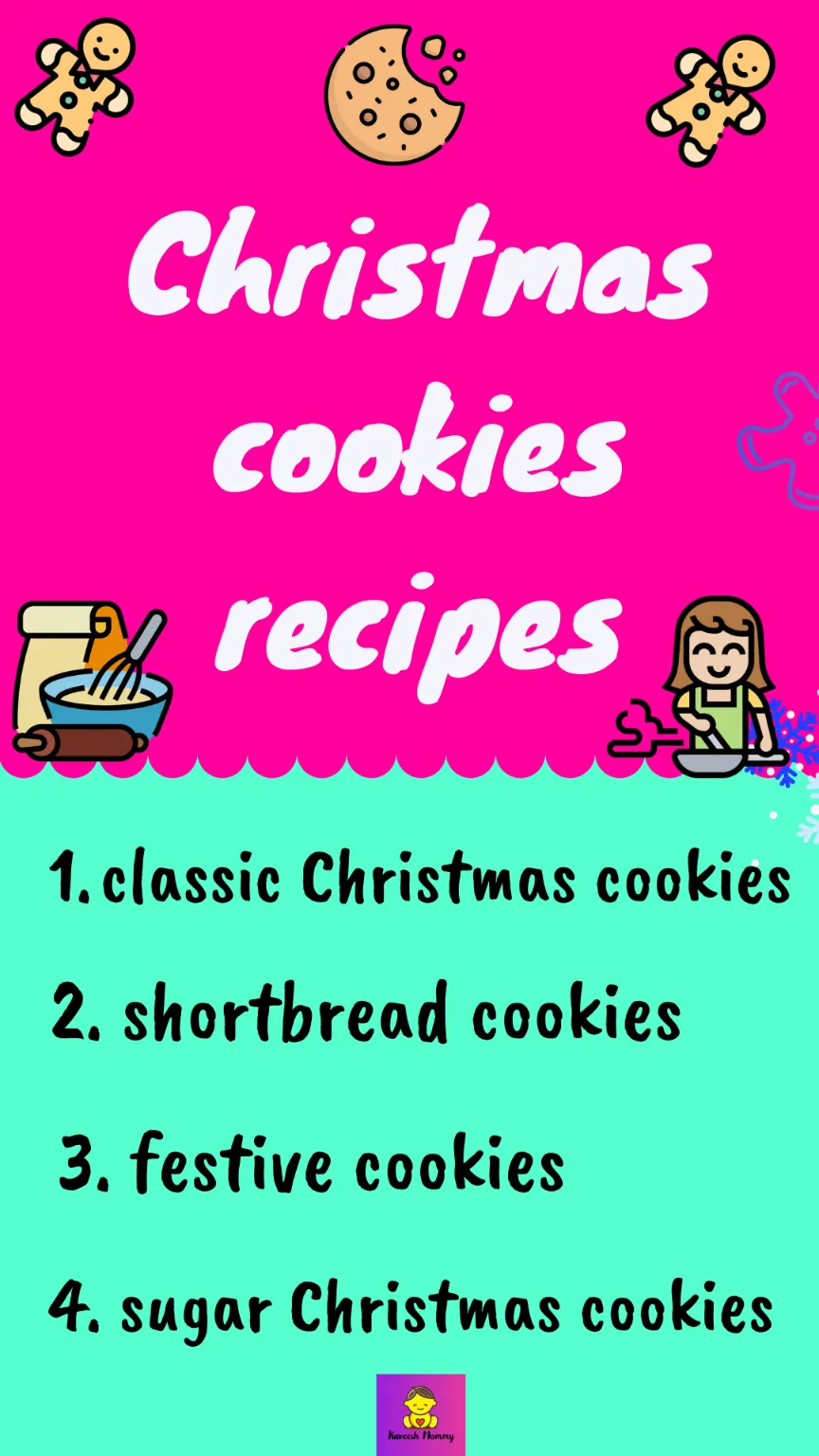 Here you will read: Christmas cookies recipes, recipes for, best Christmas cookies, sugar Christmas cookies, classic Christmas cookies, shortbread cookies, festive cookies and more
CLASSIC CHRISTMAS COOKIES
One of my favourite holiday traditions is to make and decorate these Christmas sugar cookies with royal icing for all my family and friends.
Linzer Cookies
I made this Linzer Cookies recipe with your choice of jam sandwiched between simple almond-flavoured shortbread cookies. Easy to make and fun to customize with different shapes and flavours of jam!
Soft and Chewy Ginger Cookies
These Soft and Chewy Ginger Cookies melt have a melt in your mouth texture, while rolling them in sugar prior to baking gives them their specialty sparkle.
Soft and Chewy Ginger Cookies Recipe
Gingerbread Cookies
Gingerbread cookies are the essence of the holidays and are deeply flavored with spices and molasses. Decorate with royal icing and enjoy them for dessert or on your Christmas tree!
Fudgy Chocolate Crinkle Cookies
Best Fudgy Chocolate Crinkle Cookies have an irresistible brownie textured centre, with a crunch of cookie on the outside! One of our favourite Christmas cookies right here!
Fudgy Chocolate Crinkle Cookies Recipe
These Buttery Pecan Snowball Cookies are easy, quick to fix, delicious, and they freeze well. You may even have the ingredients in your house right now. Also known as Russian Tea Cakes and Mexican Wedding Cookies but in our house we just call them Snowballs They are the delectable cookie with a thousand names.
SHORTBREAD COOKIES
Christmas Shortbread Cookie Bites
These tiny little shortbread cookies have quickly become a favorite cookie recipe around here! My whole is crazy about these cookies.
They're easy to make, they only require a few basic ingredients, and they are just addictively delicious. Oh yes and I love that they are perfectly pop-able.
Christmas Shortbread Cookie Bites Recipe  
Cranberry Orange Shortbread Cookies
Cranberry Orange Shortbread Cookies might just be the perfect little slice and bake cookies for the holidays, I'll be making them right through to when I snag that last bag of fresh cranberries of the season (always a sad moment!).
Cranberry Orange Shortbread Cookies Recipe
Cut Out Shortbread Cookies
I found this recipe in a magazine over 30 years ago and have made the cutouts for Christmas ever since. Four ingredients make them an oh-so-simple recipe to whip up during the hectic holidays.
Cut Out Shortbread Cookies Recipe
Chocolate-Dipped Shortbread Cookies
Old-fashioned shortbread cookies are rich, crumbly, buttery, and made with only three ingredients—flour, butter, and sugar. Many flavours can be added such as cinnamon, chocolate, or coffee, but today we're going for the classic and using vanilla extract.
Chocolate-Dipped Shortbread Cookies Recipe
FESTIVE COOKIES
Peppermint Snowball Cookies
The holidays don't begin around our house until a batch of these cookies is baking in the oven. Their wonderful aroma scrumptiously says, "Christmas!"
Peppermint Snowball Cookies Recipe
Stained Glass Window Cookies
Stained Glass Cookies are sure to impress people of all ages! These crisp buttery cookies are cut into festive shapes and filled with hard candies, then they're baked and the candy melts into an even layer for a beautiful stained-glass effect.
Stained Glass Window Cookies Recipe
M&M Christmas Cookies
Thick and chewy M&M Christmas cookies with crispy edges, a soft center and bursting with chocolate flavor. These are the ultimate cookie recipe to make this holiday season! 
Gingerbread Biscotti
These spicy Italian cookies are the perfect accompaniment for cocoa or coffee during the holiday season! Serve with lemon curd or drizzle with lemon flavored almond bark for a special treat.
These M&M cookie bars are gooey, soft and loaded with M&M's and chocolate chips. So easy to make and perfect for a cookie exchange or holiday party!
Looking for a perfect Christmas dessert? Then check out these different cookies for family and friend.
This is the BEST recipe for gingerbread cookies I have ever tasted. It looks complicated, but isn't. I have used this recipe for many years and always get compliments on it.
OLD-FASHIONED GINGER SPICE COOKIES
Old fashioned Ginger Cookies, are the perfect cookies to bake to go around the neighbourhood during the holiday season. The spices in the cookies fill the whole house with a wonderful aroma.
OLD-FASHIONED GINGER SPICE COOKIES Recipe
HOLIDAY BUTTER COOKIES
These buttery sugar cookies roll out nicely, and have a beautifully tender/crisp texture. They're perfect for any kind of cut out cookies, so don't relegate this recipe strictly to Christmas!
PECAN SHORTBREAD COOKIES
These pecan shortbread cookies combine butter, brown sugar, cinnamon, vanilla, and pecans to make one extraordinarily flavourful cookie. Made in 1 bowl without eggs or leavening, this shortbread is soft yet dense with crisp crumbly edges. We'll use the simple slice and bake method, which helps guarantee thick cookies. No rolling pin required!
PECAN SHORTBREAD COOKIES Recipe
CHOCOLATE CHIP COOKIES
These are THE BEST soft chocolate chip cookies! No chilling required. Just ultra-thick, soft, classic chocolate chip cookies!
Sugar Cookie Trees
These Sugar Cookie Christmas Trees are soft and chewy sugar cookies stacked with green vanilla buttercream and decorated like Christmas trees! They are so festive and a fun treat for the holidays!
Basic Sugar Cookies
I think this is the best sugar cookie recipe as it is the kind of sugar cookie recipe that grandma and great-grandmother can recognize. Baking sugar cookies from scratch is, after all, an old-fashioned tradition! With a delicate, short texture that comes from a good butter base.
Flourless Chocolate-Walnut Cookies
Baking gluten-free can be challenging, so Flourless Chocolate Walnut Cookies make for a yummy cookie treat. Perfect for Passover!
These cookies don't need flour to be delicious. They're deeply chocolatey—thanks to cocoa powder and dark chocolate chips—and perfectly balanced with a pinch of flaky salt.
Flourless Chocolate-Walnut Cookies Recipe
Choco-Dipped Trees
These Christmas Tree Chocolate Dipped Cookies are easy to make ahead and bring to a holiday party or just enjoy at home.
Your family and friends will love to receive these Christmas tree cookies as handmade Christmas gifts – that's if you can bear to give them away in the first place!
Christmas Spritz Cookies
Spritz cookies are crisp, sweet and buttery. They have similarities to both crispy sugar cookies and shortbread. The dough is not refrigerated, and rather than being rolled out and stamped with cookie cutters, it goes through a cookie press to create uniform, sometimes intricate, shapes.
Christmas Spritz Cookie Recipe
Old-School Peanut Butter Cookie Sandwiches
Mumm! Peanut butter cookies are doubly good when you sandwich two cookies with chocolate frosting.
Old-School Peanut Butter Cookie Sandwiches Recipe
Sprinkle "Donuts"
Cheerful baked donuts with colourful sprinkles. These sprinkled donuts are a great snack, perfect for breakfast or dessert!
FAQ
 YouGov
poll has revealed the best Christmas cookie by asking 1,314 Americans 
Popular Christmas cookies.
 1. chocolate chip
2. sugar cookies
3. Fudge
4. brownie cookies or brookies
5. double chocolate cookiesM&M cookies
6. shortbread cookies
7. gingerbread cookies
8. snickerdoodles
9. gingersnaps
What are Christmas Flavours?
There are certain smells and tastes of attractions that will make you think of the holiday season, regardless of age. Here we take a closer look at the Christmas Flavours, some of them, and how you can use them for the holiday season. Read more

1.  Candy Canes
The candies were all white when they first arrived in America in the late 1800s, but the mint flavor and red stripes we know quickly became the norm. Besides the unprovable urban and folklore and theories, we know that their modern production is linked to religion: the Keller machine, a device invented for automation. candy cane folding process, created by a Catholic priest.

2. Cinnamon
Some of our favourite seasonal treats get their distinct flavor and aromas from cinnamon, such as Snickerdoodle cookies, baked apples, and warm cider (we additionally can`t neglect about the ones selfmade embellishes which can be as smooth as they're amusing for children to make, aleven though they in all likelihood should not devour them). Cinnamon's historic history may be traced returned to the Egyptians, however it made its manner to Europe in time to emerge as a warm commodity for the duration of the Middle Ages.

3.  Cranberry Sauce
Despite being voted America's least popular Thanksgiving dish,  cranberry sauces will likely continue to be popular throughout the holidays, whether it's made from scratch or canned. While not everyone enjoys their tangy taste, cranberries, even in jelly, are one of the most authentic flavors to your holiday party.

4.  Eggnog
Those who refuse to drink it have good reason to think that eggs aren't the best of the holiday flavors on this list. However, most Eggnog recipes call for a delicious combination of cream, milk, nutmeg, and sugar with egg yolks. Store-bought varieties may contain thickeners, preservatives, and other ingredients, but they are rarely accompanied by alcohol.

5.  Gingerbread
Like many foods that have become traditional in the United States, gingerbread made its debut in Europe.

6.  Pumpkin Pie
The spices included in pumpkin pie – usually cinnamon, cloves, ginger, nutmeg, and sometimes allspice – are often sold together as "pumpkin pie spice," which you can, of course, use to make pumpkin spice lattes at home.

7. Roasted Chestnuts
Most people compare the taste of chestnuts to the taste of potatoes. So if it doesn't sound appetizing, those holiday flavors may be a thing of the past.

This Christmas Cookie List has everything you need to make the best cookies this holiday season. Scroll below all the links for my tips and tricks for successful Christmas cookie making and gifting!
Read more
.
These Are the Most Popular Christmas Cookies in Every State1. Peanut Butter Blossoms
According to data from General Mills, Peanut Butter Blossoms are the most popular Christmas cookies in the United States. And The most popular cookie recipe in seven states, that makes most popular cookie in the United States.
2. Sugar Cookie M&M's Bars
beloved in five states.
3. Sugar Cookie Cut-outs
baked often in four states.
4. Easy Italian Christmas Cookies
adored in four states.
5. Buckeye Delights
Some states have particular preferences for their cookies. Ohio, for example, was the only state to call Buckeye Delights its number-one cookie.
6. Black and white cookie
New York was the only big fan of Black and white cookie.
According to
Huffington Post
, America's top 10 favourite cookies are:
1. Chocolate chip cookie
2. Brownie (a brownie is classified as a bar cookie)
3. Peanut butter cookie
4. Oreo
5. Oatmeal raisin cookie
6. White chocolate macadamia cookie
7. Sugar cookie 8. Shortbread
8. Butter cookie
9. M&M cookie
Let's take a look at these delicious cookie's recipes. Read more.

1.  Chocolate Chip Cookies
2.  Peanut Butter Cookies
3.  Oatmeal Raisin Cookies
4.  Peanut Butter Blossoms
5.  Sugar Cookies
6.  Classic No-Bake Cookies
7.  Molasses Cookies
8.  Macaroons
9.  Lemon Cookies
10. Cookie Cake
Latest posts by Nancy Williams
(see all)