Finding the right words can be difficult, but don't give up! To help you, we've rounded up some of the best Christmas Quotes and wishes to write on your Christmas greeting cards, from funny and romantic messages to classic Christmas sayings. And whether you're sending it to your family, friends, or co-workers, keeping it short and simple:
These Christmas quotes can even decorate the inside or outside of your letters. (Check out our Christmas Bible verses, religious Christmas quotes, and Santa quotes for more inspiration!) If you're in the market for something a little shorter or more casual—say, a Christmas caption for Instagram, or just something to say to your friends when you exchange gifts with them.
LOVE WATCHING QUOTE VIDEOS?
Then check out these best Quotes for Father, Mother, Baby, Kids, Uncle and Family videos and other quote videos on our "Kaveesh Mommy" 
YouTube channel! you will also find Quotes Videos
What can I write on a Christmas card?
Nowadays, it's easy to upload family photos and add names, and the Christmas card is complete. But the extra step of writing your merry Christmas wishes for friends and loved ones makes all the difference. You can still include pictures of your lovely family, but be sure to add a few Christmas massages as well.
Christmas quotes for cards
Feeling incredibly blessed to have you in my life this holiday season. Wishing all the best for you and yours.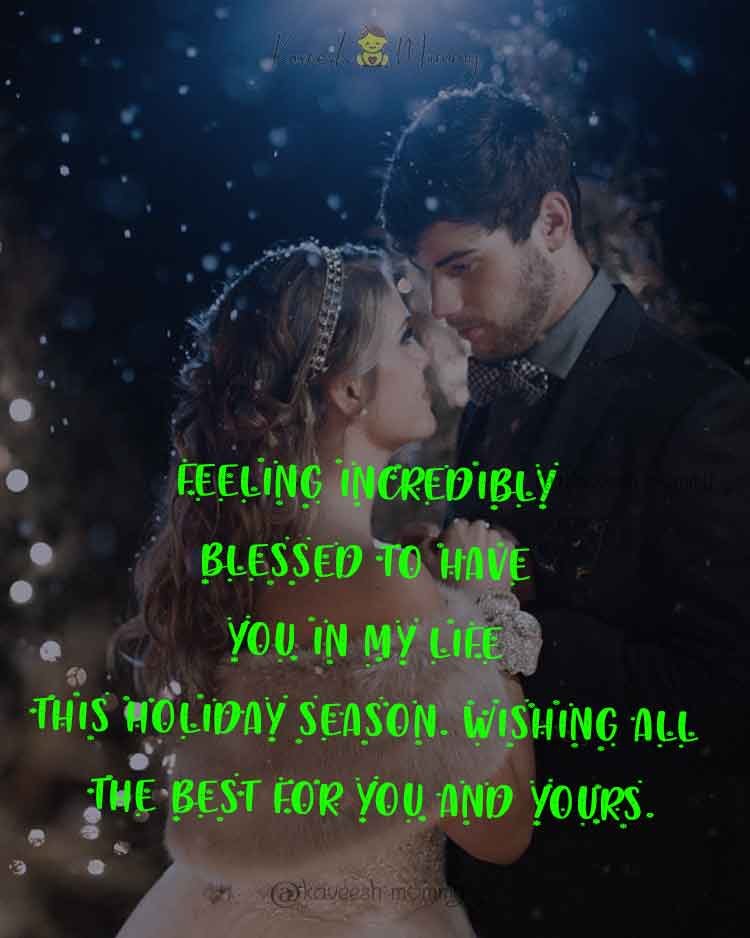 "May this season find you among those you love, sharing in the twin glories of generosity and gratitude."
So lucky to be spending another Christmas with you.
Holidays like Christmas remind me what I'm grateful for: you.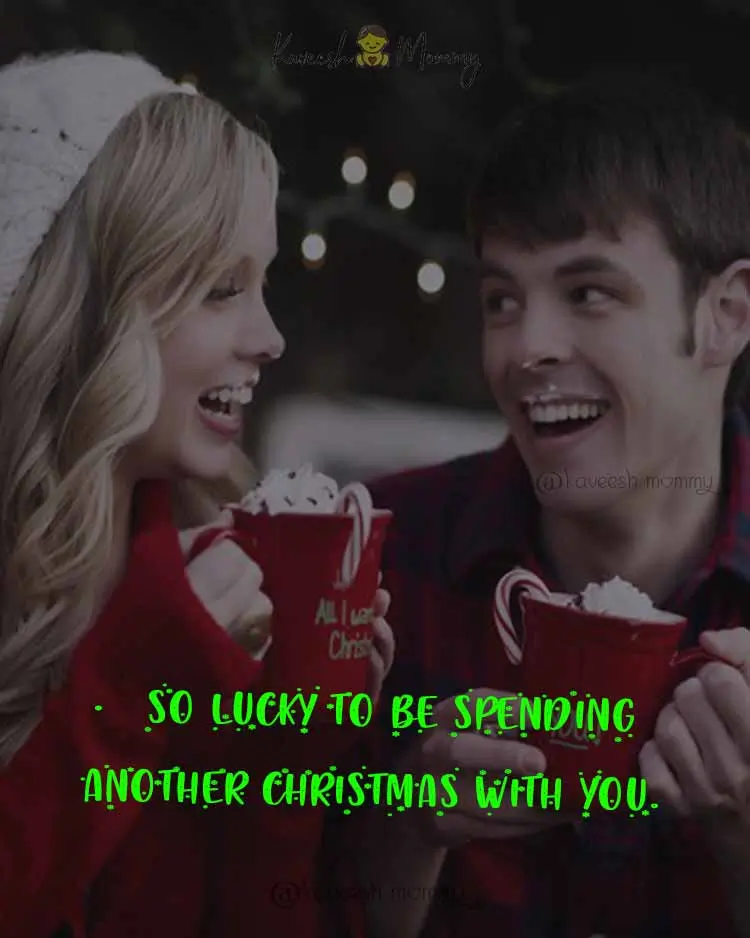 "Christmas is not an external event at all, but a piece of one's home that one carries in one's heart."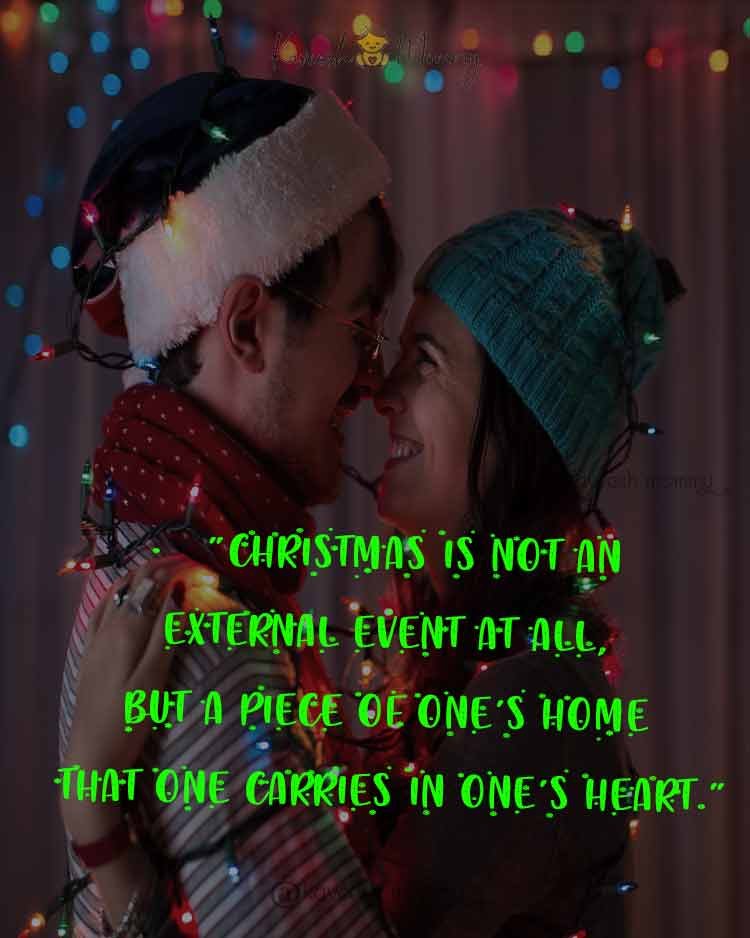 The holidays are extra magical this year because I get to spend them with you.
"Christmas is not an external event at all, but a piece of one's home that one carries in one's heart."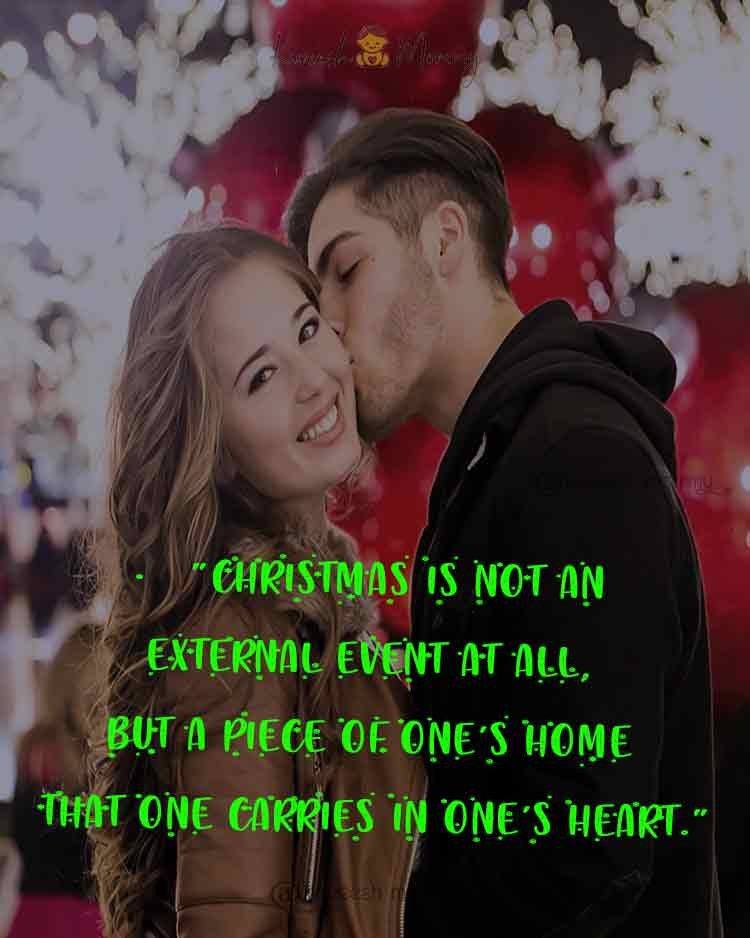 I know this last year has been tough, but I hope this holiday season brings you joy, happiness, and I'm wishing you all the best in the New Year. You deserve it!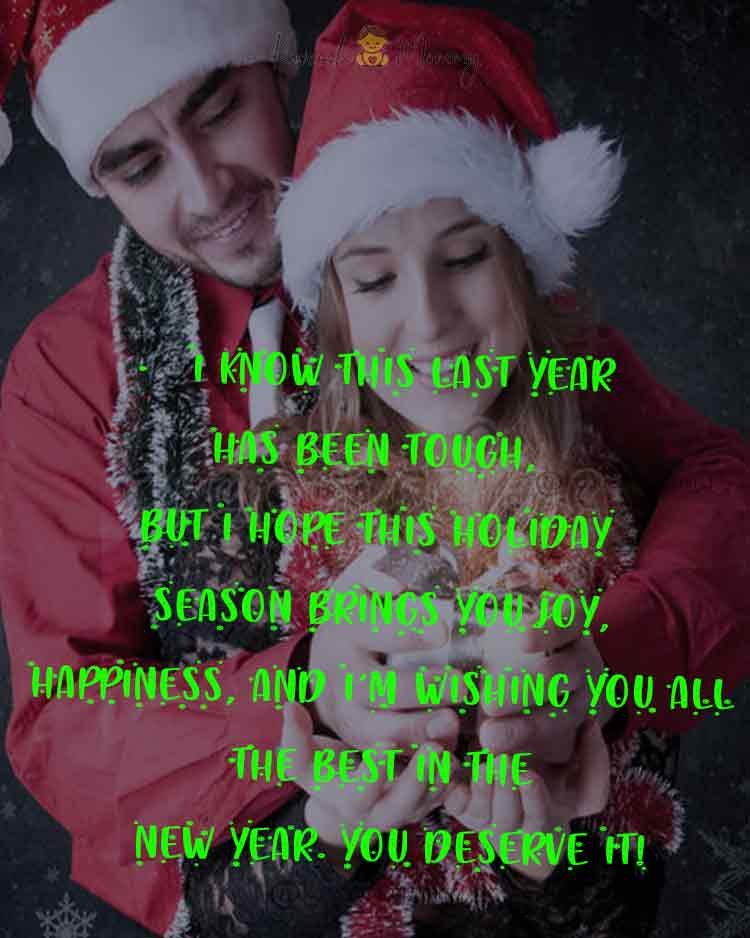 Having you in my life is the best Christmas present I could ever ask for.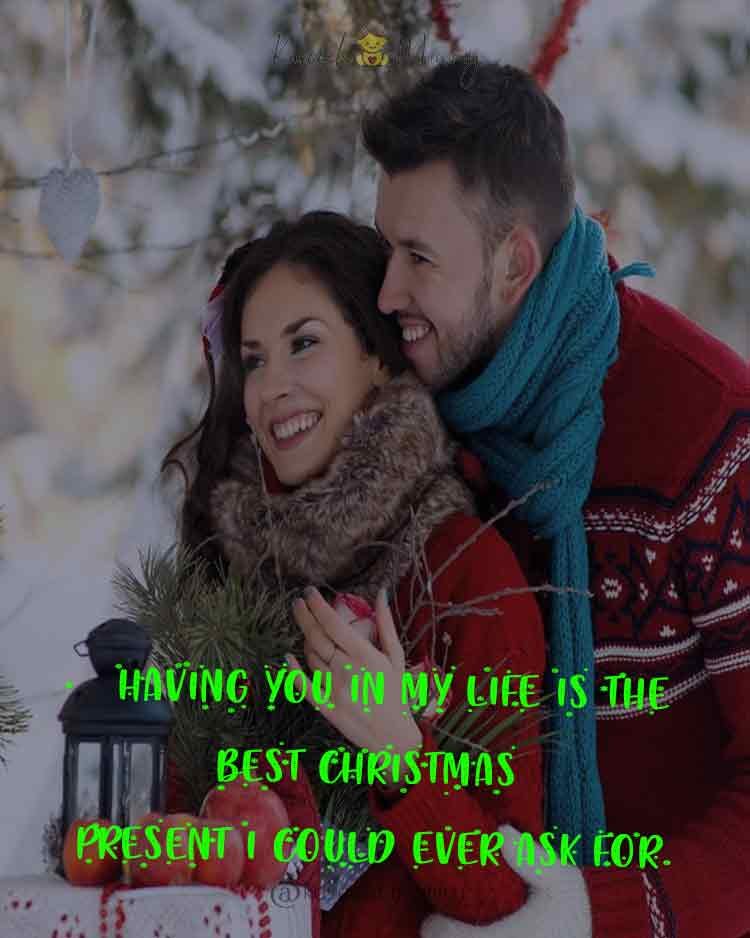 You light up my life like a Christmas tree. So lucky to have you in my life!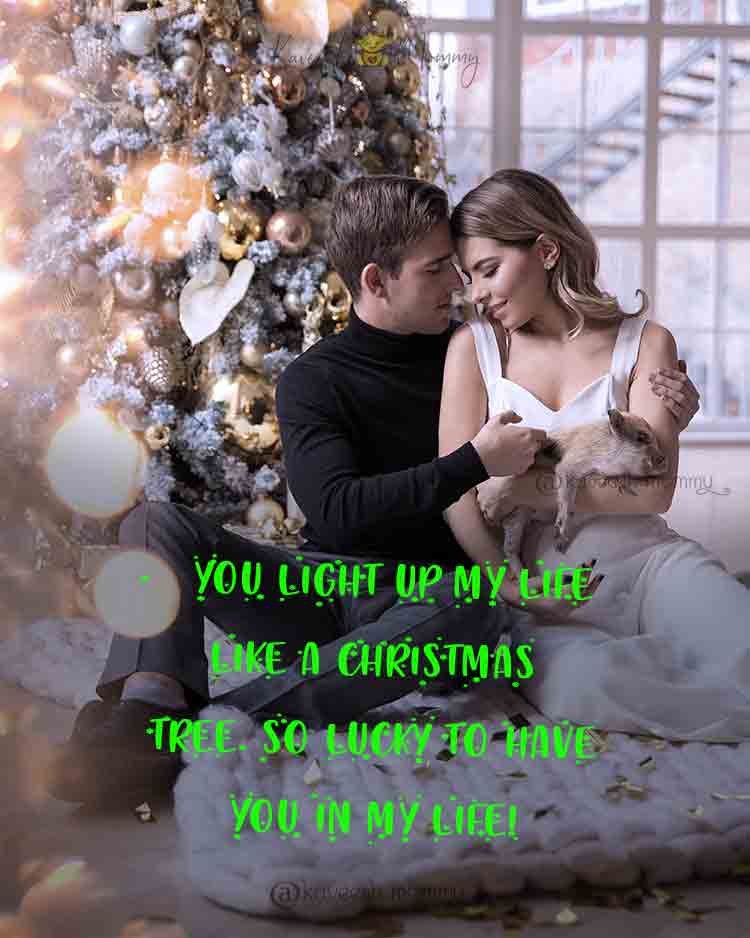 Just writing to put a smile on your face this Christmas season.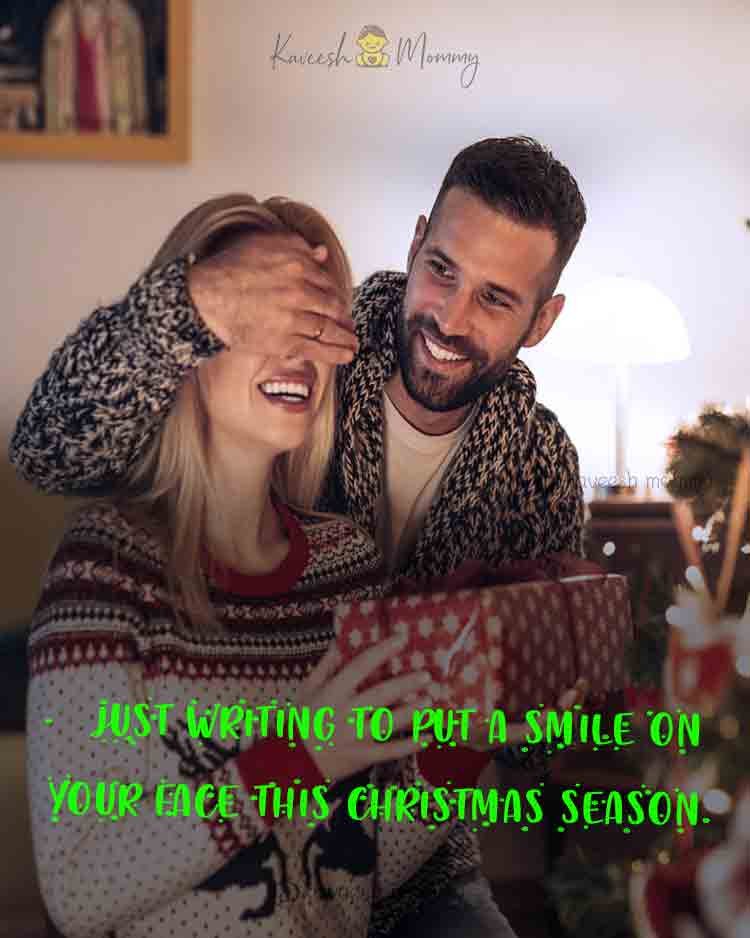 What are some good Christmas quotes?
When you find the perfect Christmas card message, think of the person you are writing to and try to personalize it, to let them know that they are getting something directly from you and not part of a mandatory mass mailing list.
Would they appreciate a little holiday-themed humor or something a little more heartfelt? Choose one of these printable Christmas cards and decide which Christmas card message from the list below works best and you're good to go!
This Christmas, you're the best gift I could ask for.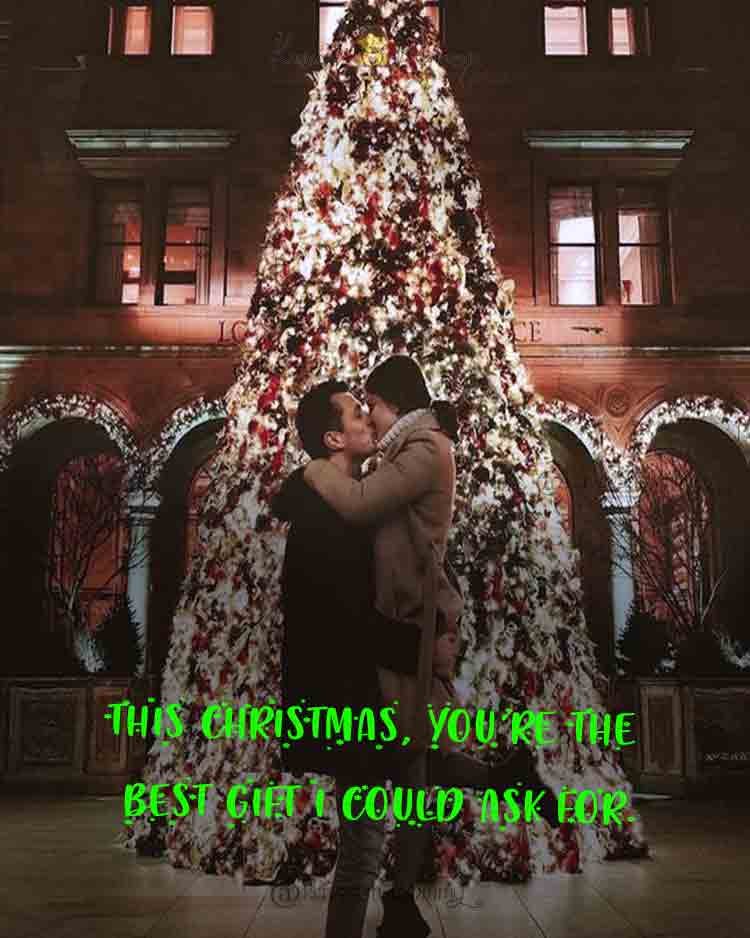 "May the true spirit of Christmas shine in your heart and light your path."
Merry Christmas! May your happiness be large and your be bills small.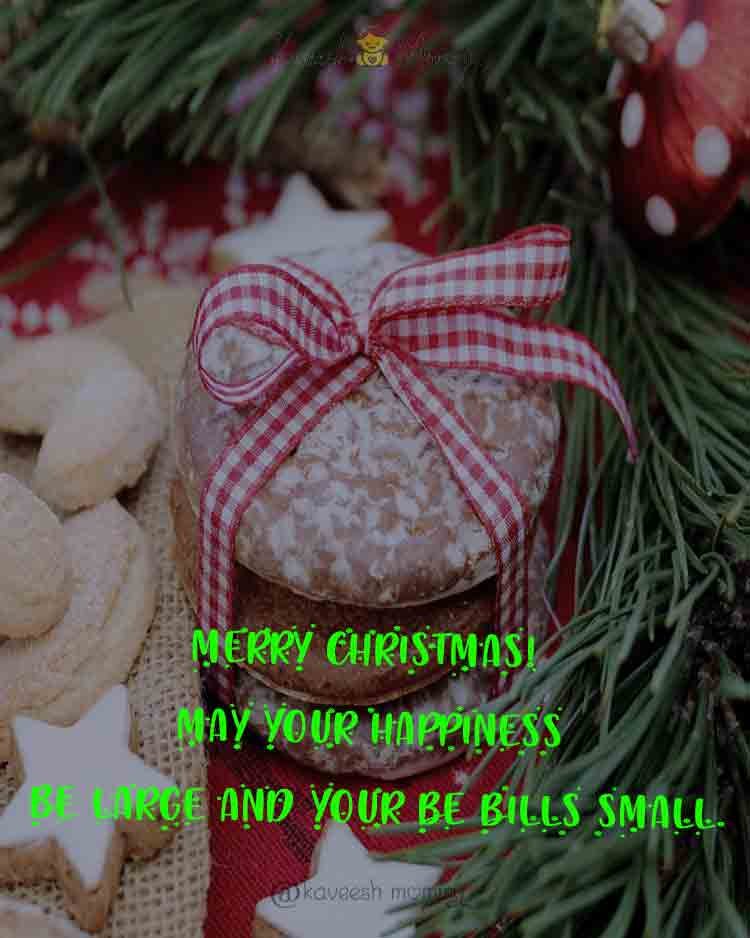 "Wishing you a season that's merry and bright with the light of God's love."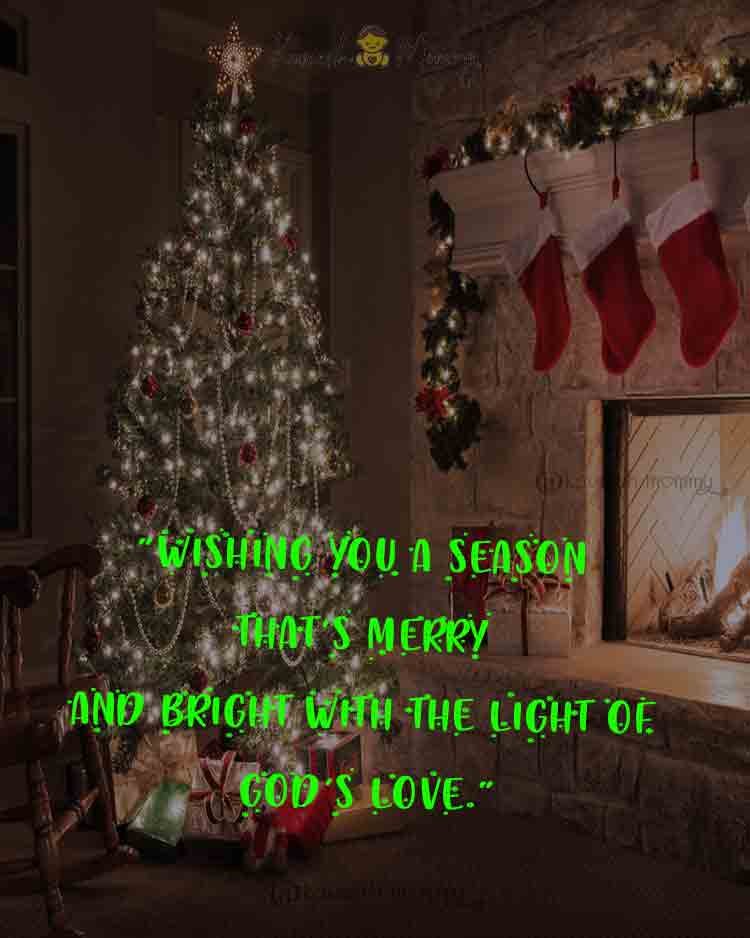 Wishing you nothing but the best this holiday season.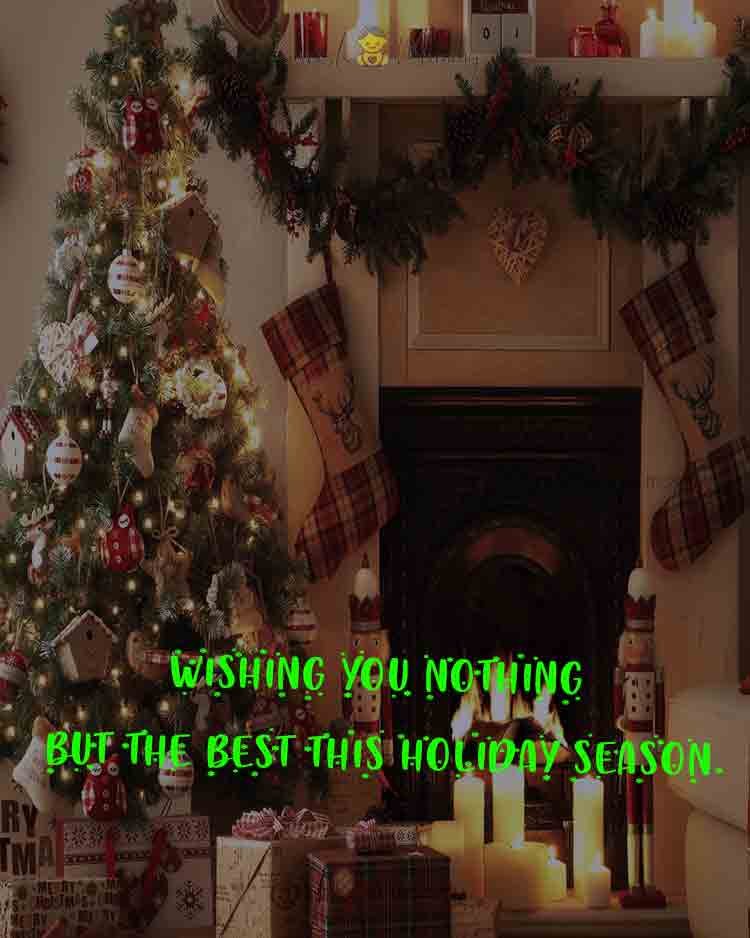 "Christmas gives us an opportunity to pause and reflect on the important things around us."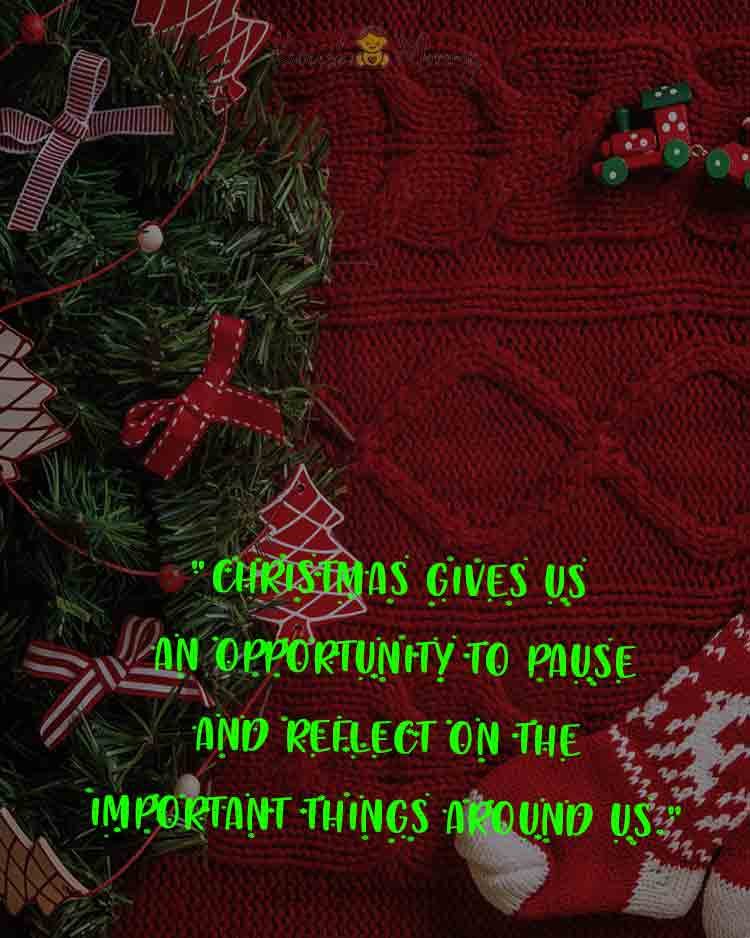 Merry Christmas! I hope you receive one blessing after another this coming year.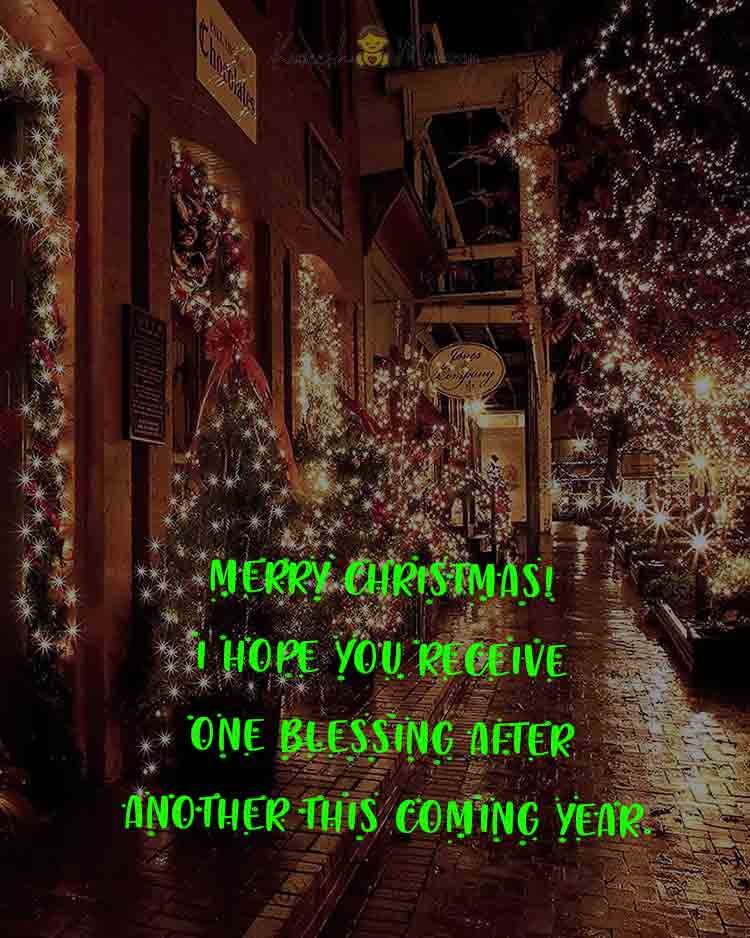 May this season be full of light and laughter for you and your family.
"We clap hands and welcome the peace of Christmas. We beckon this good season to wait a while with us." – Maya Angelou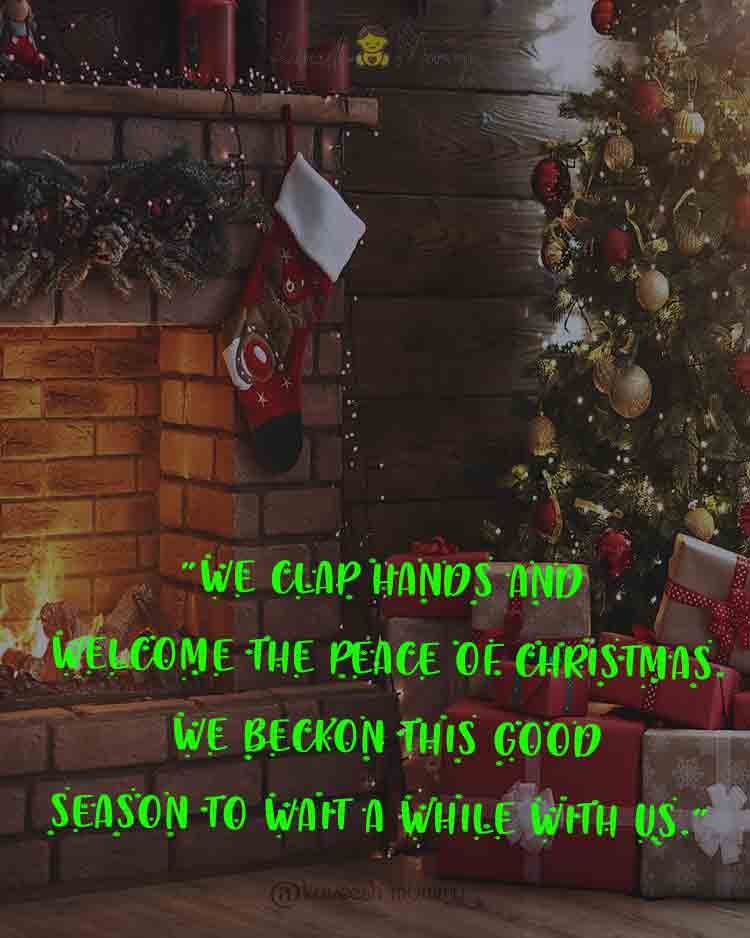 "Nothing ever seems too bad, too hard, or too sad when you've got a Christmas tree in the living room."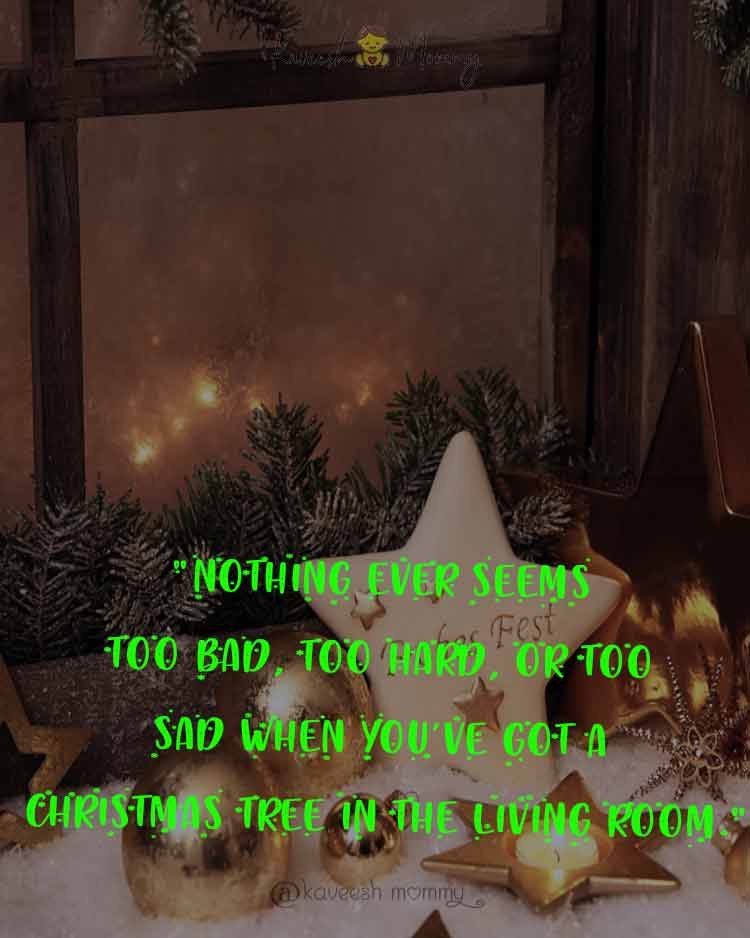 May the true spirit of Christmas shine in your heart and light your path.
Wishing you a season that's merry and bright! 
For you at Christmas time: A wish for happiness, warmth, and love.
May this season be full of light and laughter for you and your family.
"My idea of Christmas, whether old-fashioned or modern, is very simple: Loving others." – Bob Hope 
Merry Christmas, and may your Christmas be white! 
Wishing you peace, joy, and unconditional love at Christmas and always.
What are some funny Christmas sayings?
Everyone says it's a fun time. But if you're not in the festive mood yet, this list of 100 funny Christmas quotes can make you laugh at your Christmas-worthy belly.
You can share these fun Christmas quotes with your friends and family to spread the joy of Christmas or use it as a clever Christmas-themed Instagram caption.
You can also use it as a gift for coffee mugs and T-shirts! In any case, these fun Christmas quotes will bring good news to you and your loved ones and lead you to the spirit of Christmas.
Because I definitely won't be organized enough to get even more cards out in the New Year: Happy holidays. (That covers all the ones from now until Easter.)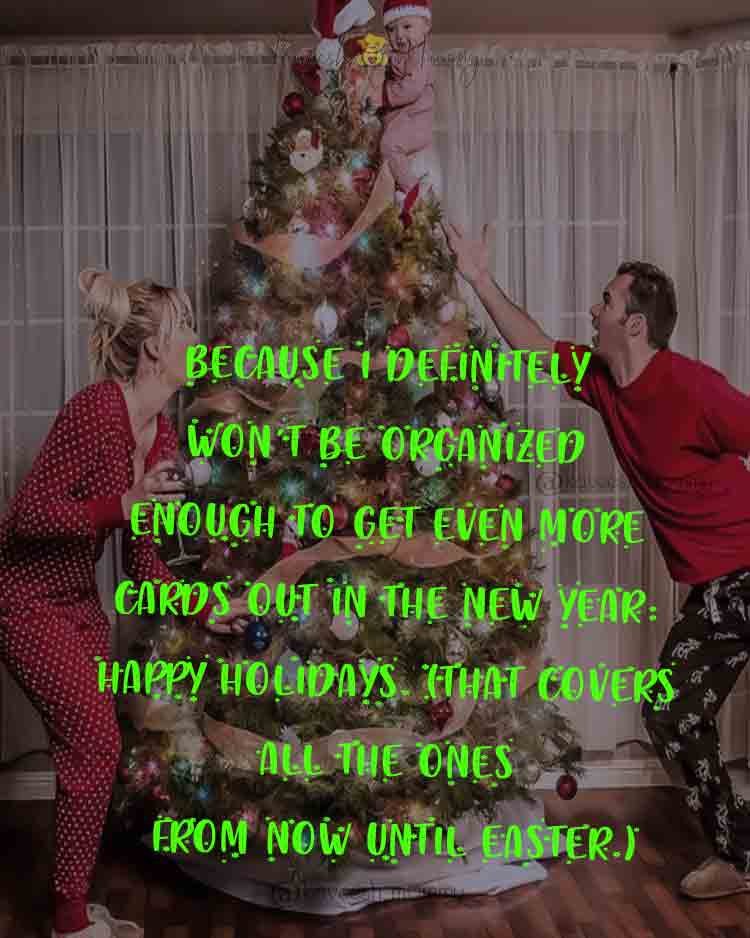 "Wishing you a white Christmas! (And when you run out of white, just open a bottle of red)."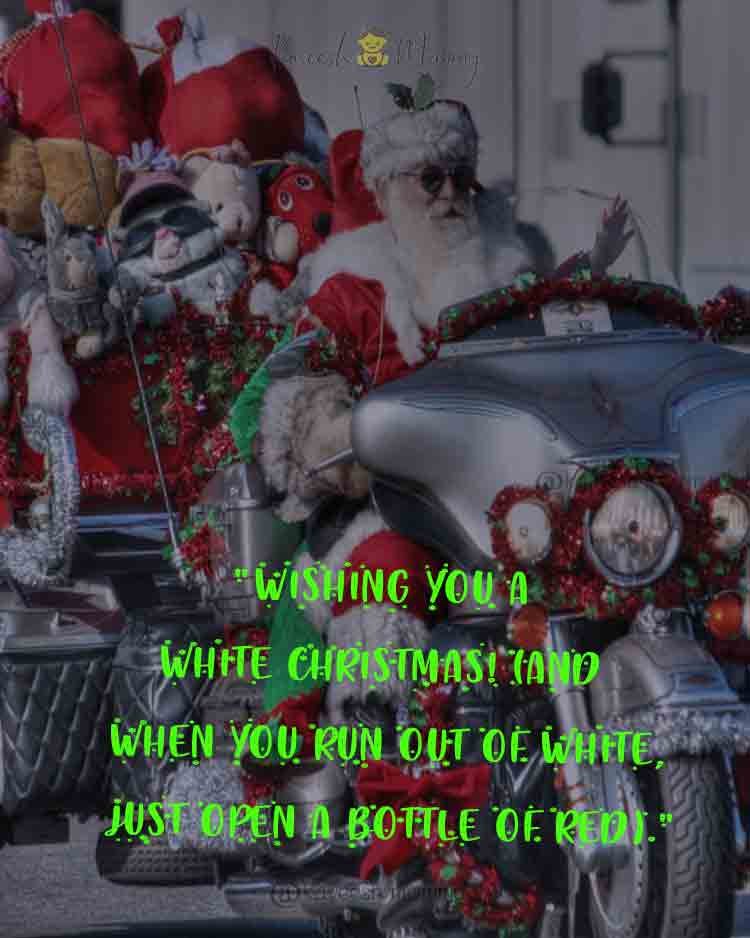 The true gift of Christmas is the time we spend together. (That's why I didn't get you anything else.)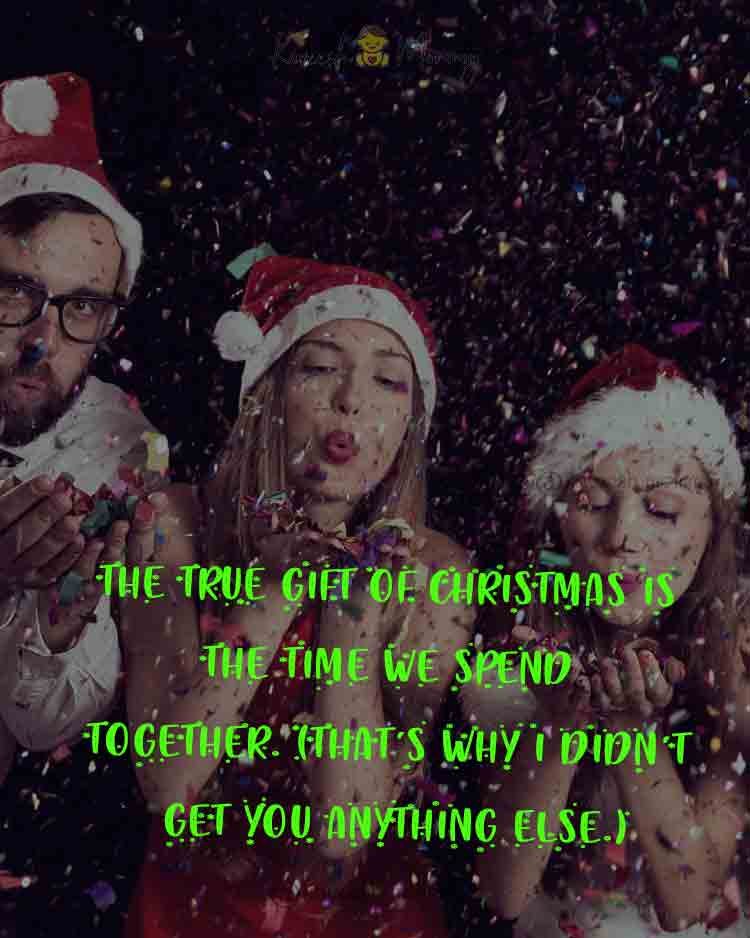 "You're a gift in my life. And not the kind I'd return for store credit. Merry Christmas!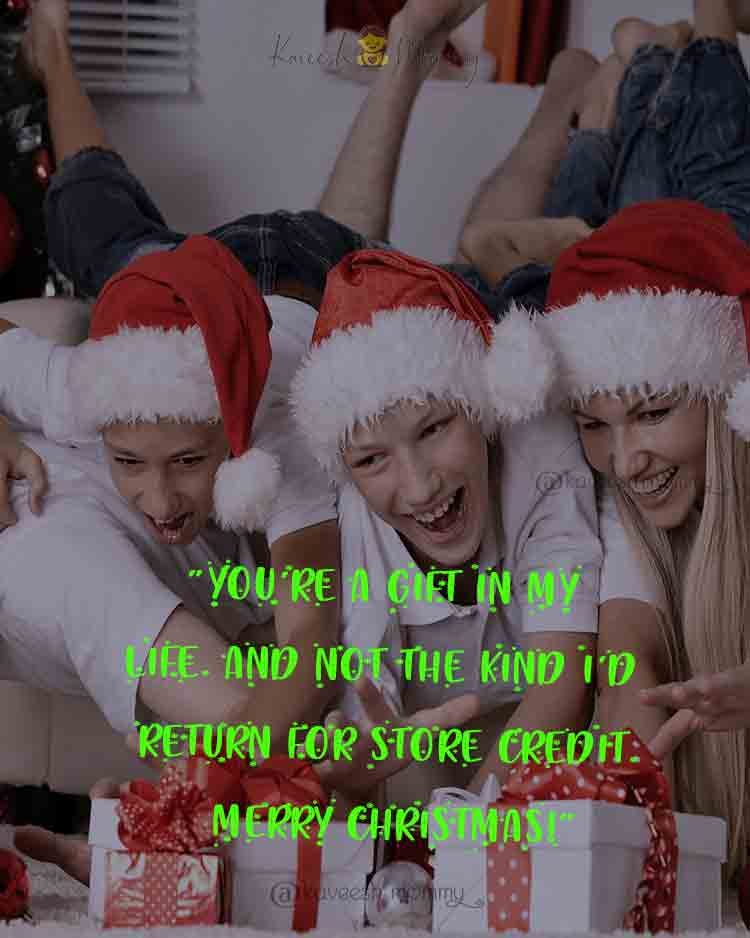 "A Christmas reminder: Don't try to borrow any money from elves … they're always a little short! Have a Merry Christmas!"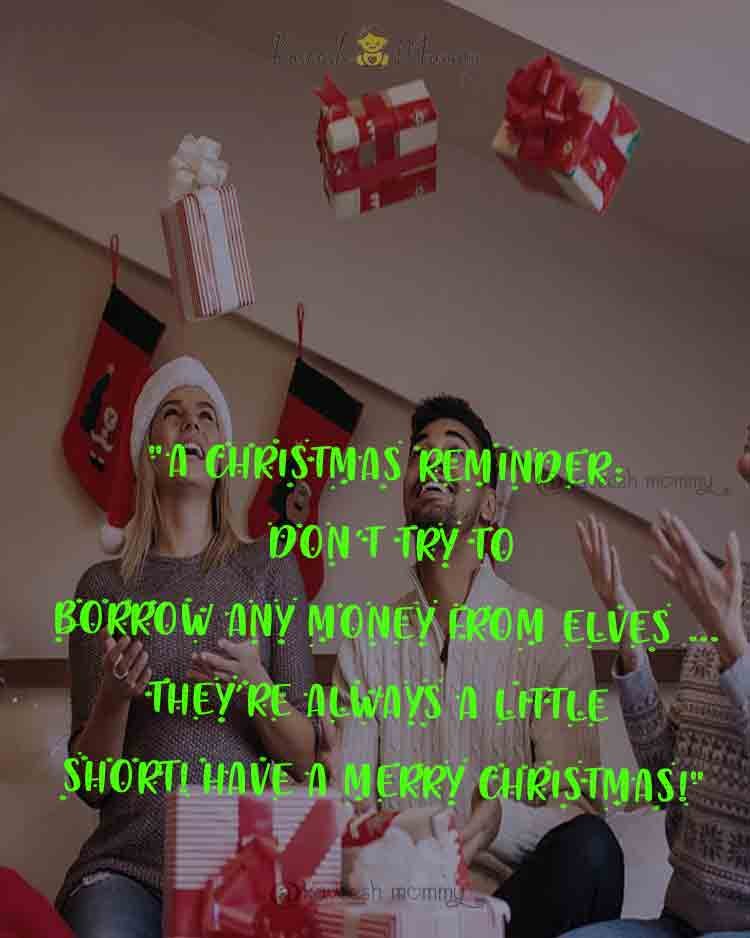 Here's hoping you survive the holiday season with your sanity and bank account intact. Merry Christmas.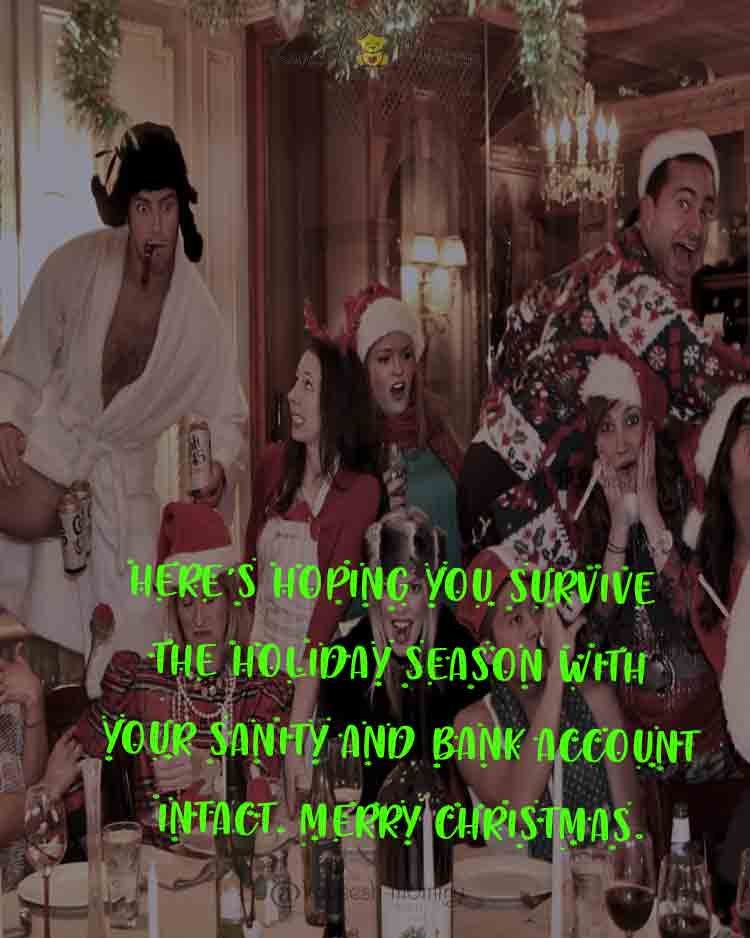 "They say the best Christmas gifts come from the heart … but cash and gift cards do wonders too! Happy Holidays!"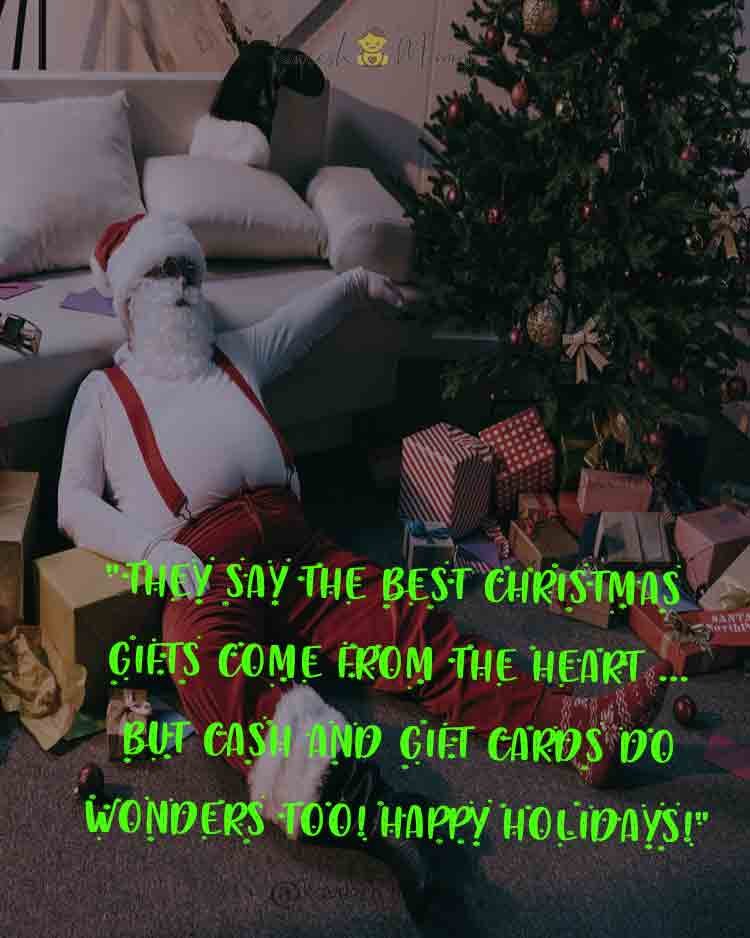 Since I'm pretty sure you're not getting anything from Santa this year, I thought I'd send you this so you'd have something to open.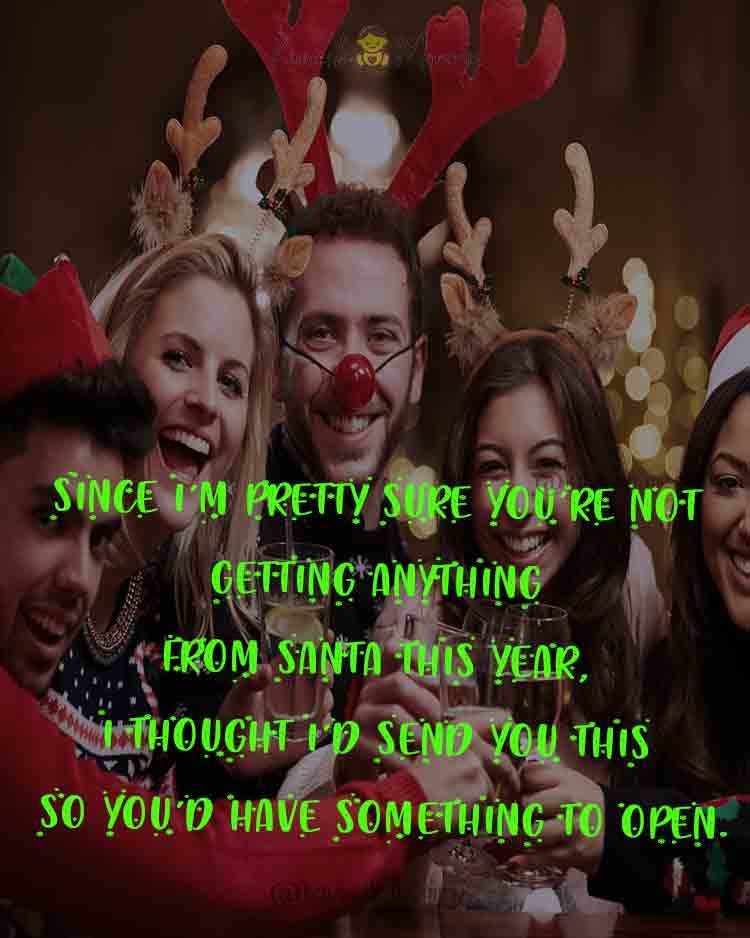 "Merry Christmas! May your happiness be large and your bills be small."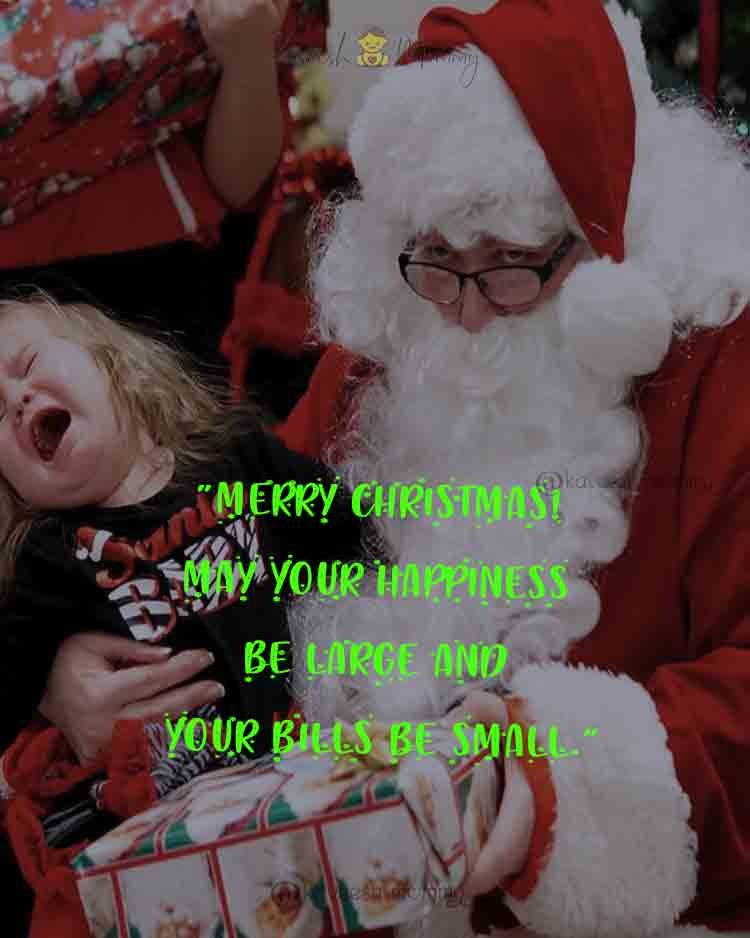 Just to show I care I went to a real post office and bought actual stamps to send you something old-fashioned: real mail.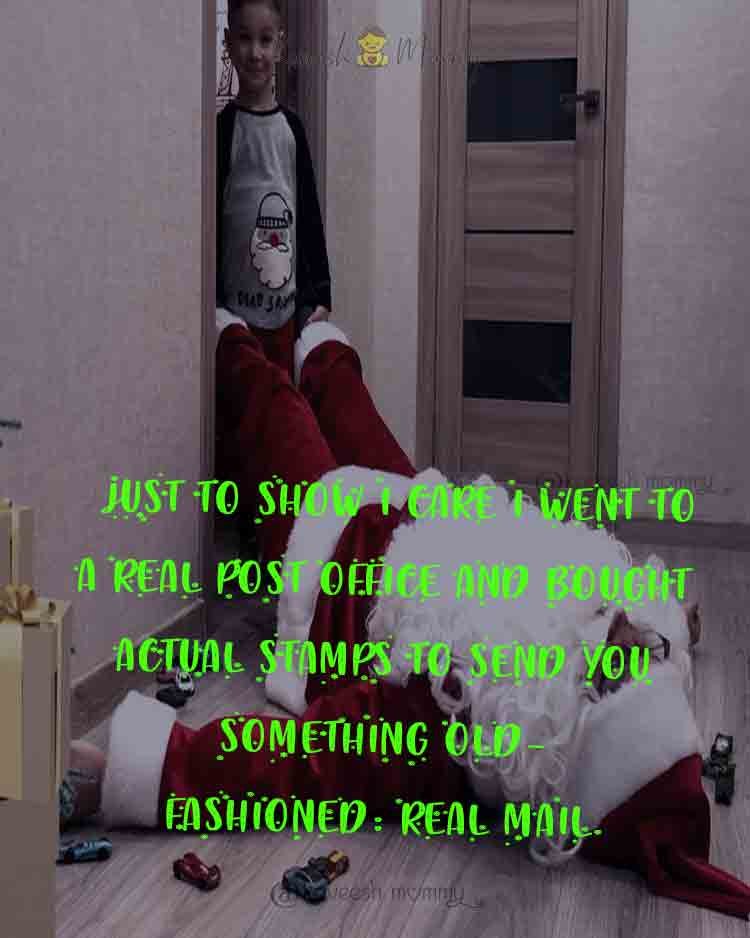 "Merry Christmas! I put so much thought into your gift that now it's too late to get it."
Marjorie Holmes once said, "At Christmas, all roads lead home." I wonder how much mom paid her to say that.
Eat, drink, and be merry―in moderation. Happy holidays!
You may not be on Santa's Nice list, but you're sure on mine!
At this time of year, we so often are reminded of what's truly important: mom's cooking.
Here's hoping Yule have the best Christmas ever this year!
What is the spirit of Christmas quotes?
Looking for a Merry Christmas Quotes for your friends and family? On this page you will find a large selection of beautifully designed Christmas greetings to help you easily spread the Christmas spirit this holiday season!
From short and sweet to fun and festive, we hope you find the perfect Christmas wishes for the Christmas cards below for your close family and colleagues.
New Year? Yes please! Here's to better times ahead for us all! Wishing you a very happy Christmas and a safe and healthy 2022.
From our bubble to yours, we wish you a very Merry Christmas and a happy holiday season! Stay safe and take care.
This Christmas card is packed full of virus-free hugs and kisses just for you! We hope you have a very Merry Christmas and that we can see you again soon. Until then, cheers to you from afar for your good health and happiness!
May the magic of the Christmas season fill your home with joy and peace. Sending lots of love to your family, and looking forward to the day we can see you again. Take care of yourselves and stay safe.
We wish you a very happy Christmas and holiday season. We know that this past year has been very difficult for you, and we pray that the coming year brings more certain times for your family. Sending all our love and good wishes for better days ahead.
Merry Christmas! We're so sorry you've been ill and hope you are feeling stronger and better every day. May this holiday season be a time of rest as you recover, and the New Year full of hope for better days ahead.
We want you to know that you are in our thoughts and prayers every day as we remember [name] and miss him terribly. We know this Christmas season will be very difficult, and we wish we could gather around you in person to support you more. We are sending all our love from afar, and if there is anything you need please let us know.
Sending you all our love and merry Christmas wishes. We might be apart today, but you're always in our heart. Take care and stay safe in these uncertain times. We miss you!
What is the best Christmas message?
Holidays always bring us closer to the people around us, but Christmas has something very special that has a brilliant impact on our lives.
We would like you to convey the importance of the season by greeting your family, friends and colleagues for Christmas. Elevate your Christmas greetings this year with the tips below for creating Christmas cards.
"Christmas is the day that holds all time together." —Alexander Smith
"I wish we could put up some of the Christmas spirit in jars and open a jar of it every month." —Harlan Miller
"Christmas will always be as long as we stand heart to heart and hand in hand." —Dr. Seuss
"One of the most glorious messes in the world is the mess created in the living room on Christmas Day. Don't clean it up too quickly." —Andy Rooney
"Christmas isn't a season. It's a feeling." —Edna Ferber
"A lovely thing about Christmas is that it's compulsory, like a thunderstorm, and we all go through it together." —Garrison Keillor
"Christmas isn't just a day. It's a frame of mind." —Valentine Davies, Miracle on 34th Street
"Christmas Eve was a night of song that wrapped itself about you like a shawl. But it warmed more than your body. It warmed your heart … filled it, too, with melody that would last forever." —Bess Streeter Aldrich
"Christmas is not an external event at all, but a piece of one's home that one carries in one's heart." —Freya Stark
"I prefer the retro chic of spending Christmas just like Joseph and Mary did — traveling arduously back to the place of your birth to be counted, with no guarantee of a bed when you get there." —Tina Fey
"I am not 100 percent certain what a sugarplum is, but for a few weeks every year I've got visions of them dancing in my head anyway." —Jane Green
"The best of all gifts around any Christmas tree: the presence of a happy family all wrapped up in each other." —Burton Hills
"Christmas is a season not only of rejoicing but of reflection." —Winston Churchill
"My idea of Christmas, whether old-fashioned or modern, is very simple: loving others." —Bob Hope
"Peace on earth will come to stay, when we live Christmas every day." —Helen Steiner Rice
conclusion
Composing the perfect message can be difficult, even for those we love most. Remember, you don't have to write a novel! Whoever receives your holiday wishes will be delighted that you have thought of him; A simple text wishing them good luck will make them smile.
I hope you found your Christmas quotes for friends, family, boss, co-worker and more you can share with your wife, girlfriend, fiancé. These Christmas quotes will definitely make their Christmas happy.
Also share these Christmas quotes with friends, family and social media like Facebook, Instagram, Pinterest.
Latest posts by Nancy Williams
(see all)