Here you will find: Christmas facts, funny Christmas facts, facts about Christmas movies, facts about Christmas songs, facts about Christmas trees, facts about.
For many, the holiday season is the time to get together with the family, enjoy a delicious Christmas dinner, drive around the city, watch the Christmas lights, and rock the Christmas tree while hitting the iconic Christmas carols. But if you're looking for another fun post-dinner activity to do with your family, Christmas trivia may be just for you.
Whether you're kicking off a little friendly competition by hosting a quiz night or just needing a break from a Christmas movie marathon, these Christmas facts will be a great bonding activity. for your whole family.
10 Christmas Facts
Do you know where your Christmas traditions come from? Or your favourite Christmas characters and foods?
Maybe you want to know what's the world's most expensive Christmas tree?
Well, that's what we're here to find out!
How about this time you share with them some amazing facts about Christmas?
Read these Christmas facts to your kids and help them learn about this festival.
They can share this amazing information about Christmas with their friends too!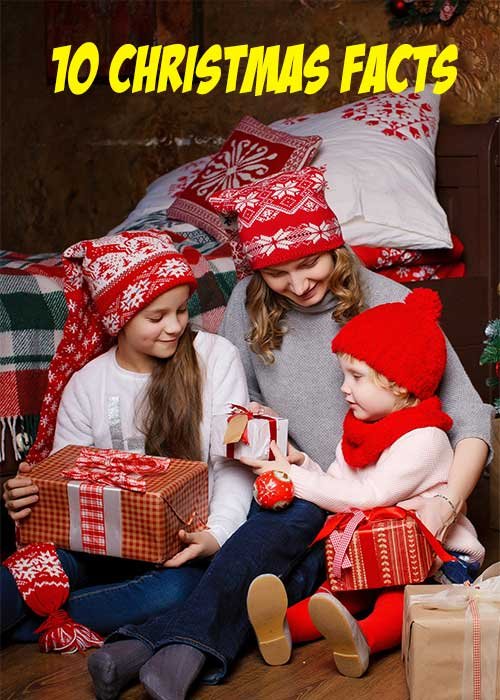 Christmas celebrates the birth of Jesus Christ.
Christmas is an annual Christian holiday that celebrates the birth of Jesus Christ.
The 25th day of December was chosen to mark His birthday by the Roman Catholic Church years after His death.
And this Christian holiday is celebrated by Christians all over the world.
Christmas trees were first used by ancient Egyptians and Romans.
The origin or the use of Christmas trees goes way back to ancient Egyptians and Romans.
And the use of modern Christmas trees started in Germany in the 16th century.
Instead of the glitzy decorations that we see on them today, they were decorated with fruits and nuts.
Wet bet you didn't know this interesting fact about the Christmas tree!
The term 'Xmas' simply means Christmas
The use of the term 'Xmas' dates back to the 16th century.
The 'X' in the word Xmas comes from the ancient Greek language.
In Greek, Christ begins with the letter X. So, Xmas simply means Christmas.
Santa Claus did not always dress up in red clothes.
Santa Claus initially wore clothes that were in green, purple, or blue.
For many years, this was the common theme for the jolly old man at the North Pole.
However, Coca Cola decided to dress him up in colours that matched their brand, and that stuck.
So this is why he is always in red clothes now!
Baby Jesus received some wonderful gifts when he was born.
When Jesus was born, a bright star shone in the sky.
Three kings followed this star and made a long journey to the birthplace of Jesus.
They bore with them gifts of gold, frankincense (aromatic resin used in incense and perfumes), and oils.
The Christmas wreath is a symbol of love and eternal life
The Christmas wreath is representative of the crown of thorns that Jesus wore.
Eventually, the colours of Christmas – red, green, and gold were added.
Red is said to represent the blood of Jesus, green is supposed to symbolise life, and gold stands for royalty and light.
And the evergreen foliage used to make Christmas wreaths symbolises the continuity of life and nature even in the darkest days of winters.
Christmas cakes are not really plum cakes
One of the best parts about Christmas is the Christmas cake, and we all love eating it.
But does your child know what cakes are consumed during Christmas?
It's plum cake!
The cakes we get to eat during the Christmas holidays are known as plum cakes, but there are, in fact, no plums in the cake!
The mistletoe is the symbol of love and laughter!
A mistletoe is supposed to be a symbol of love, laughter, and compassion.
And the tradition of a kiss under the mistletoe is supposed to be a way of asking for the blessings of the spirits of Christmas through the mistletoe.
Christmas cards to convey their feelings to their loved ones.
One of the most fun rituals of Christmas is the exchange of Christmas cards.
You can ask your child to make your own cards with embellishments of his choice.
By giving Christmas cards, they can convey their feelings to the person they like and wish them well.
story behind the '12 days of Christmas.
Did you or your kids ever wonder why the holidays of Christmas are referred to as the '12 days of Christmas'?
Legend has it that the three kings took twelve days to travel to the birthplace of baby Jesus, hence the holidays of Christmas are known as 12 days of Christmas.
10 funny Christmas facts
Santa Claus is based on St. Nicholas of Myra.
The history of Santa Claus dates all the way back to the third century, to a Turkish monk named St. Nicholas who was famous for helping the poor and sick.
Dutch immigrants eventually brought the story of the man they called "Sinter Klaas" to New York, where his legend continued.
Why do we kiss under the mistletoe?
This popular kissing tradition may have its roots in Norse mythology.
The History Channel reports that Frigg, the goddess of love, promised to kiss anyone who passed under the berry-laden plant after it saved her son's life.
It wasn't until the 18th century, however, that the Christmas custom picked up steam in England.
The world's tallest cut Christmas tree was 221 feet tall.
The towering Douglas fir was put on display and decorated at a shopping center in Seattle in 1950, according to Guinness World Records.
'Jingle Bells' was the first song played in space.
On December 16, 1965, the classic Christmas song was broadcast during NASA's Gemini 6A space flight, according to Guinness World Records.
How did the tradition of Christmas trees begin?
Germany started the Christmas tree tradition in the 16th century, when Christian families set up trees in their homes and decorated them with lighted candles, according to the History Channel.
Coca-Cola played a big role in shaping the image of Santa.
In 1931, Coca‑Cola commissioned the artist Haddon Sundblom to paint Santa Claus for the company's Christmas ads.
Inspired by the 1823 poem "A Visit from St. Nicholas," the artist created the warm, jolly character we all know today, complete with rosy cheeks, a white beard, and twinkling eyes.
 story behind the Christmas pickle ornament?
Many families take part in this quirky tradition, in which the first child to find the pickle on Christmas morning gets to open the first gift.
According to Today, the custom was created to keep kids from rushing through present-opening.
Santa has his own postal code in Canada.
Canada Post has a Santa letter program where kids can write to Saint Nick at the address: Santa Claus, North Pole, HOH OHO, Canada.
Some lucky kids even get response letters!
best-selling Christmas song of all time?
Bing Crosby's classic song "White Christmas" is not only the best-selling Christmas song, but the best-selling single of all time.
In America, the tradition of leaving cookies and milk for Santa Claus on Christmas Eve took root during the Great Depression. when parents encouraged children to keep their charitable spirit alive in the face of financial hardship.
10 Facts about Christmas movies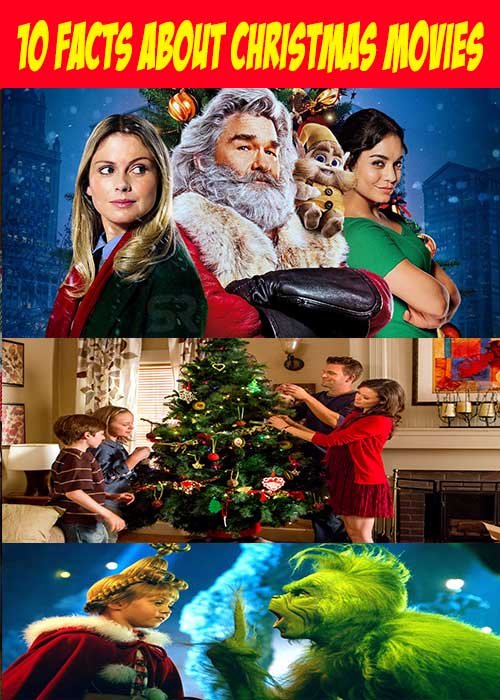 Bad Santa
Bad Santa is definitely not suitable for children, and not only because the 'f-word' is used a total of 147 times!In the Czech Republic, the movie is known as Santa is a Pervert.
Christmas in Connecticut
Christmas in Connecticut features a main character called Elizabeth Lane, who is a columnist writing for a newspaper.
Disney's A Christmas Carol
This movie featured Jim Carrey who played a total of seven roles within the movie.
Not only did he play Old Scrooge and several younger versions of Scrooge, but he also played the three ghosts.
Frozen
Frozen was created based on the story of The Snow Queen written by Hans Christian Andersen.
It was first suggested as an idea for a Disney movie in 1939 but took over 70 years to actually be produced and released.
Gremlins
Gremlins is thought to be one of the darker Christmas movies which are popular during the holiday season, but it was first intended to be even darker than that!
When Chris Colombus originally wrote the script, there were several scenes included that were cut out, including a scene where Billy's mother is beheaded by the Gremlins.
Producers wanted the movie to be family-friendly, hence the reason it was cut.
Home Alone
Home Alone isn't the only movie to reference another Christmas movie, but the family is shown watching It's a Wonderful Life while in their hotel room in France.
Many Christmas movies have done this over the years in a subtle way that many people fail to notice unless they look out for it.
Jingle All The Way
Jingle All The Way follows a desperate father trying to get his son the popular action figure, Turbo Man.
The inspiration for the action figure came from Mighty Morphin Power Rangers, which was very hyped and prevalent at the time of the movie's release in 1996.
Love Actually
Love Actually is one of the most-watched Christmas movies every year.
Laura Linney, who plays Sarah in the movie, said that she wished her character hadn't picked up the phone several times to her brother while in the bedroom with Karl, her love interest.
Twas the Night Before Christmas
A lesser-known television animation, which is based on the famous poem that begins with the same line as the title.
Interestingly enough, this special was animated in Japan, although it was created for the United States.
Year Without a Santa Claus
Year Without a Santa Claus was released in 1974 and was an animated film which was one of the first to show Santa Claus as being cranky and grumpy rather than always happy and jolly.
Facts about Christmas songs
"Jingle Bells": An Out of This World Song That Was Originally A Thanksgiving Tune
"White Christmas" is Golden
"The Chipmunk Song" Was the First Holiday Tune to Top the Charts
"The Chipmunk Song (Christmas Don't Be Late)" topped the Billboard Hot 100 Pop Singles chart that year. It was the first holiday tune to ever do so, while also landing the furry trio three Grammy Awards.
Facts about Christmas trees
The first decorated Christmas tree was in Riga, Latvia in 1510.
Besides evergreens, other types of trees such as cherry and hawthorns were used as Christmas trees in the past.
Using small candles to light a Christmas tree dates back to the middle of the 17th century.
Thomas Edison's assistant, Edward Johnson, came up with the idea of electric lights for Christmas trees in 1882. Christmas tree lights were first mass-produced in 1890.
In 1900, large stores started to erect big illuminated Christmas trees.
In 1856 Franklin Pierce, the 14th President of the United States, was the first President to place a Christmas tree in the White House.
Teddy Roosevelt banned the Christmas tree from the White House for environmental reasons.
 Facts about Christmas dinner
Candy Canes were invented to keep kids quiet
Legend has it that candy canes were invented in 1670, when the choirmaster of the Cologne Cathedral commissioned candies shaped like a shepherd's crook so they could be handed out to children attending the church's crèche scene in order to keep them quiet.
Sugar Plums had nothing to do with plums
From the Sugar Plum Fairy to visions of sugar plums dancing in children's heads, sugar plums definitely have a place in Christmas lore.
But what are they, exactly?
You might not have guessed by their name, but these sweet treats are a type of candy.
When they first came around in the 1600s, the term "plum" denoted any dried fruit, and typical sugar plums are made with a combination of dried fruit and spices that are rolled into balls, then coated with a hard candy shell.
Animal Crackers were originally a Christmas treat
Animal crackers were first introduced around Christmastime in 1902. The string on the box was originally intended to be used to hang the boxes on Christmas trees.
Australians usually grill on Christmas
It's funny to think that Christmas falls right in the middle of summer Down Under, but it does.
The meal is still based on traditional English and North American traditions, but in order to avoid the hot oven most Australians actually prepare their Christmas dinner on the barbie.
Christmas Dinner usually contains over 7,000 calories
Between the wine, mixed nuts, multiple helpings of turkey and sides, pie, cheese, and booze, the eating and drinking done during Christmas Day alone can add up to more than 7,000 calories per person, according to one study.
Maybe skip that second piece of pie this year.
Christmas is celebrated in different ways in many countries around the world. Many of the customs and decorations we use to make our holidays special have evolved in interesting ways and their origins may be hidden in history. After reading these fun facts about Christmas, test your knowledge of Christmas common sense as you read.
Reference list
Adaway, K. (2021). 50 Christmas Trivia and Fun Facts to Share This Holiday Season. [online] Woman's Day. Available at: https://www.womansday.com/life/a37942326/christmas-trivia/  [Accessed 1 Dec. 2021]
Editorial Staff (2015). 99 Interesting Facts About Christmas 2019 – The Fact File. [online] The Fact File. Available at: https://thefactfile.org/interesting-facts-christmas/
Illinois.edu. (2012). Christmas Tree Facts – Christmas Trees and More – University of Illinois Extension. [online] Available at: https://web.extension.illinois.edu/trees/facts.cfm
McAfee, T. (2021). 25 Fun Christmas Facts Every Holiday Trivia Expert Should Know. [online] The Pioneer Woman. Available at: https://www.thepioneerwoman.com/holidays-celebrations/g37330418/christmas-facts/  [Accessed 1 Dec. 2021]
parenting.firstcry.com. (n.d.). 21 Fun Christmas Facts and Information for Kids. [online] Available at: https://parenting.firstcry.com/articles/21-interesting-facts-and-information-about-christmas-for-kids /
Latest posts by Nancy Williams
(see all)