Nursing Pillows For Babies in 2021
In this post, I have talked about. Best nursing pillows new mom must use. For different occasions or reasons. You will find Adjustable, After a C-Section, Best for Travel, for Large Breasts, and Multifunctional nursing pillows ideas.
You will also find benefits of nursing pillows(breastfeeding pillows), do you need nursing pillows? And How to choose the best nursing pillow?
That said, Let's start
Do you need baby nursing pillows?
Yes, it is a must-have item for breastfeeding moms. It will help moms for a good latch. It will help moms to maintain good breastfeeding positions for comfortable nursing. Nursing pillow (also called breastfeeding pillow) especially helpful for moms with large breasts. Those moms who are recovering from c-sections. Or those moms who have twins.
How do Breastfeeding pillows help new moms?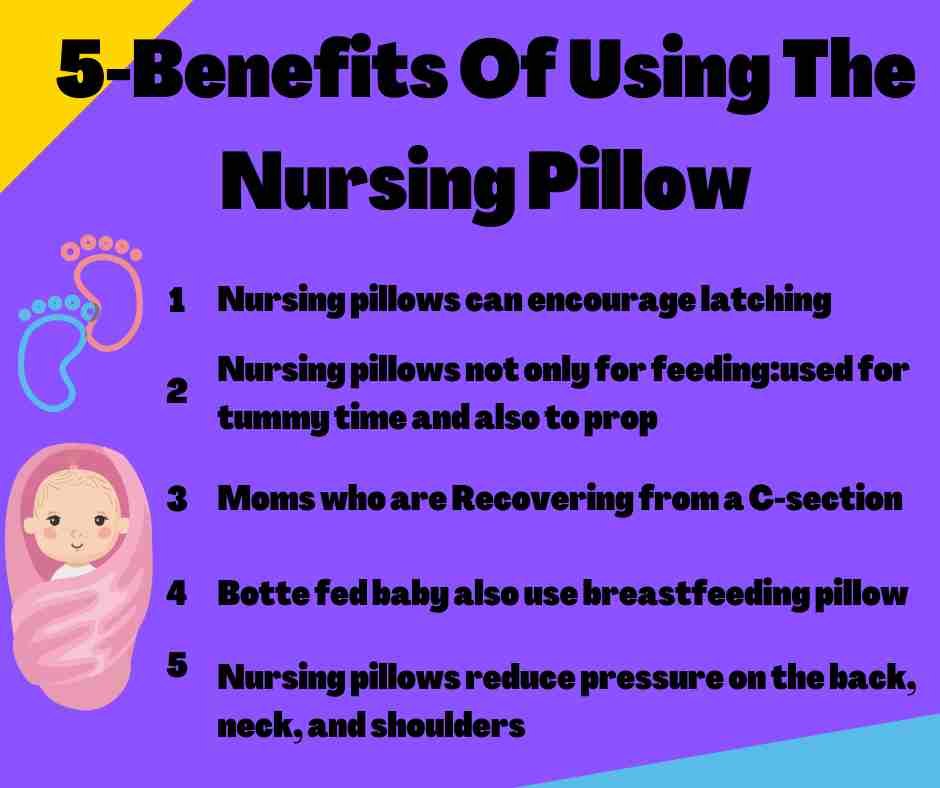 There are 5 benefits of using the nursing pillow. That includes:
Nursing pillows can encourage latching: Nursing pillows helps your baby to the right height for feeding, which can assist with latching.
Nursing pillows not only for feeding:  it can be used for tummy time and also to prop your baby up as she gets older (in fact, this was their original purpose!).
Moms who are Recovering from a C-section:  A nursing pillow is your best friend, as it allows a buffer between your baby and your abdomen.
A bottle-fed baby also uses breastfeeding pillows:  during bottle-feeding it helps moms posture in a good position. 
Nursing pillows reduce pressure on the back, neck, and shoulders:  in the first few weeks, you will be feeding the baby 8 to 10 times a day. And feeding will take up to an hour each. Therefore you need a pillow.
What do You need to know before buying nursing pillows?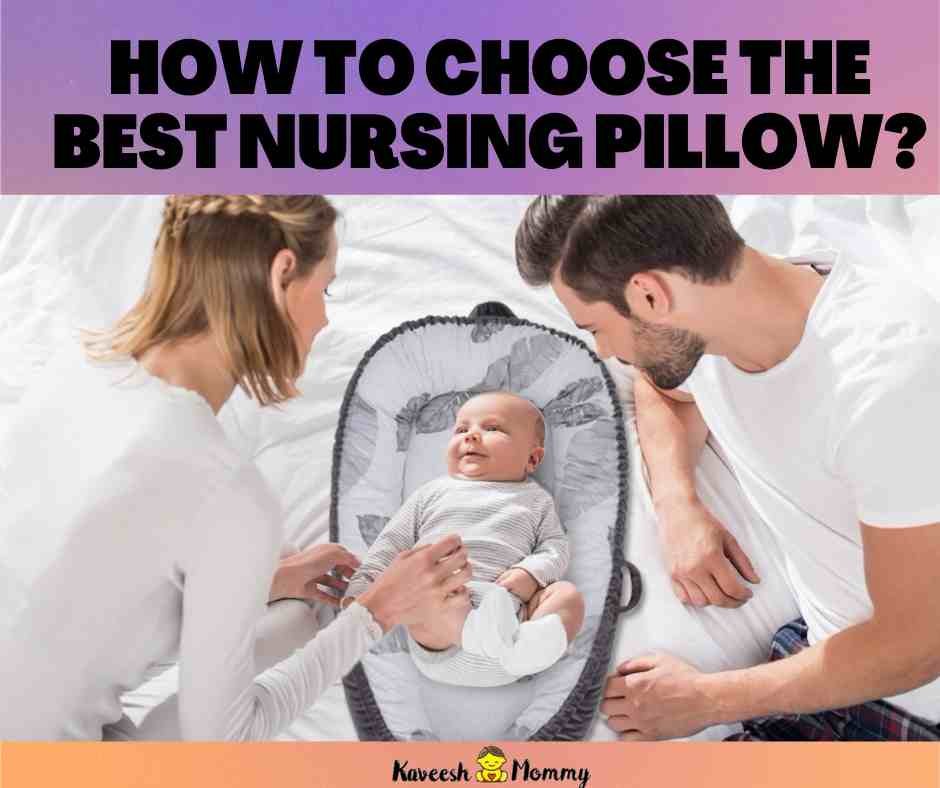 How to choose the best nursing pillow?. That will be a tough task for new mothers. But do not worry I have reviewed the best nursing pillows for your cute babies. I have included all branded and most sold nursing pillows with good review.
How to choose the best nursing pillow? 
Nursing pillows must not too hard and Not too soft
Nursing pillows should be adjustable
Nursing pillows  must be made of a material that can accommodate different breastfeeding positions
 Nursing pillows  For Different occasion
List of Best nursing pillows mom must use
1. My Brest Friend Original Nursing Posture Pillow, Sunshine Poppy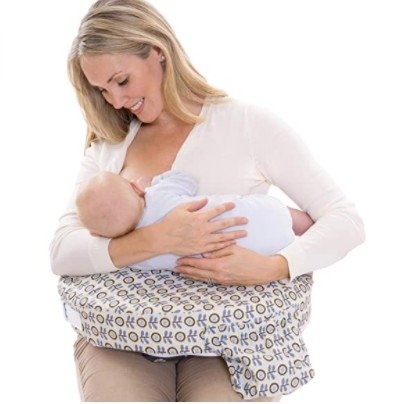 Get this on Amazon "Bestseller"
Why I liked it:
This nursing pillow has a great design.  A blessing for nursing, no other pillow like this, saves momma a lot of energy. This nursing pillow is great for the first weeks of nursing.
This actually saves a lot of energy trying to keep boppy from slipping out because this pillow fastens around the waist and allows her to maintain a good posture and back support, and good feeding position with minimal effort. (Football-feeding position also works great with this pillow)
I love that I can clip it around my waist, and then move around, without needing to awkwardly put it back on while holding my baby.
 It's adjustable
Comfortable
Very cute patterns
Great Design
The pocket is handy
I mean, the name, who doesn't love it?
Why you should buy this :
Promoting proper posture, My Brest Friend pillows alleviate back, neck, shoulder, and arm pain. 
With a wrap-around design, both mom and baby feel secure, allowing both to maintain a comfortable position. 
Have easy access to your nipple cream, water, lip balm, or any other accessories with our easy to reach pocket.
Watch Video on why you should buy this breastfeeding pillow.
2. Infantino Elevate best Adjustable Nursing and Breastfeeding Pillow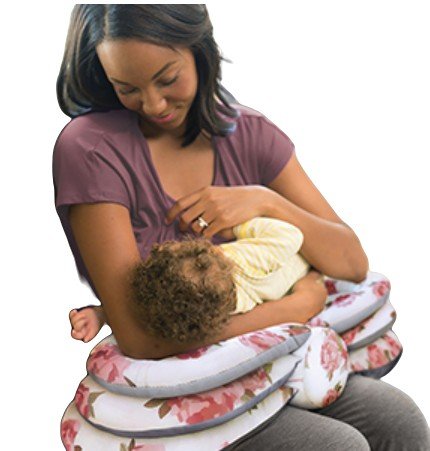 Why I liked it :
Unique design with useful layers that helps moms adjust their positions for better latching. 
This multilayer pillow can be adjusted to make nursing comfortable. Moms can use a cradle position or hold their baby upright.
Moms can use more layers to bring newborn baby heads closer to breasts.
I like the Infantino better because of the elevation and travel friendly since it folds and has a tie but felt he didn't fall forward as much with the Boppy. 
Why you should buy this :
Getting the perfect latch is much easier with this adjustable nursing pillow that will help elevate your baby to breast height. 
The unique layering of this pillow provides three height options.
This pillow can be used as your baby grows and the flexible design allows you to breastfeed in multiple different positions. 
Nursing is possible with the baby across your lap (cradle and cross-cradle) or at your side (football or clutch hold).
Watch Video on why you should buy this breastfeeding pillow.
3. Boppy Original Nursing Pillow and Positioner
Why I liked it :
Must have: These are a must-have. Everyone always tells you the millions of gadgets you just "have to get" when you're expecting and you don't end up using half of them. This is not one of those. You will use this all day every day. 
Mainly Use it for Positioner:  First and most important the shape of it does not fit every belly. You need to have an flat belly since day one postpartum to be comfortable using this one, and only when sitting. So you technically need to be pretty fit right after day one postpartum!!
Watch Video on why you should buy this breastfeeding pillow.
4. Leachco Natural Boost – Adjustable Nursing Pillow: Best for After a C-Section
Why I liked it :
Great pillow – versatile, effective, and resilient: This pillow is brilliant with the additional detachable pillow. I flip it over so the smaller pillow is on the bottom and fills the gap between the chair and the large part of the pillow, essentially making the large part of the pillow flat so my baby isn't rolling off it like the others.
Needs a removable durable cover!!! But otherwise works well: Better than the boppy because it is more square-shaped and stays in place better and does not bend under the weight of my 10 weeks old as the boppy has begun to do. It is also thicker which gets the baby closer to the breast and allows for a more comfortable posture even without the booster.
Love this nursing pillow! I have a very long torso, so this one brings my baby to me! When I used the Boppy pillow I had to bend over or put another pillow underneath.
Why you should buy this :
breastfeeding after a C-section this pillow is best.
it can also be removed and used separately when you're on the go.
Watch Video on why you should buy this breastfeeding pillow.
5. Boppy Best Latch Breastfeeding Pillow
Why I liked it :
It is Awesome for plus size! moms. 
You will love this pillow for breastfeeding. You will like that it has a strap I can adjust and tighten to make it fit me perfectly.
Why you should buy this :
Designed to cradle infants and provide a 'hands-free' moment for you. Incline for perfect positioning, recessed center to cradle your newborn, and a handle for easy carrying.
Versatile Boppy Pillow not only lifts babies to a more ergonomic position for comfortable breastfeeding or bottle feeding but also transitions to support them as they grow to offer the perfect spot for tummy time, playing, sitting, or just discovering little fingers and toes.
Designed with a lactation consultant to provide the ultimate breastfeeding support. The nursing pillow features a reversible design with two distinct surfaces. Soft side, firm side, you decide.
Watch Video on why you should buy this breastfeeding pillow.
6. Itzy Ritzy Infant Nursing Pillow: Best for Travel
Why I liked it :
This is just what you needed For a newborn, I think a more traditional nursing pillow is a bit easier to use with their whole body elevated. But once you get to infant age, this is the perfect pillow.
If your arm and shoulder were constantly hurting. Or if you are having a hard time getting a burp. Then you must use this breastfeeding pillow. It will take the baby's weight for you. 
This pillow is great, especially for reflux babies! It is a lot easier to travel with than the boppy. 
Why you should buy this :
Breastfeeding and Bottle Feeding: Milk Boss is ideal for bottle or breastfeeding and positions the baby at an angle that helps reduce reflux. 
Burping: Place baby on their tummy after feeding to burp; rock Milk Boss back and forth to help relieve gas.
Comfort: The bottom cushion supports the arm to prevent strain, allowing more time for bonding between caregiver and baby.
Travel: Milk Boss is compact and lightweight, making it perfect for use while on-the-go.
Watch Video on why you should buy this breastfeeding pillow.
7. NuAngel Trinity II Nursing Pillow: Best for Large Breasts
Why I liked it :
Perfect travel nursing pillow: This thing is amazing! Perfect size for travel in the car. 
Large breast moms: Moms with larger breasts often complain that standard breastfeeding pillows don't work for them, as the opening is too small. This one, however, is taller and wider than most and gives moms the space they need. 
This pillow was great for nursing your babies. It's not a large pillow, so it was easy to carry in my diaper bag. 
Why you should buy this :
NuAngel's Trinity II Nursing Pillow is portable and lightweight. 
The unique non-confining design with curve and narrowing end offers customized support.
The incline may help reduce acid reflux for the baby and provides increased comfort. 
The pillows are versatile, adjustable, and conforming. 
The pillow cover is made of 100% natural cotton flannel soft enough for the baby's delicate skin.
8. Nursing Pillow Multifunctional Baby Lounger
Why I liked it :
COMFYT Nursing Pillow encourages good posture during nursing and makes your baby feel more comfortable. So you can focus all your attention on your little one.
Supports your baby with propping, tummy time, sitting, or just discovering little fingers and toes.
Attached and adjustable seat wrap has the benefits of safety and comfort of your cares.
Why you should buy this :
The main health benefit of memory foam pillows is spinal alignment. As you lay your arms and on the pillow, the weight and warmth of the body allow the foam to reshape itself. This forces the pillow to give greater resistance under the heaviest parts and equally support the lighter. It is designed to contour to the unique shape of your body
This unique support system has the benefits of a bouncer with the comfort of your caress. Combining an adjustable seat wrap with a U-shaped design creates a duo that ensures baby's support as well as safety.
A feeding pillow provides your arms and back relief by lifting your baby to a more ergonomic position when breastfeeding or bottle-feeding.
COMFYT is the best breastfeeding pillow for nursing. Also, multifunctional for the baby for positioning.
To 100 best Nursing Pillows See Here
Best Baby Pillows For Sleeping
After nursing your baby you want your baby to sleep. Then you will need a baby lounger baby sleeping pillow.
1. Mamibaby Baby Lounger Baby Nest Co-Sleeping for Baby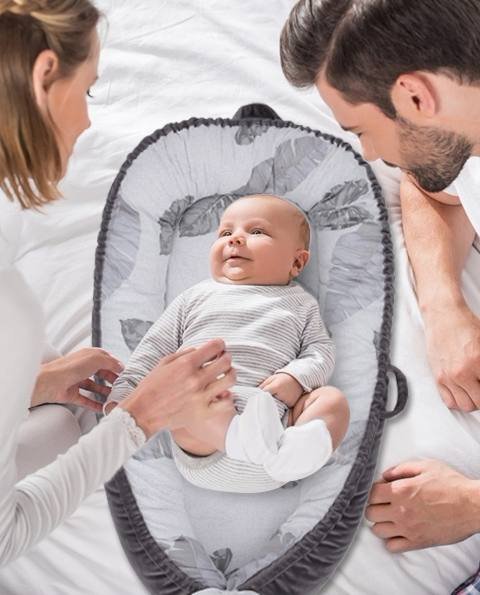 Why I liked it :
Do you have a baby that doesn't sleep well at night? Are you tired of waking up in the middle of the night? 
I was until I bought this baby nest. It stimulates the baby still being in the womb. My baby would not sleep all night until I got this. It is super soft and made of 100% organic cotton. The end closes or opens up for when your baby gets bigger.
Why you should buy this :
Child Safe & Breathable Material
Double-Sided and Being Adjustable
Portable Travel Needs
Perfect for co-sleeping
Machine Washable
Watch Video on why you should buy this breastfeeding pillow.
2. Boppy Original Newborn Lounger
Why I liked it :
I love this lounger. My baby seems to be very comfortable with it, it's one of our most used items!
However, cleaning it is difficult since the cover is not removable. After a particularly terrible "blow out" I washed it in the washing machine in delicate and dried it on low in the dryer as instructed. It held up fine but the stain will remain forever. For such a product, the cover should be more like the waterproof and easy to clean covers for the boppy pillows.
Why you should buy this :
THE PERFECT NEST: Gently cradles baby in a comfy hangout, giving you a hands-free moment during baby's supervised awake time
PORTABLE DESIGN: Grab and go – soft, lightweight fabric with a convenient handle for easy travel from house-to-house or room-to-room
EASY CARE, MACHINE WASHABLE: Easy-wipe fabric for the little messes and machine washable pillow for the big ones
RECOMMENDED AGE and WEIGHT: 0-4m | max 16 lbs. or when baby can rollover
This product is for the baby's supervised awake time and not for sleep
How to use watch Video.
3. Snuggle Me Organic Bare | Baby Lounger & Infant Floor Seat Newborn Essentials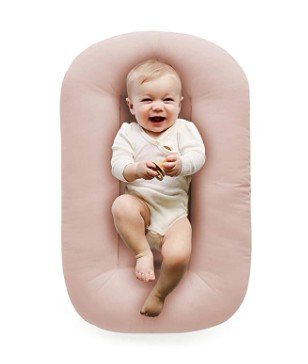 Why I liked it :
Every new mom deserves this bed. I know the price hurts but trust me, it's worth it. 
I  bought this when our baby was 4 weeks old and we could not get him to fall asleep unless he was in his swing of co-sleeping. Now he falls asleep and stays asleep in his Snuggle Me! It was such an easy transition too. 
SUPER good quality and did exactly what we were looking for! 10/10 recommend!!
My baby didn't like his crib. He liked to be held constantly before falling asleep so someone recommended me to get a lounger so he can still feel warm like someone is still holding him when sleeping.
The space in this lounger is tight, and the sides are bumpy, so my baby feels warm and falls asleep quickly. I would put him in the lounger inside of his crib and he would stay asleep longer.
Why you should buy this :
BEST BABY GIFT FOR NEW MOTHERS. When you can't be there, you can still send the reassuring support of a Snuggle Me. Our baby lounger blends seamlessly into any home as a non-intrusive support aid, ready and waiting to give an extra hand.
SAFETY IS OUR #1 PRIORITY. As inventors of the original baby lounger, we are leaders in our category for safety. As recommended by the AAP, NEVER use any baby lounger as a sleep device. NEVER use any baby lounger unsupervised. Use the Snuggle Me Lounger for actively engaging with your baby during supervised lounging, tummy time, or as a changing pad.
ORGANIC, SUSTAINABLE & ETHICALLY MADE. We are in love with the idea and quality of organic, USA-made baby items. We entrust local, Minnesota seamstresses and fillers with the crafting of each Snuggle Me Lounger. Made with GOTS certified organic, non-toxic, breathable, and hypoallergenic fabrics. Filled with polyester fiberfill for a fully machine washable lounger.
Watch Video on why you should buy this breastfeeding pillow.
Top 100 best Lounger Pillows See Here
Conclusion 
Breastfeeding for new moms is not easy, you will need help for better breastfeeding for newborn. Lactation support is one help, second help is breastfeeding gears. These items will make your nursing more comfortable. Nursing pillows are one of them. 
I have listed the most useful cheap breastfeeding pillows moms might consider purchasing.
Learn more 
Breastfeeding and Safe Sleep Evidence-Based Practices Guidance Document. (2017). https://www.in.gov/laboroflove/files/breastfeeding-safe-sleep-guidance-document.pdf
Nursing Pillow Safety. (n.d.). Consumer.westchestergov.com.   https://consumer.westchestergov.com/nursing-pillow-safety
Sri Widiastuti, I. A. K., Rustina, Y., & Efendi, D. (2020). The use of breastfeeding pillow to reduce discomfort for breastfeeding mothers. Pediatric Reports.  https://doi.org/10.4081/pr.2020.8702
Latest posts by Nancy Williams
(see all)