This Christmas 2022 we've gathered the best Religious Christmas Quotes and messages. includes prayers for dinner, family prayer to thank God for blessing, and bible quotes-verses for Christmas Prayers.
Christmas is the one day of the year when you may enjoy all the things you love most, including food, fun, family, and friends.
You know what, Christmas is not complete without these Christmas prayers, Christmas ideas, Christmas movies, Christmas wishes too.
This Christmas Gift Ideas Guide for mom, dad, family, friends, husband, wife boyfriend, girlfriend (couple), father-in-law, mother-in-law or any other person whom you want to wish happy Christmas. Do not forget to gifts for son, daughter, nephew, children, dogs and co-workers.
Here you will find, Religious Christmas Quotes, Christmas Bible Verses, Merry Holiday Card Sayings, Christmas prayers for family, friends, brother, sister, parents, Christmas prayers for her and him, catholic Christmas prayers.
You might also want to check out our other lists of quotes, sayings and captions for Christmas : Funny Christmas Quotes, Short Christmas Quotes, Santa quotes, Christmas movie quotes, Christmas Quotes for Family, wife, husband, friends, boss, co-worker, Christmas Wishes, and  Christmas messages.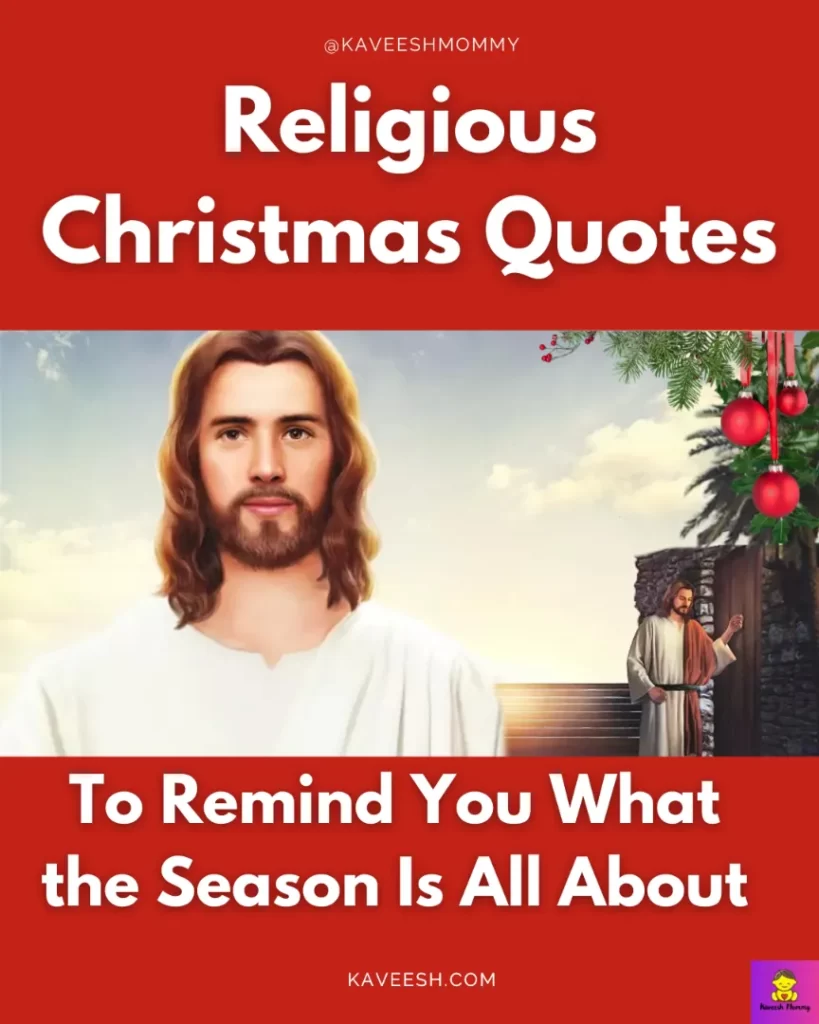 inspirational religious Christmas quotes
A beautiful way to greet your Christian friends and family a very Merry Christmas and a good new year is by sending them one of these inspirational Christmas messages. With a religious wish or comment, celebrate the birth of Jesus Christ and the Christian significance of the festivals. To loved ones, it may mean much more than just wishing them a Merry Christmas.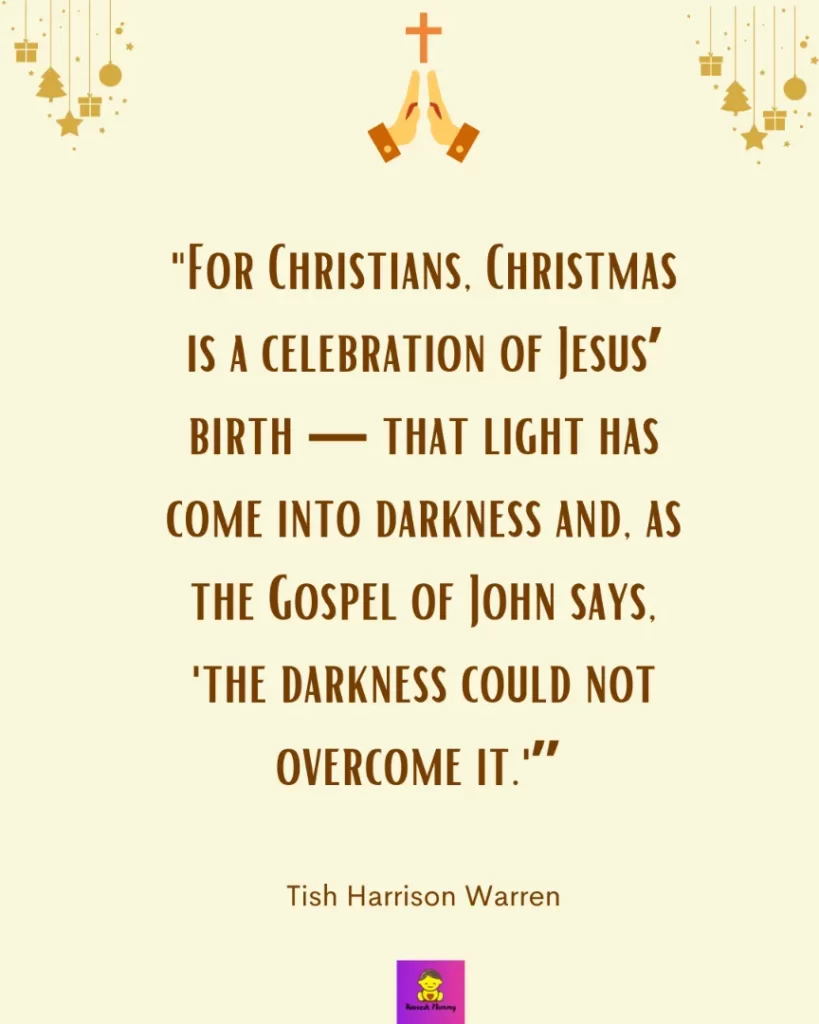 "For Christians, Christmas is a celebration of Jesus' birth — that light has come into darkness and, as the Gospel of John says, 'the darkness could not overcome it.'" — Tish Harrison Warren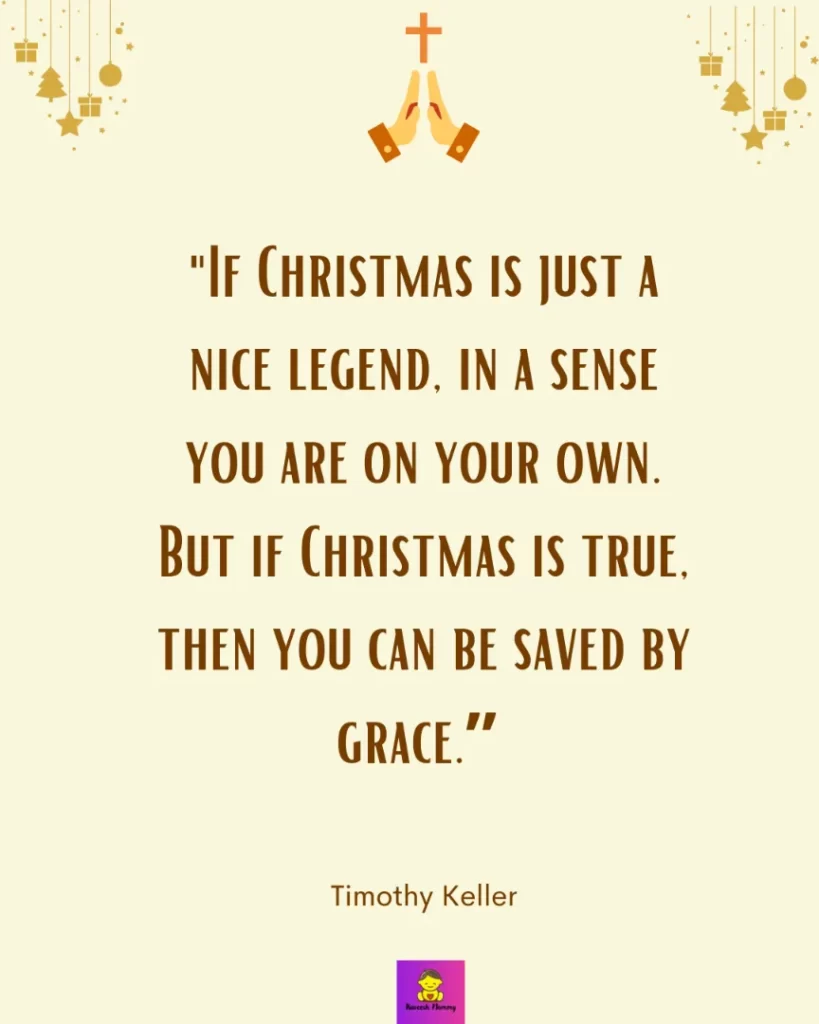 "If Christmas is just a nice legend, in a sense you are on your own. But if Christmas is true, then you can be saved by grace." —Timothy Keller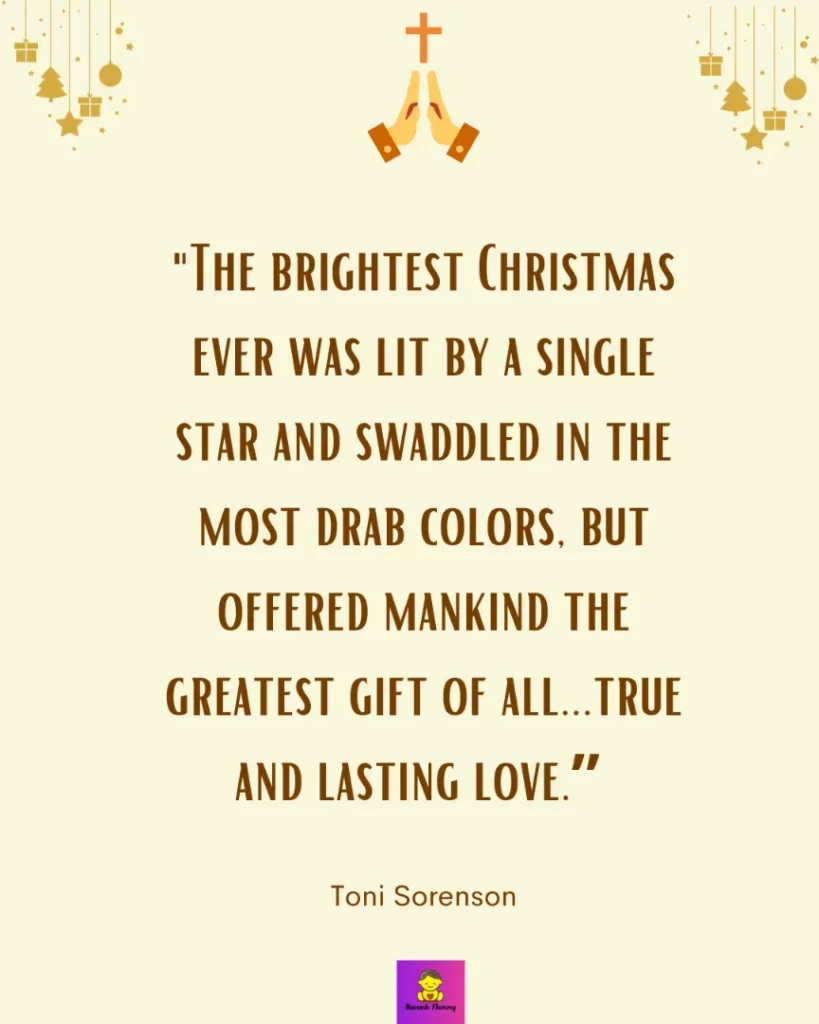 "The brightest Christmas ever was lit by a single star and swaddled in the most drab colors, but offered mankind the greatest gift of all…true and lasting love." ― Toni Sorenson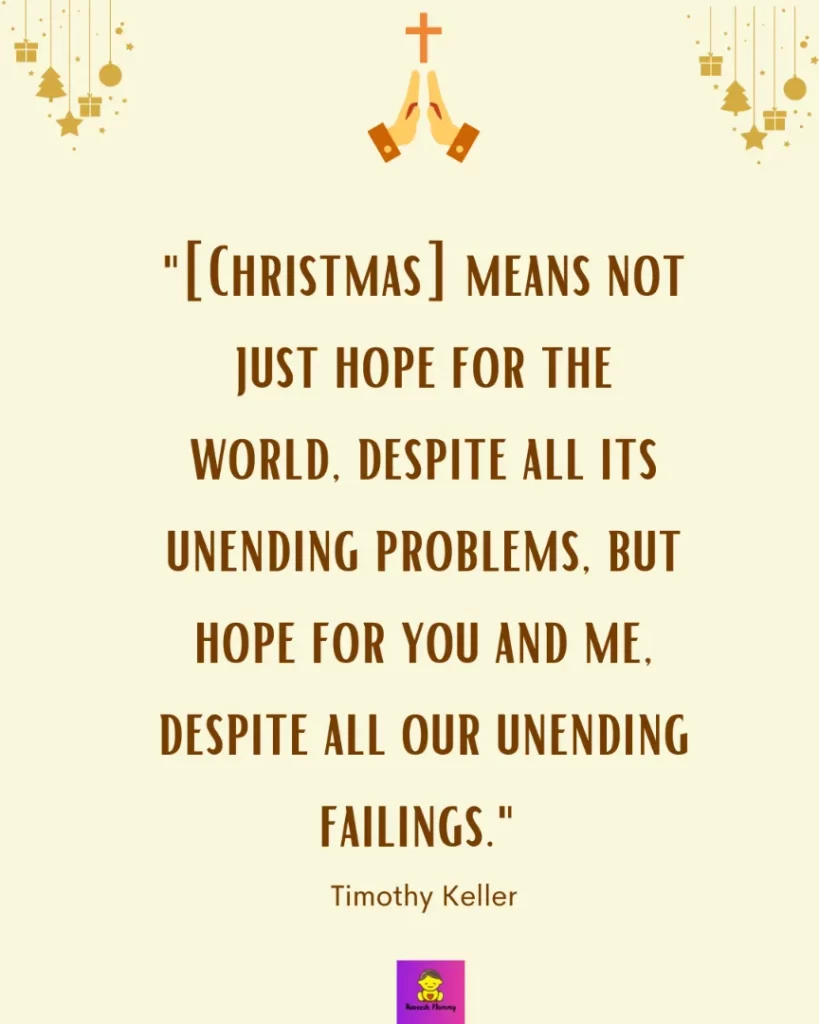 "[Christmas] means not just hope for the world, despite all its unending problems, but hope for you and me, despite all our unending failings." — Timothy Keller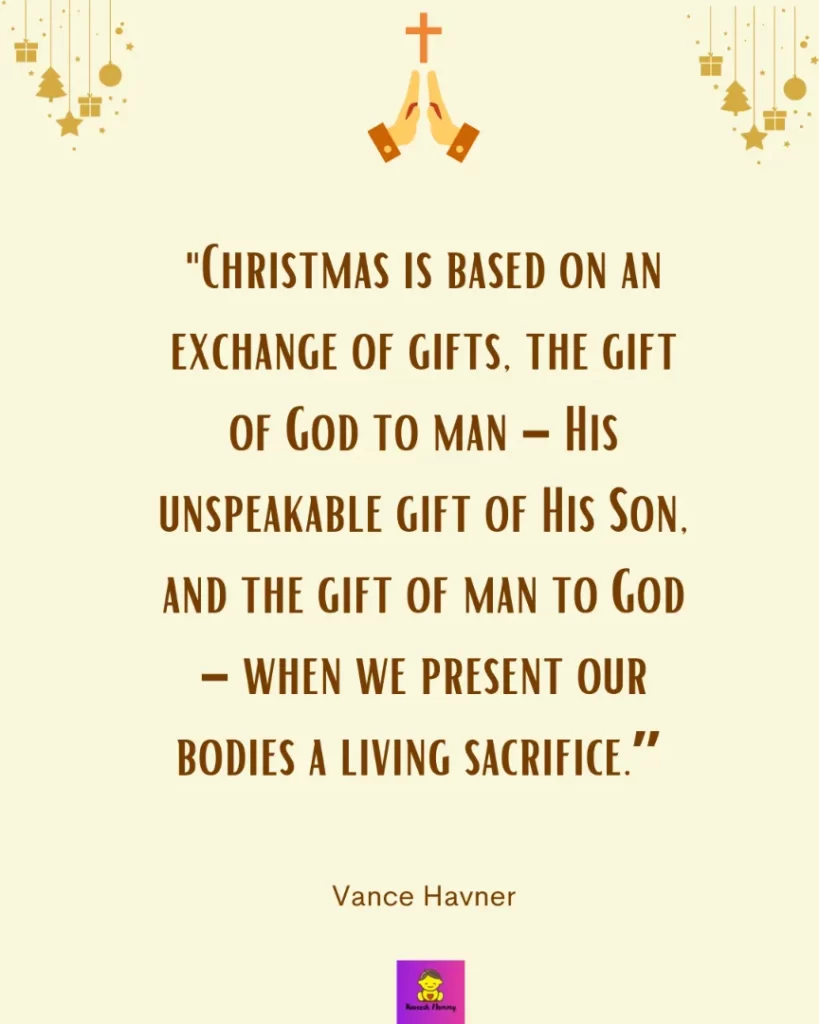 "Christmas is based on an exchange of gifts, the gift of God to man – His unspeakable gift of His Son, and the gift of man to God – when we present our bodies a living sacrifice." — Vance Havner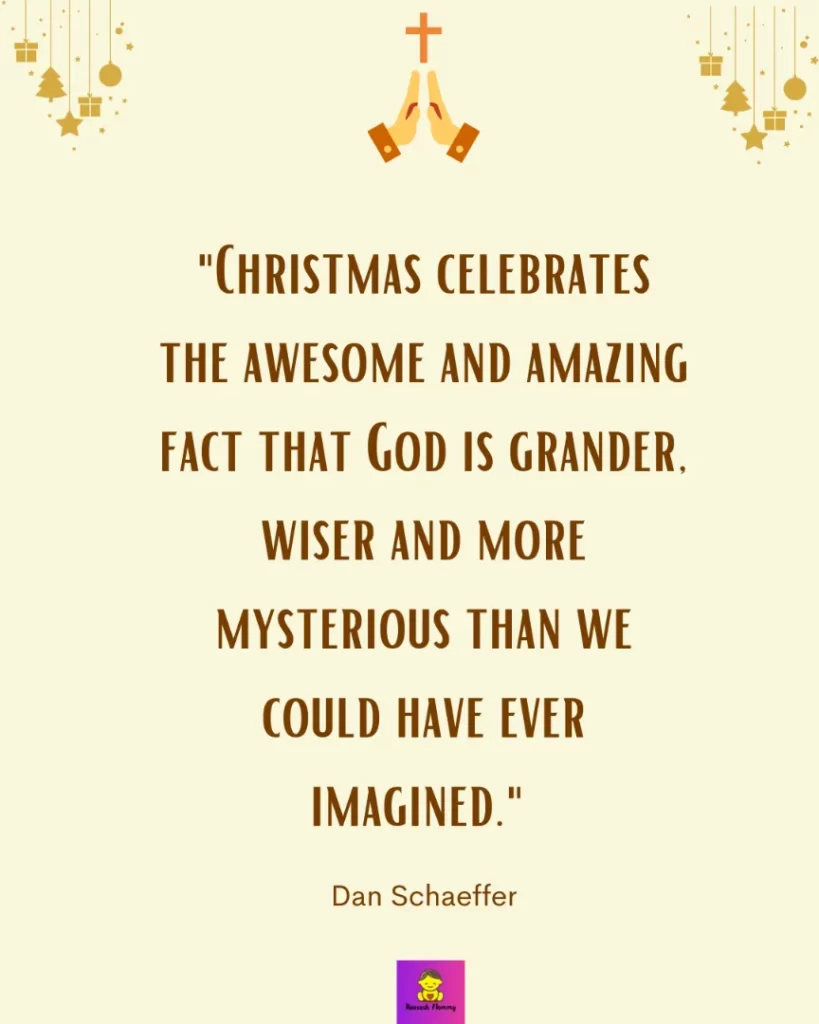 "Christmas celebrates the awesome and amazing fact that God is grander, wiser and more mysterious than we could have ever imagined." — Dan Schaeffer
short religious Christmas quotes
Lift spirits and celebrate the season with religious Christmas quotes. Write these short religious quotes and sayings in cards to send Christmas blessings.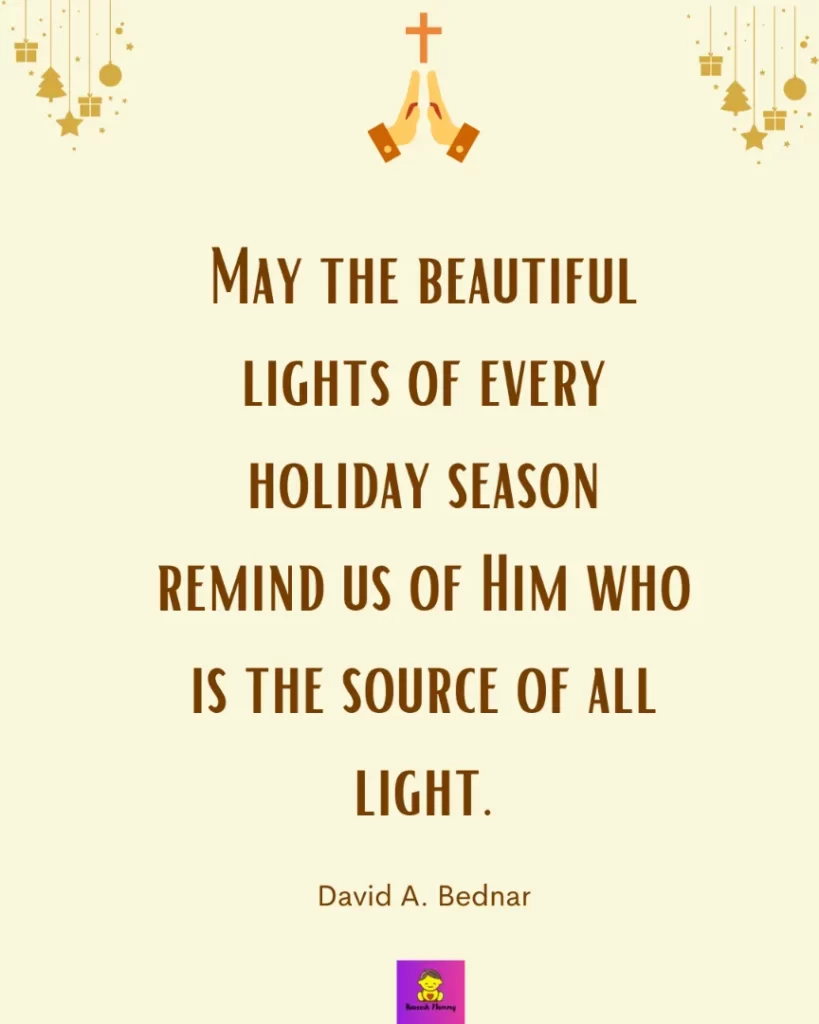 May the beautiful lights of every holiday season remind us of Him who is the source of all light.~ David A. Bednar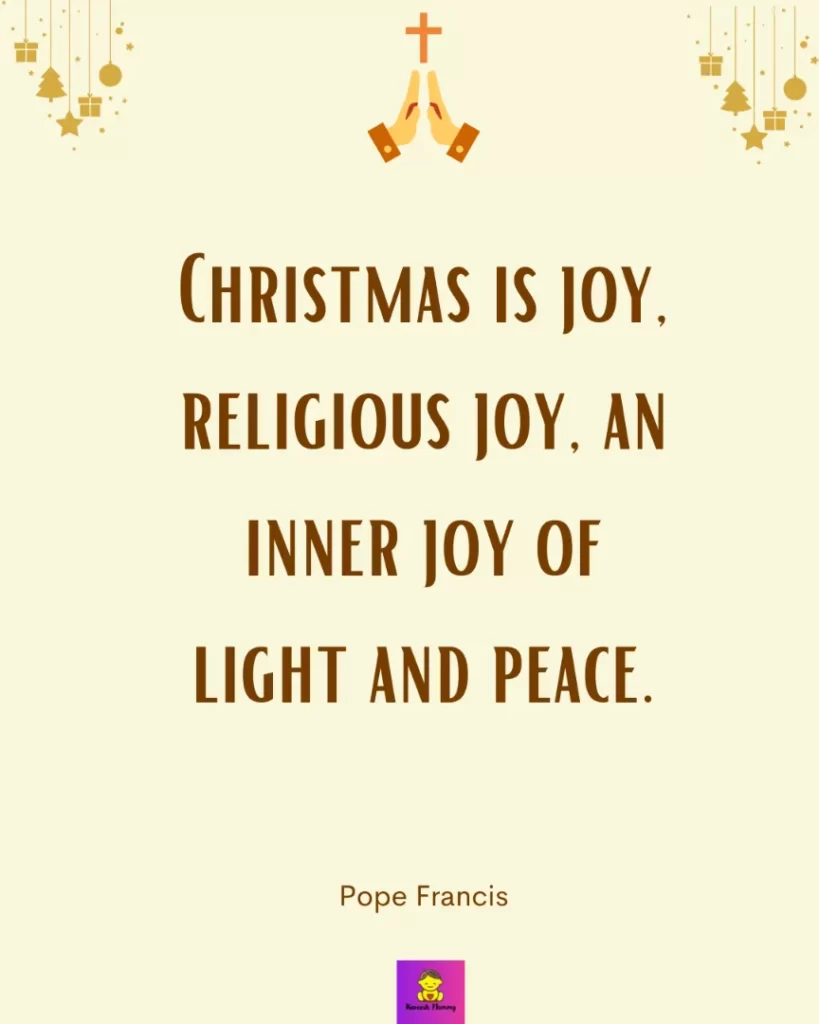 Christmas is joy, religious joy, an inner joy of light and peace.~ Pope Francis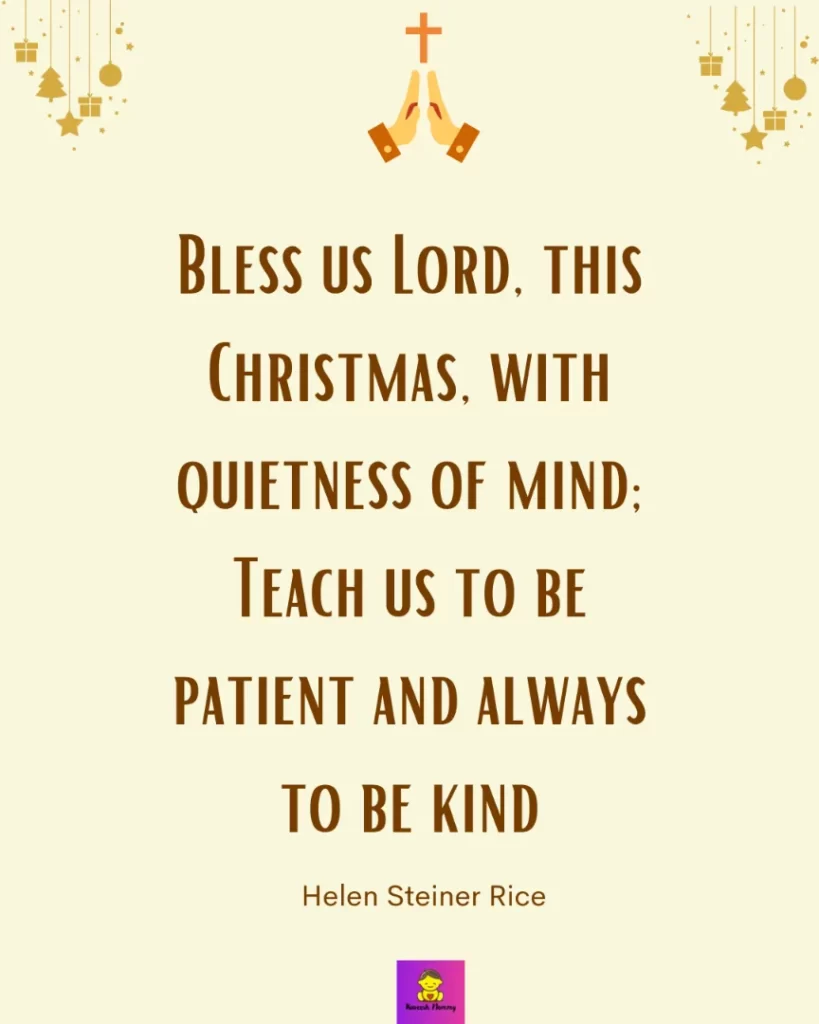 Bless us Lord, this Christmas, with quietness of mind; Teach us to be patient and always to be kind.~ Helen Steiner Rice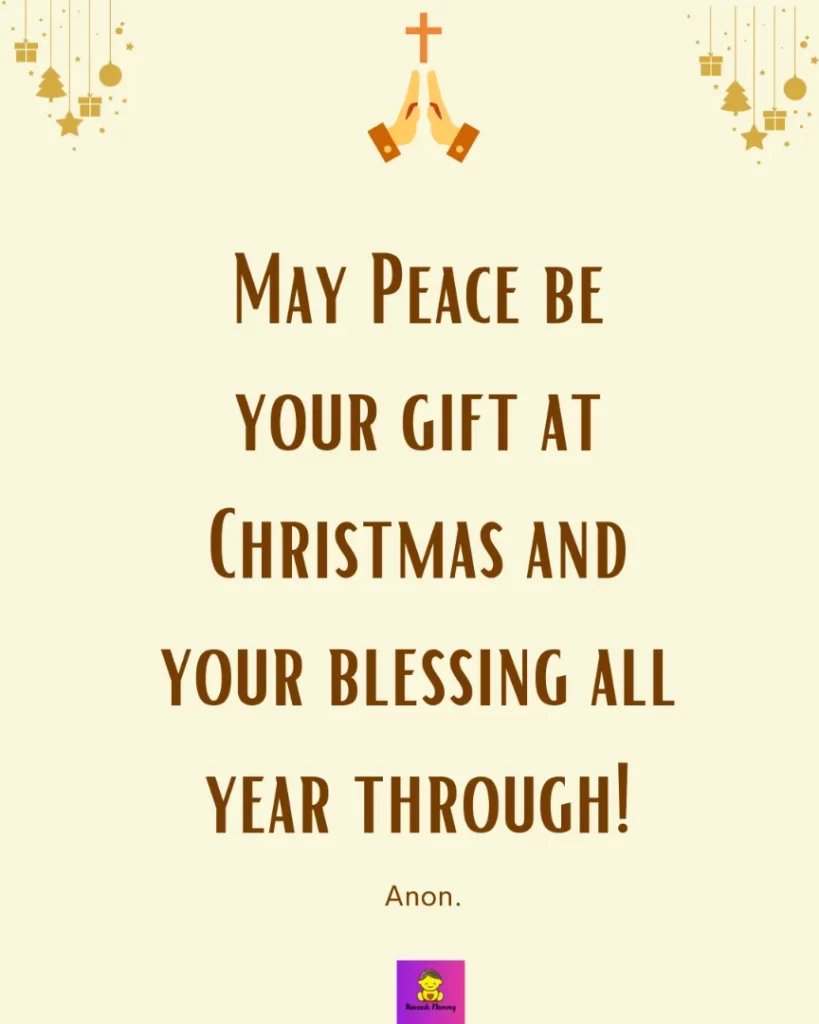 May Peace be your gift at Christmas and your blessing all year through!~ Anon.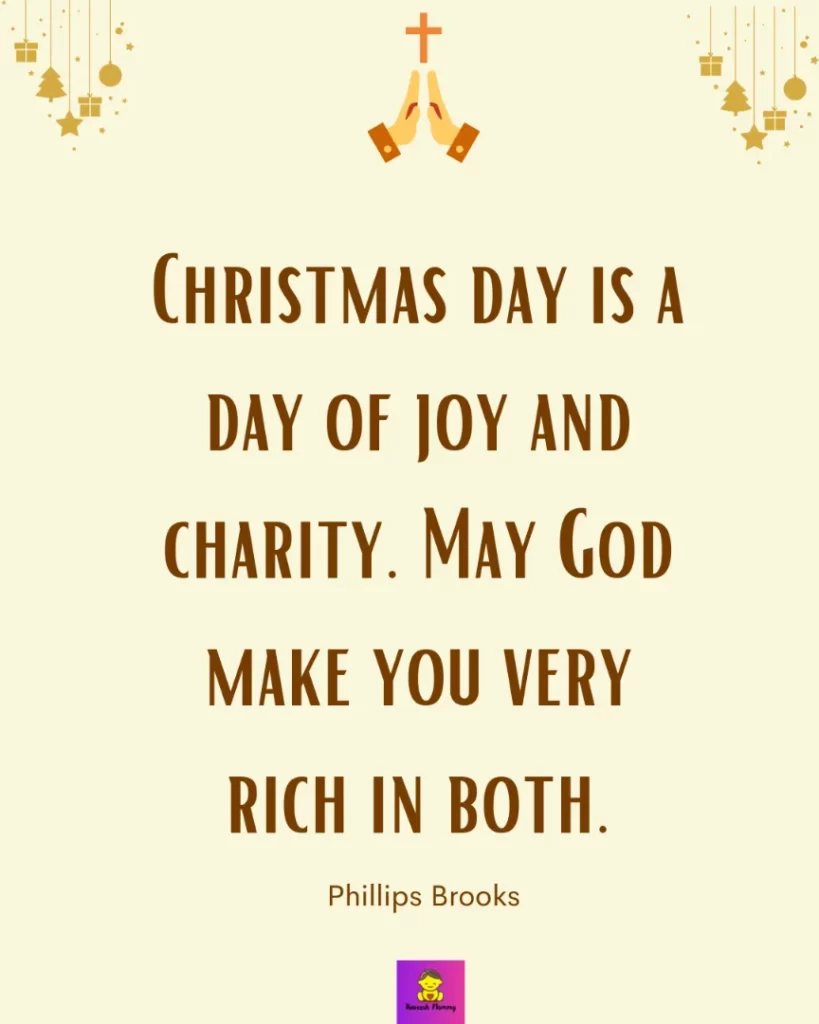 Christmas day is a day of joy and charity. May God make you very rich in both.~ Phillips Brooks
religious Christmas quotes for cards
Lift Spirits With These Card-Worthy Religious Christmas Quotes.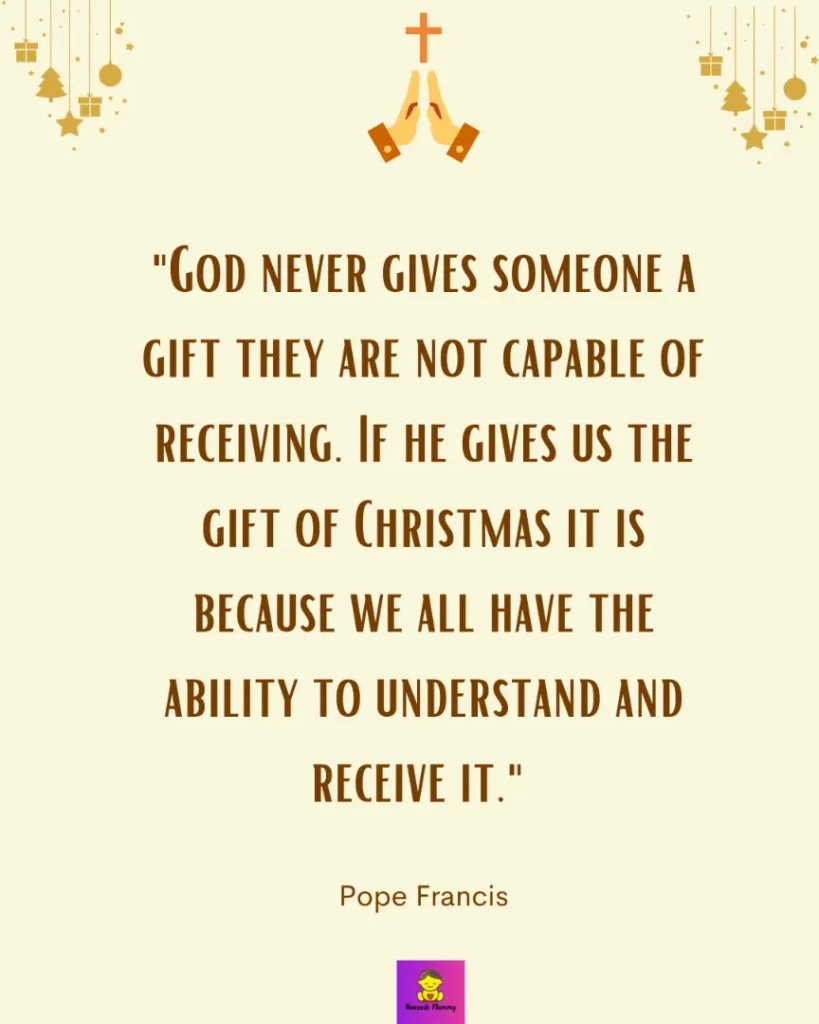 "God never gives someone a gift they are not capable of receiving. If he gives us the gift of Christmas it is because we all have the ability to understand and receive it."  Pope Francis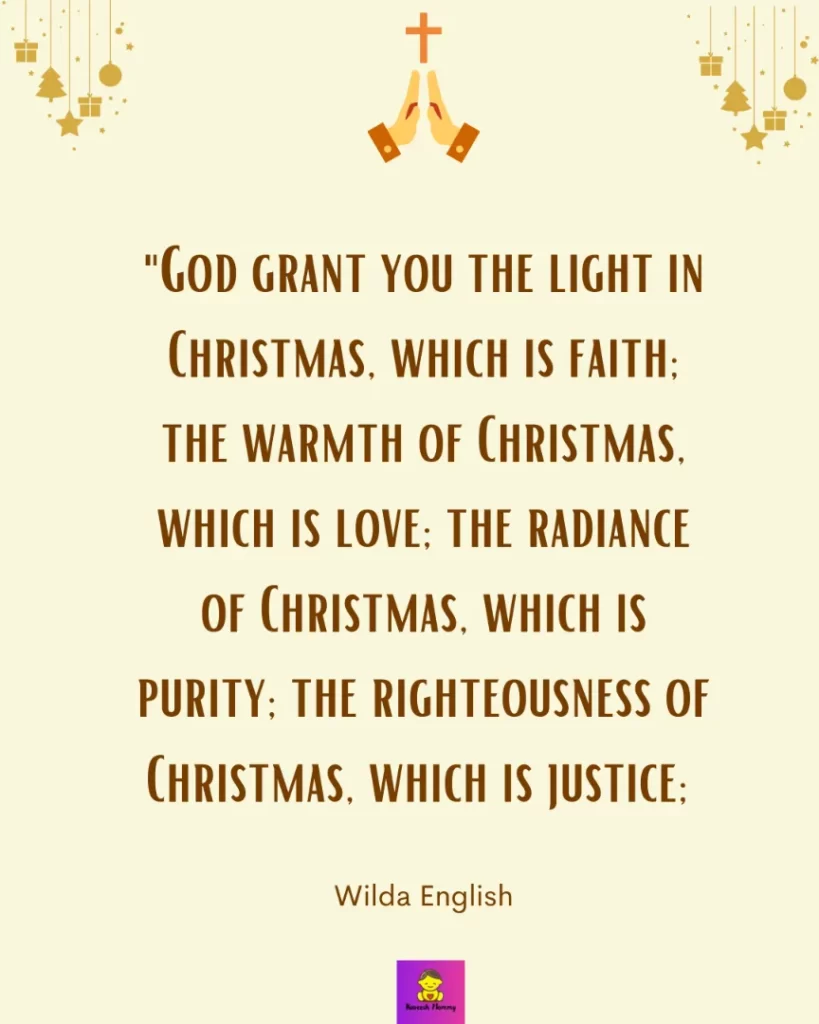 "God grant you the light in Christmas, which is faith; the warmth of Christmas, which is love; the radiance of Christmas, which is purity; the righteousness of Christmas, which is justice; Wilda English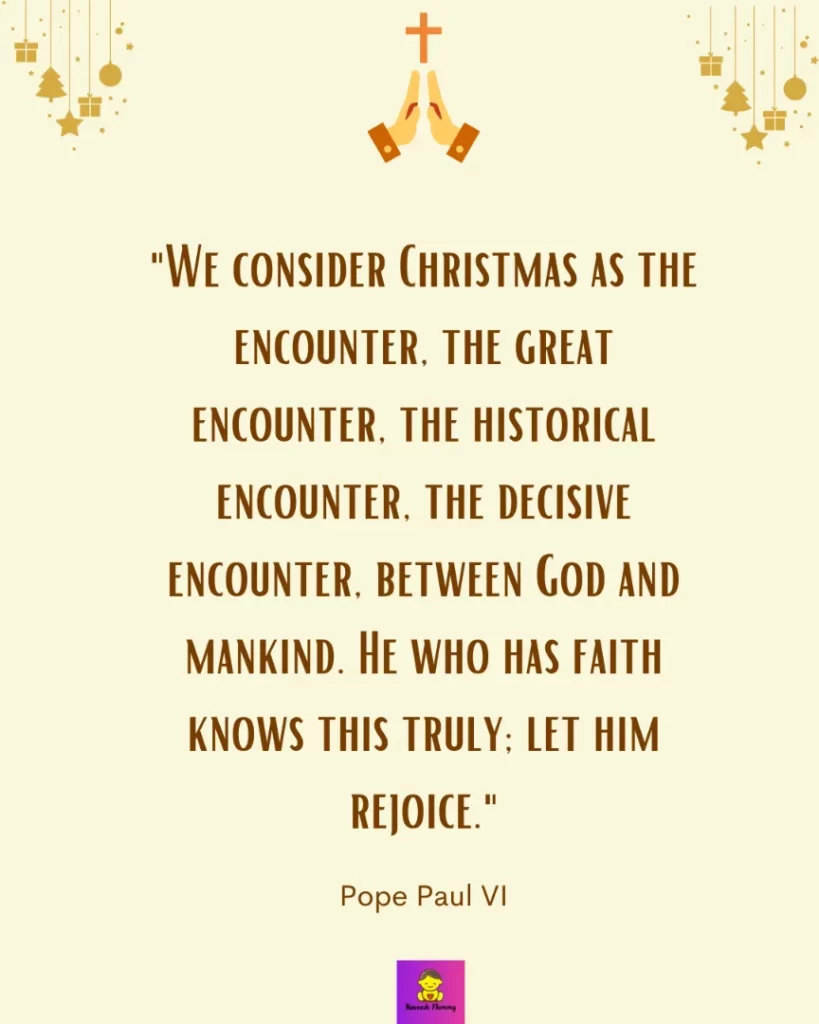 "We consider Christmas as the encounter, the great encounter, the historical encounter, the decisive encounter, between God and mankind. He who has faith knows this truly; let him rejoice." Pope Paul VI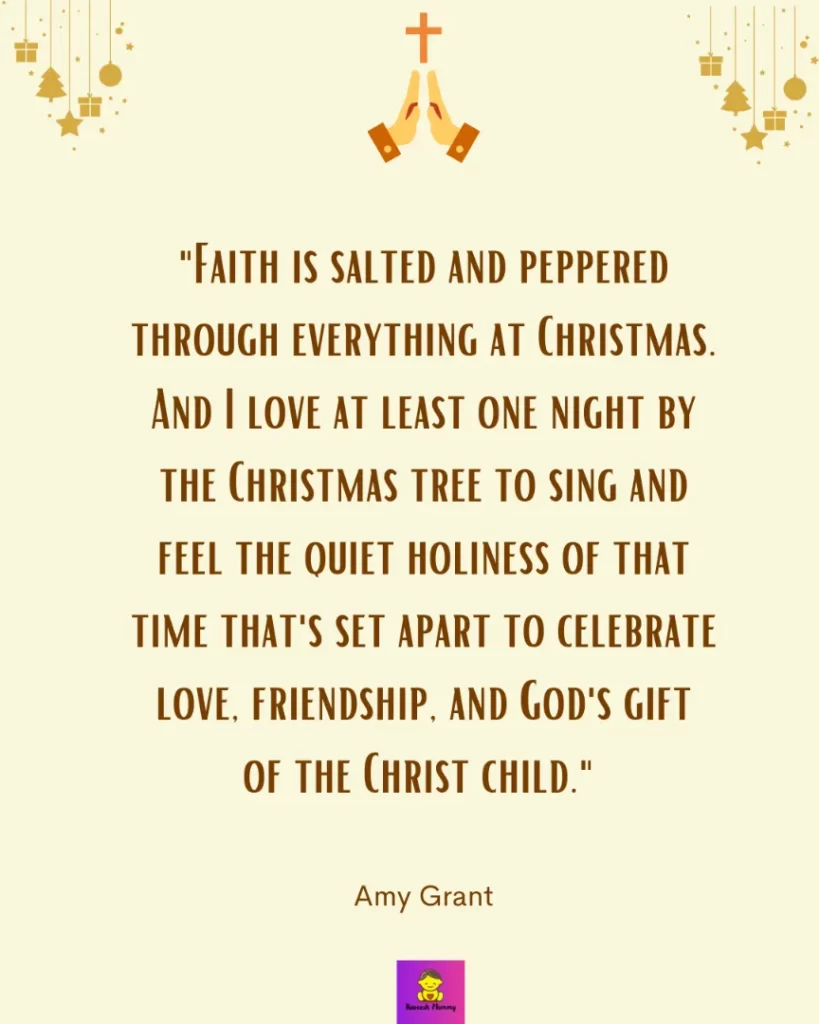 "Faith is salted and peppered through everything at Christmas. And I love at least one night by the Christmas tree to sing and feel the quiet holiness of that time that's set apart to celebrate love, friendship, and God's gift of the Christ child." Amy Grant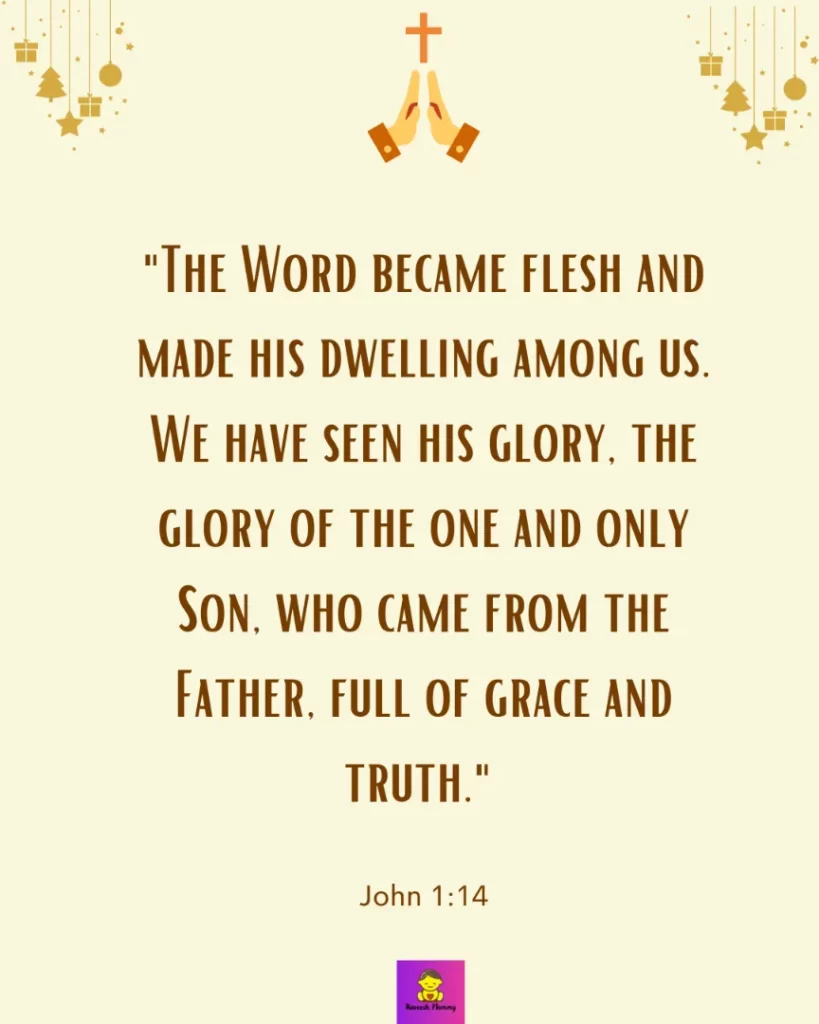 "The Word became flesh and made his dwelling among us. We have seen his glory, the glory of the one and only Son, who came from the Father, full of grace and truth." John 1:14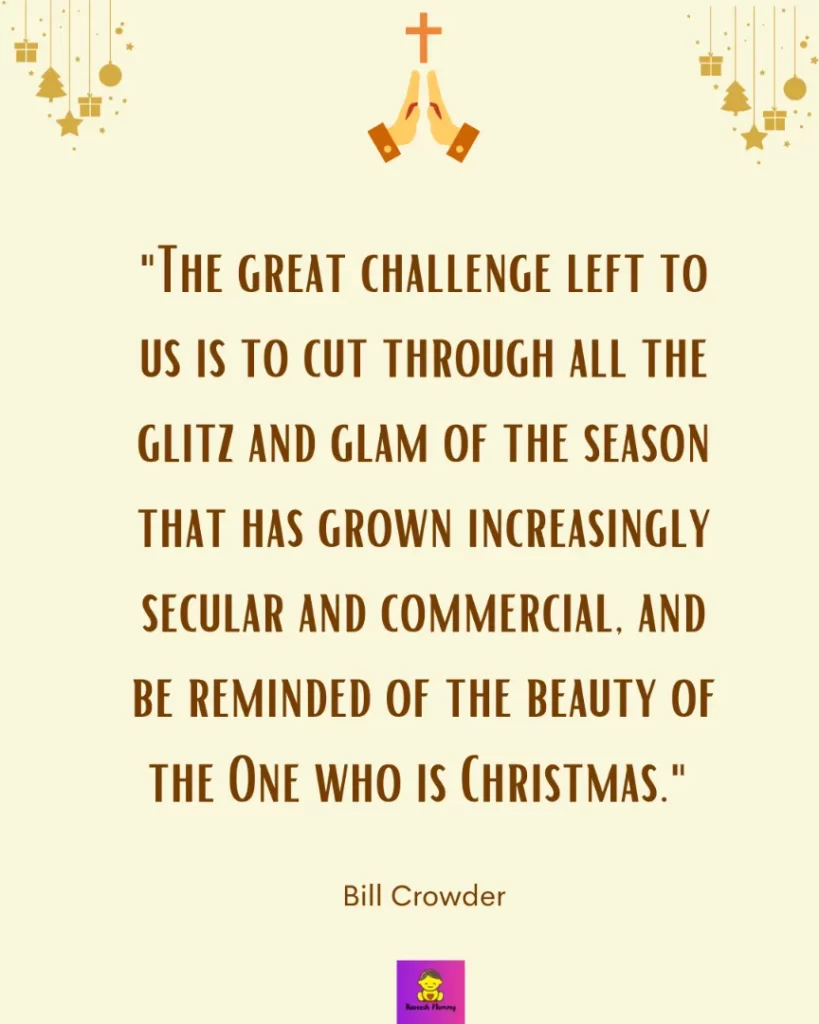 "The great challenge left to us is to cut through all the glitz and glam of the season that has grown increasingly secular and commercial, and be reminded of the beauty of the One who is Christmas." Bill Crowder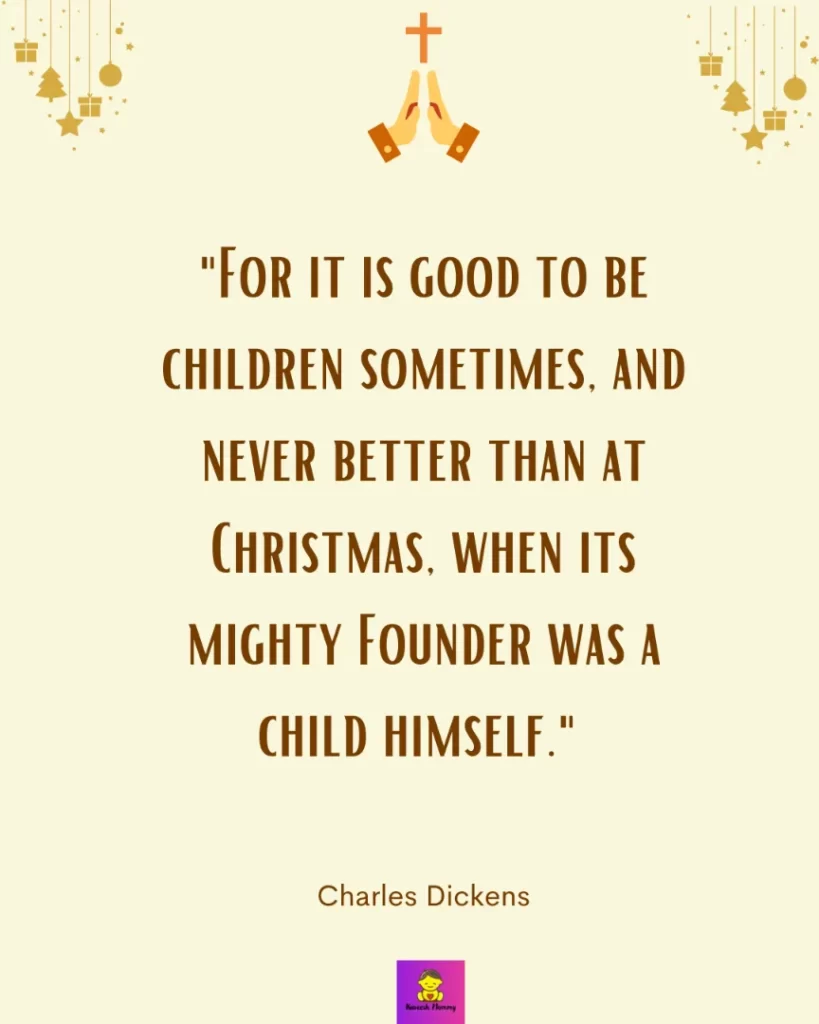 "For it is good to be children sometimes, and never better than at Christmas, when its mighty Founder was a child himself." Charles Dickens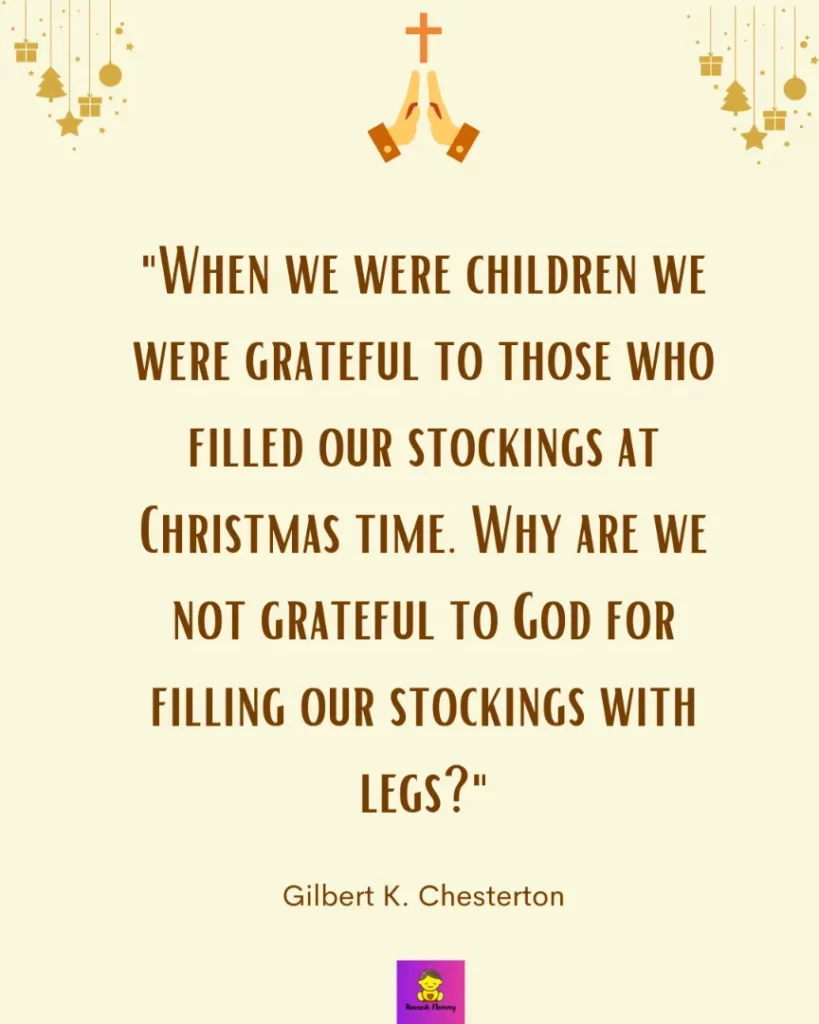 "When we were children we were grateful to those who filled our stockings at Christmas time. Why are we not grateful to God for filling our stockings with legs?" Gilbert K. Chesterton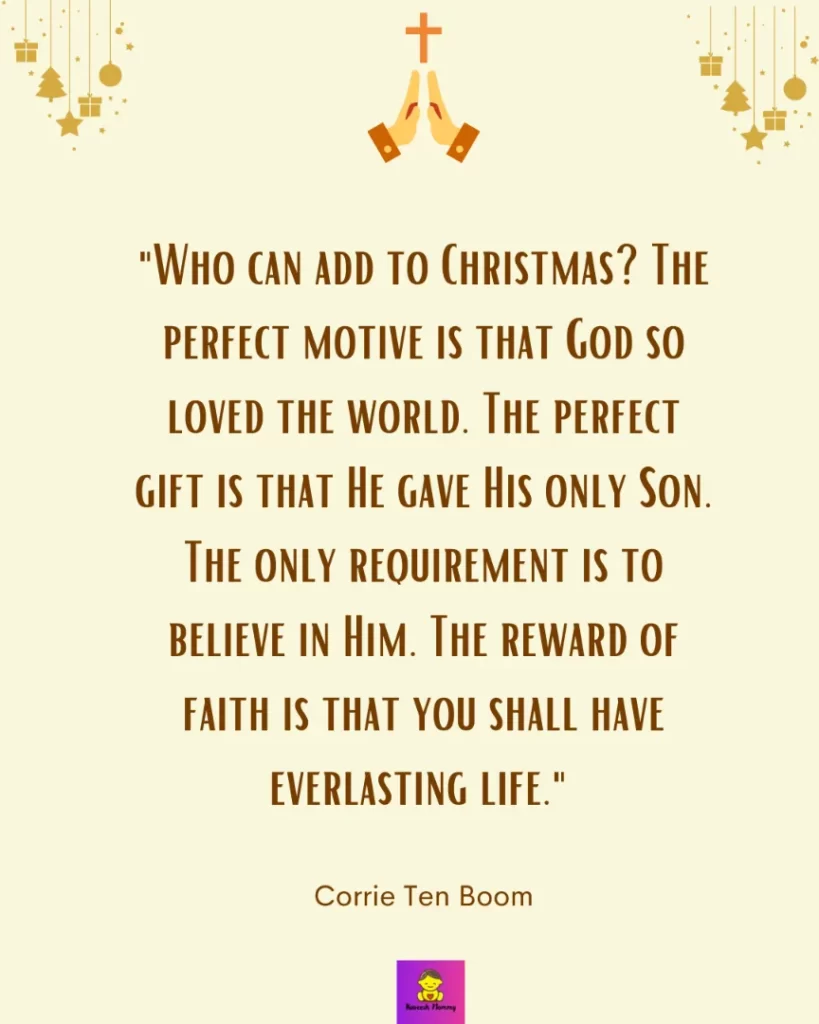 "Who can add to Christmas? The perfect motive is that God so loved the world. The perfect gift is that He gave His only Son. The only requirement is to believe in Him. The reward of faith is that you shall have everlasting life." Corrie Ten Boom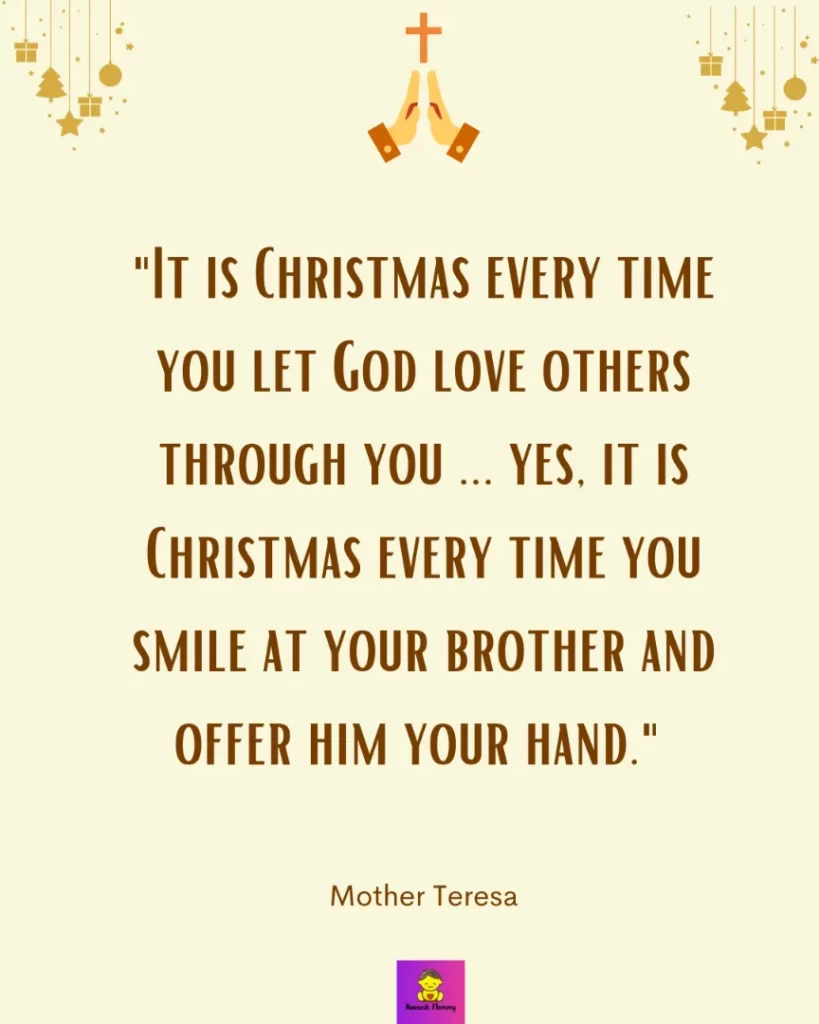 "It is Christmas every time you let God love others through you … yes, it is Christmas every time you smile at your brother and offer him your hand." Mother Teresa
Religious Christmas Card wishes
I hope this Christmas is full of meaning for you, forgiving those who have hurt us and praising those people who help us to move forward, who love us very much. The message of Christ, full of love, can reach you. Merry Christmas.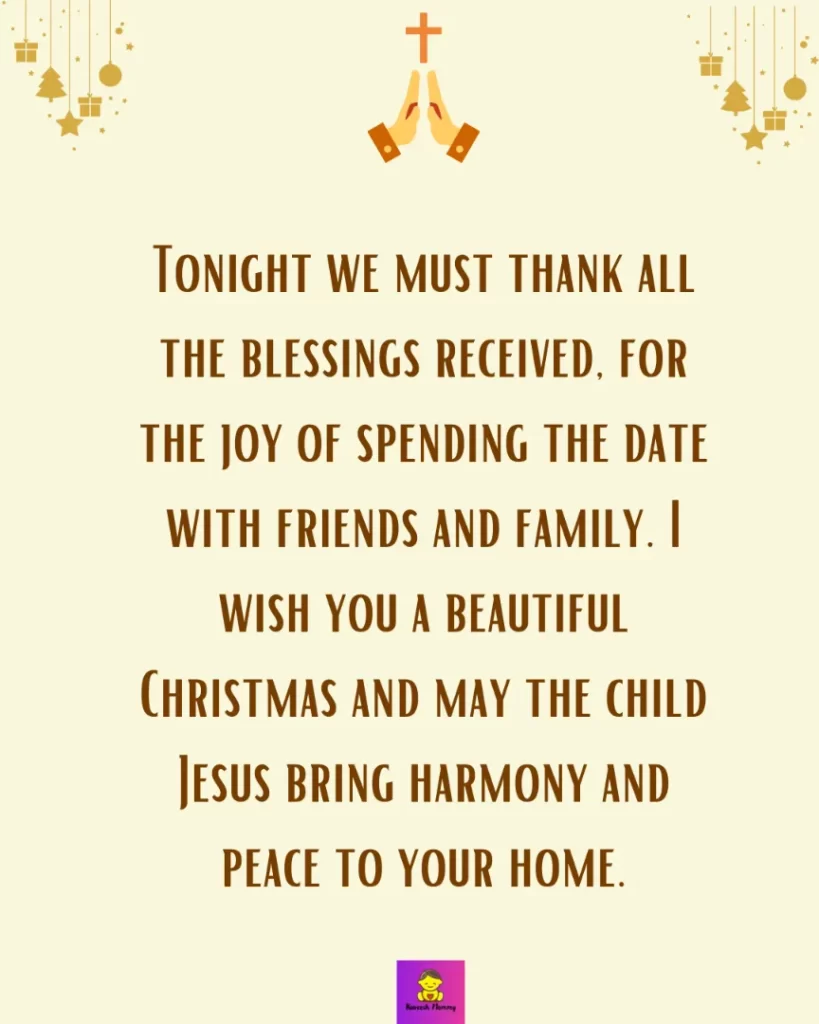 Tonight we must thank all the blessings received, for the joy of spending the date with friends and family. I wish you a beautiful Christmas and may the child Jesus bring harmony and peace to your home.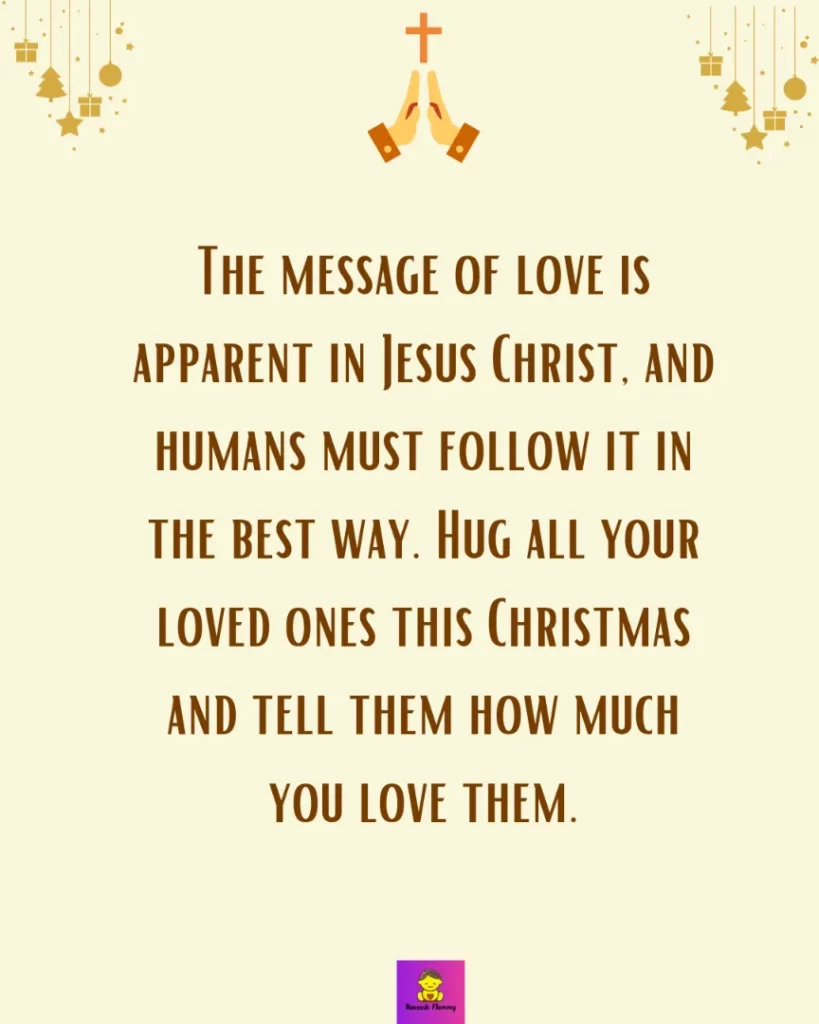 The message of love is apparent in Jesus Christ, and humans must follow it in the best way. Hug all your loved ones this Christmas and tell them how much you love them.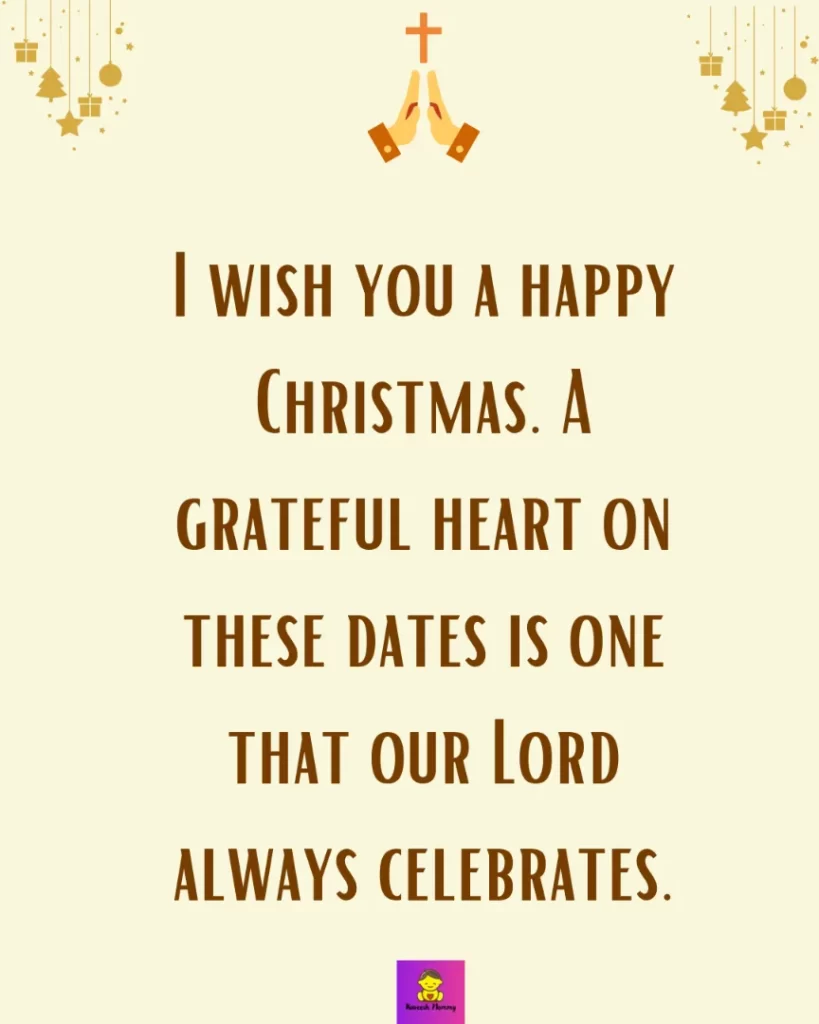 I wish you a happy Christmas. A grateful heart on these dates is one that our Lord always celebrates.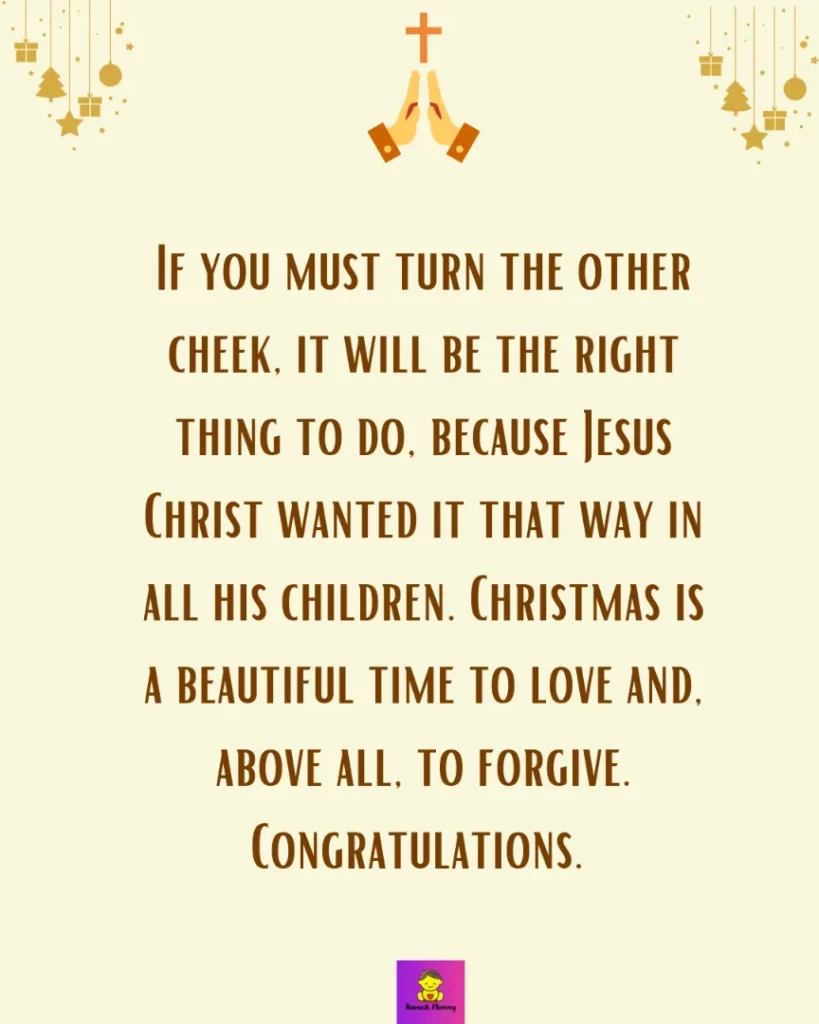 If you must turn the other cheek, it will be the right thing to do, because Jesus Christ wanted it that way in all his children. Christmas is a beautiful time to love and, above all, to forgive. Congratulations.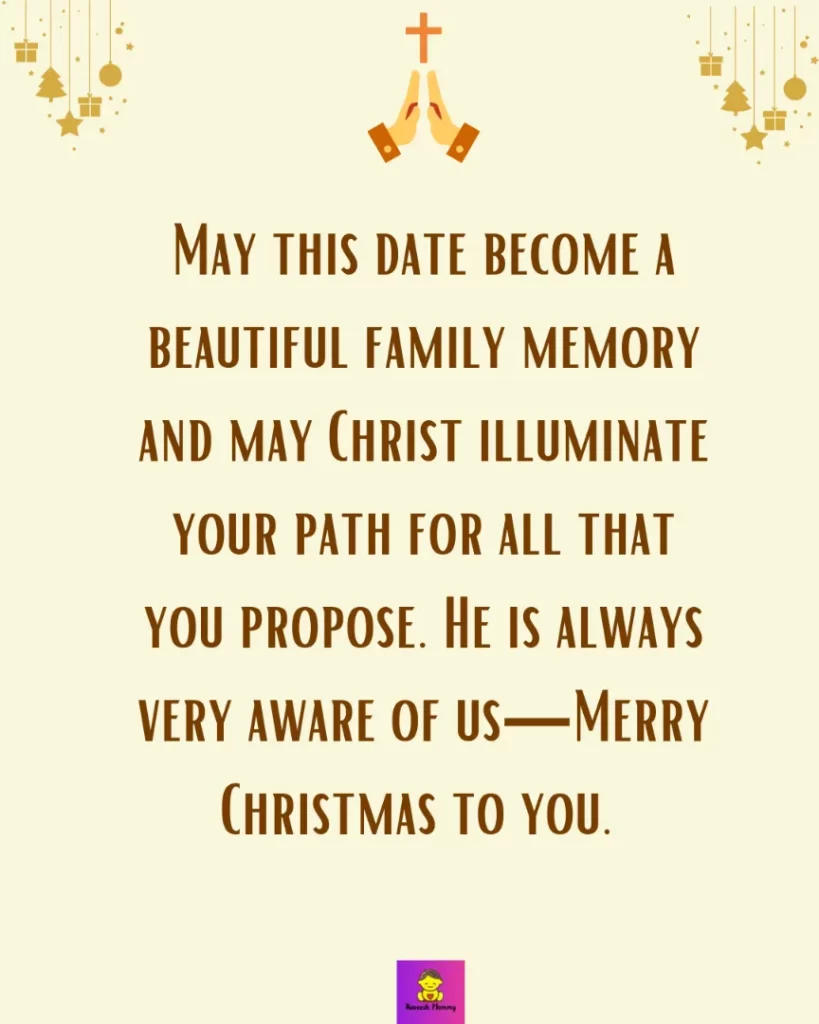 May this date become a beautiful family memory and may Christ illuminate your path for all that you propose. He is always very aware of us—Merry Christmas to you.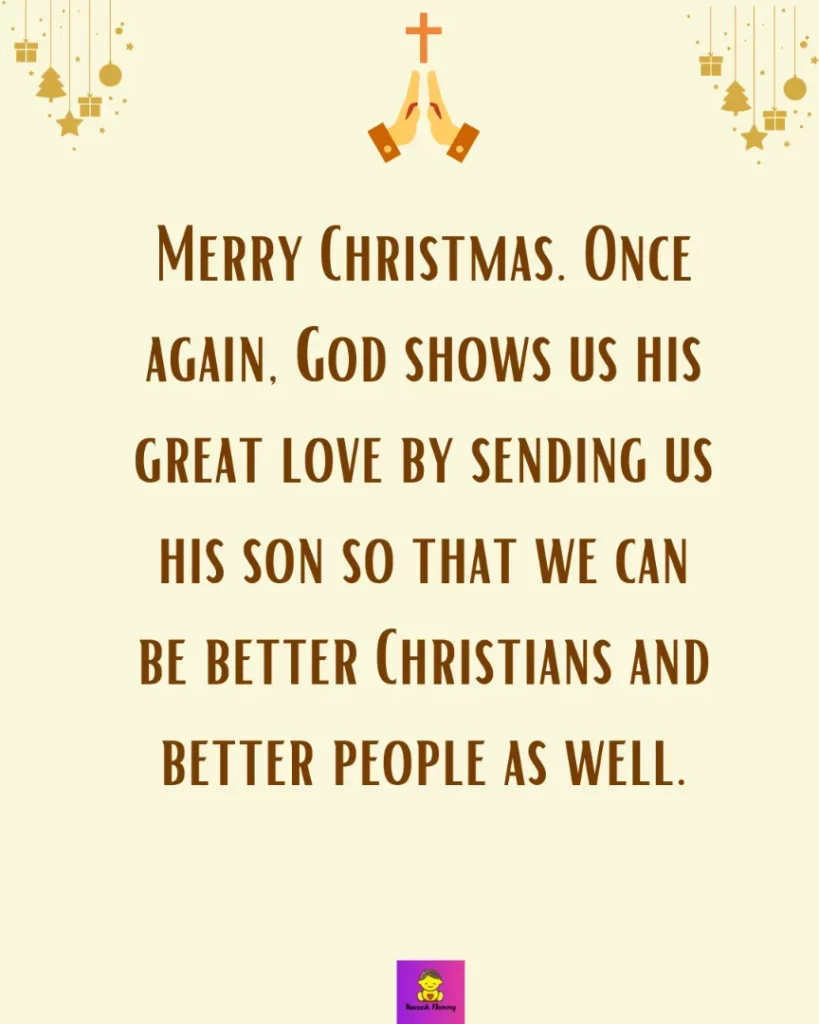 Merry Christmas. Once again, God shows us his great love by sending us his son so that we can be better Christians and better people as well.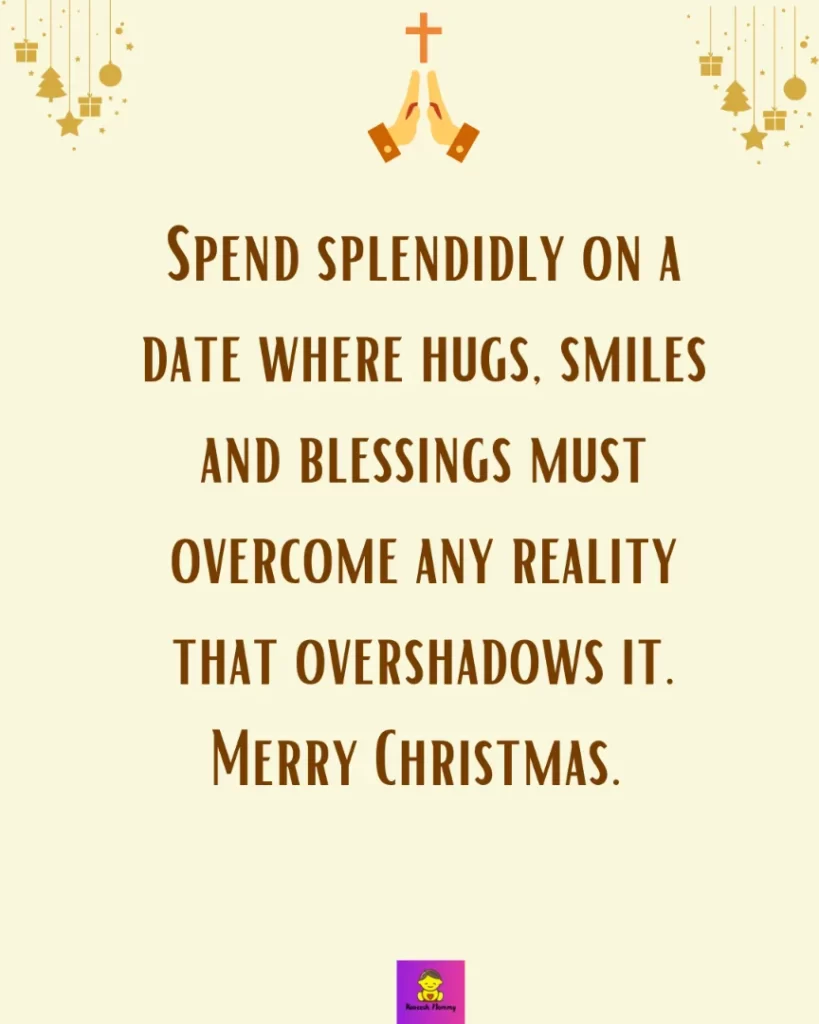 Spend splendidly on a date where hugs, smiles and blessings must overcome any reality that overshadows it. Merry Christmas.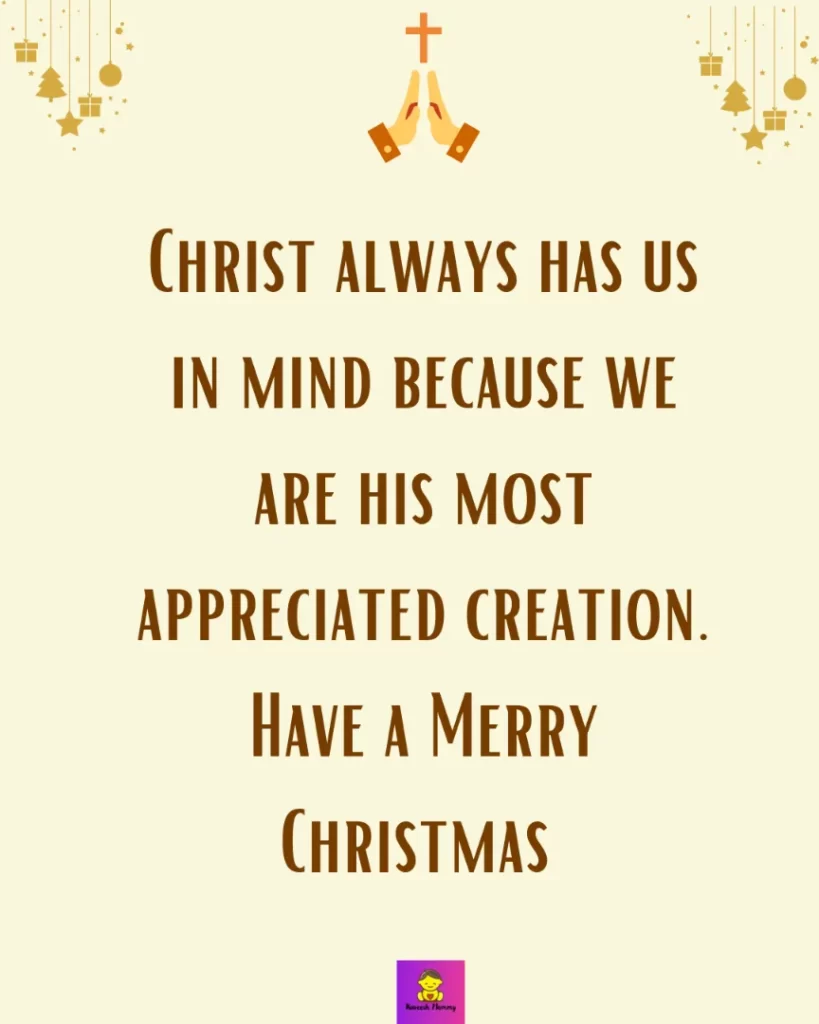 Christ always has us in mind because we are his most appreciated creation. Have a Merry Christmas 
Religious Christmas Messages
May your heart be lifted in praise this Christmas for the wonderful gift of Jesus and the joy He brings to our lives. Have a Merry Christmas and a Blessed New Year.
The magic of Christmas is not in the presents but in His presence. May you have the gift of faith this Christmas and many blessings throughout the New Year.
May you have the gift of faith, the blessing of hope, and the peace of His love at Christmas and always.
May God fill your life with love, joy, and peace this Christmas and throughout the New Year.
Sharing with you the Glory, the Wonder, the Miracle of this Holy Season. Have a Blessed Christmas and New Year.
religious Christmas messages for family
Christmas is a time for connecting with family and spending time together, whether you do it over a meal, at church, or when you find yourself apart and catch up through Zoom. Here are a few brief religious greetings that you may send to Christian family members to wish them a happy Christmas and holiday season.
Wishing you and your beautiful family a very Merry Christmas on this holy day. I am very thankful that we can be together at this special time of year.
On this beautiful Christmas day, surrounded by our loved ones, let us remember the true meaning of Christmas.
'Tis the season for giving, charity, respect for all God's creations, and bringing peace to our Earth. And of course for spending time with precious family like you! May you have a blessed day.
God gave His greatest gift to us on that first Christmas Day and may the wonder of it always guide and light your way. Merry Christmas!
As Christmas carols fill the air with joy and merriment, as the chime of church bells echoes all around, and prayers reach out to God, I wish you all a joyous Christmas and a Happy New Year.
May His light shine brightly during this Christmas season and always, as we reflect the true message of Christmas. Although we are far apart, you are always in my prayers. Sending my love this Christmas to you and your family.
May the Christmas season fill your home with joy, your heart with love, and your life with laughter. And may God bless you today and every day.
Religious Christmas Messages for Friends
For those who think that Jesus is the cause for this Christmas season, here are some inspirational and religious Christmas card sentiments!
Christmas is not what you get, it's what you give. Thank you for being an amazing friend and example of charity and faith.
I am so thankful to God for blessing me with a truly special friend like you. May you have a wonderful Christmas and many blessings for the coming year.
May you be blessed with a wonderful Christmas and year ahead. Merry Christmas friend and be sure to enjoy it to the fullest!
During the festive season, let us remember the true meaning of Christmas, as we share God's love for creation with our most special friends.
May you feel God's presence in the candles that softly spread their glow at Christmas and may you experience the wonder of His abiding love, as He guides you, through each day of the coming year. May God's Blessings be with you friend, this Christmas time!
May God bless this Christmas and always. May you be comforted by His presence in your life, and always follow His guiding light. Wishing you a very Merry Christmas and a wonderful year to come.
This Christmas, I pray that you feel His presence working in your life and that you are filled with the wonder and glory of God's unfailing love for you. May you and your family have a blessed Holiday season.
Religious Christmas Greetings
Today the son of God will be born again, and we must receive him with great emotion and joy so that he will fill us with his blessing.
This should be your best night because if you have a clean mind and heart, you will feel the peace that radiates from having God in your heart, and you will feel many desires to forgive and help your neighbour because your heart will no longer know the taste of selfishness.
I ask that the feelings that Christmas brings with it be lasting 365 days a year. I hug you and wish you a merry Christmas.
If you have found the message that he leaves you every Christmas, then do not keep looking any more about the path of happiness because only God gives you his teachings the correct way that you need to follow in your life. I wish you a Merry Christmas with all my heart.
May your feelings of love and faith towards the Eternal Father be reaffirmed this Christmas. May peace and love surround your whole family.
We hope you have a Christmas full of peace and love for your spirit and share with your closest ones. You can send them through social networks or a Christmas card, your good wishes for this special date.
religious Christmas quotes from bible
These lines from the Christian Bible speak of the very first Christmas and the significance of Christmas gifts. Choose one (or more!) to share with your Christian family and friends as you unite with them in celebrating the birth of Jesus and the hope He brought into the world this Christmas season.
Religious Christmas SMS Messages
The holiday season is really busy. We've got you covered if you don't have the time to write and mail Christmas cards. Simply copy and paste these short SMS greetings for the Religious Christmas holiday to send to your friends and family. They'll be thrilled to hear that you're considering them during this very special Christmas season.
Christmas Eve is a night of peace and love in which the angels in heaven sing praises to our Lord. Let's have a Merry Christmas!
On the first Christmas Eve a beautiful family taught us that to be happy you only need the love and blessings of God. Let's celebrate a Merry Christmas!
May our hearts be filled with joy because tonight we celebrate the birth of our Savior, the son of God. I wish you many congratulations!
Just as the star of Bethlehem became a beacon for the Magi, the love of God can lead us through the path of good and happiness. Let's have a nice Christmas!
I want to wish a Merry Christmas to all my friends and family and also that this is a great opportunity to reconnect with our Savior.
Let us make the centre of our attention this Christmas to celebrate the birth of the Son of God, our Savior Jesus Christ, and in this way, we will receive abundant blessings for ourselves and our families.
Religious Christmas wishes
These religious Christmas greetings, which make mention of God, Jesus, and the first Christmas, encourage harmony, love, faith, and hope. They are a beautiful way to greet your religious friends and family a happy holiday season and a prosperous new year.
May the love of Christ fill your home and life and cause each day of yours to release countless blessings for you. Merry Christmas!
May the divine presence of Jesus Christ be with you throughout this holy season and make your days as beautiful as the sunshine!
May the God of love shower His best blessings onto your life as you go through this Christmas season. Have a bliss-filled Christmas!
I wish that Christ will work the best of His miracles in your life and make you more prosperous in the year ahead. Have a sweet Christmas!
May the Lord Jesus Christ provide you with both divine and physical strength and prosperity to last you through the rest of your time on earth!
I wish that the sweet love of Christ will surround you and your whole family and cause you to have the most joyous of Christmas fests.
Final thoughts on famous religious Christmas quotes from bible.
I hope you found the perfect religious Christmas quotes sayings for family to show gratitude.
If you are having trouble figuring out, what should I Caption my Valentines Post? then let us inspire you with these Valentine Day Funny to Romantic messages. Creating Valentine's Day cards that say "Happy Valentine to love one" or other Valentine's Day messages for boyfriend, girlfriend, fiancé, husband, wife, friend, and family is a wonderful way to express your love. if you're wondering, "What is the best message for Valentine's Day in advance?" you don't need to panic!
Before you start thinking, "What is best Valentine's Gifts for Him?" "What do I get the man that has everything?" How can I surprise my man on Valentine's Day? do not worry, we have you covered.
This list Valentine's Gifts for Him, your husband, boyfriend, dad, father-in-law or any other man who has your heart.
I have gathered dozens of amazing Valentine's Gifts for Him under $10-50, timeframes (last-minute gifts on Amazon, FTW) and relationship statuses.
If you are celebrating your first Valentine's Day as boyfriend and girlfriend then go for the cute couples gift.
Or you can buy a personalized print to capture your life as Mr. and Mrs And if you're in a long-distance relationship, send him a subscription box to his door each month to continuously show your love from afar.
it's time to check out our Valentines day to welcome this most festive of months.
Let us know in the comments below if we missed Religious Christmas Quotes that should be added.
Latest posts by Nancy Williams
(see all)