Breastfeeding Latching Tips to Help You Breastfeed Better
When my sister come to me with a latching problem when she became a new mom. I said, "Show me what you are doing."
I watched her position and latch her baby. She grimaced as she latched her little baby. I quickly realized what was probably causing her so much nipple discomfort.
And then I taught her how she could fix it.
Knowing how to feed your child without pain is important.
Nipple pain is one of the most frequent reasons why a mother stops breastfeeding before she planned to. (Source)
it is no surprise. No one wants to do something unpleasant many times a day.
breastfeeding tips for latching, I'm about to share may not sound earth-shattering, but they can make a significant difference in how it feels. 
And, if it feels better, you can continue enjoying your baby.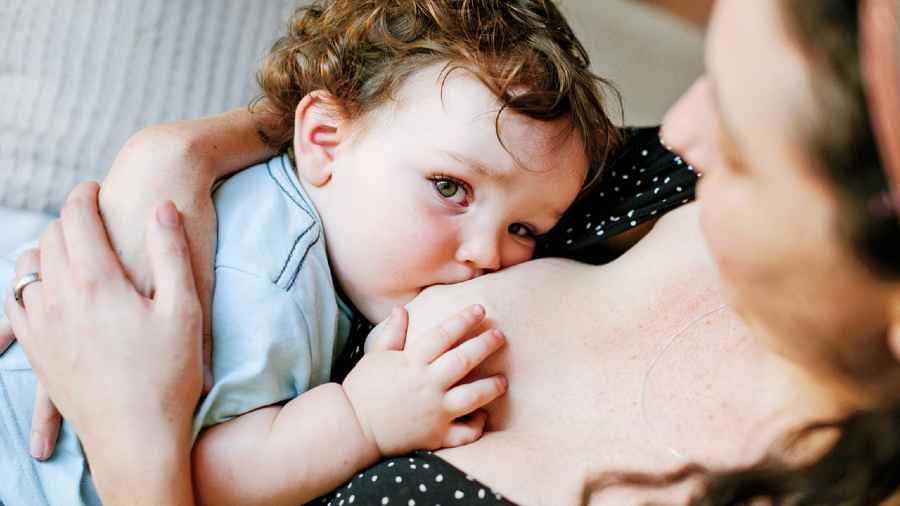 You will read 
How to get baby latch deeper 
What are the signs of a good latch? 
How do I Know if My Baby is Getting Enough Milk?
Latching Tips For Sore Nipples
Breastfeeding positions for a good latch
Breastfeeding products for easy latch
Related Post
How to get baby latch deeper
For a deep latch, you have to know that your nipple (most of the areola) in the baby's mouth is important.  how would you do it lets find out. 
The initial latch may be painful or burning as your nipples become sore and adapt to breastfeeding (typically 2-3 days in), but it should subside within a few seconds of nursing.
You should make sure that baby lips are flared outward  (like fish lips) when you latch your newborn. And nipple is pointing towards the roof of the baby's mouth.
You may hear swallows as a baby drink, but you should not hear a "clicking" sound. That means the latch is too simple, and you should break the latch and start over.
Watch how to get baby deeper latch with images.
Tickle your baby's lips with your nipple. This will help the baby open its mouth wide.
2. Place your nipple just above the top lip of your newborn. Make sure that the chin of your baby is not tucked into their chest.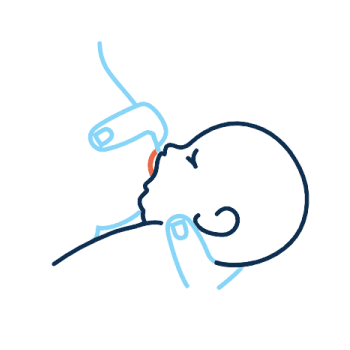 3. Push the lower lip of your baby away from the base of your breast. . Baby's lips should be turned outward like a fish. First, your baby should lead into the chin of the breast and then latch onto the breast. Your baby's tongue should be extended, and your breast should fill your baby's mouth.
When your baby latches on the tip of your nipple or hurts, gently place a clean finger in your baby's mouth to remove the latch and try again. Watch the video for correcting a painful latch.
Watch a video story of mothers think about latching on the breast. Also, watch the proper latch video.
signs of a good latch
There are some signs of a successful latch if you follow these steps: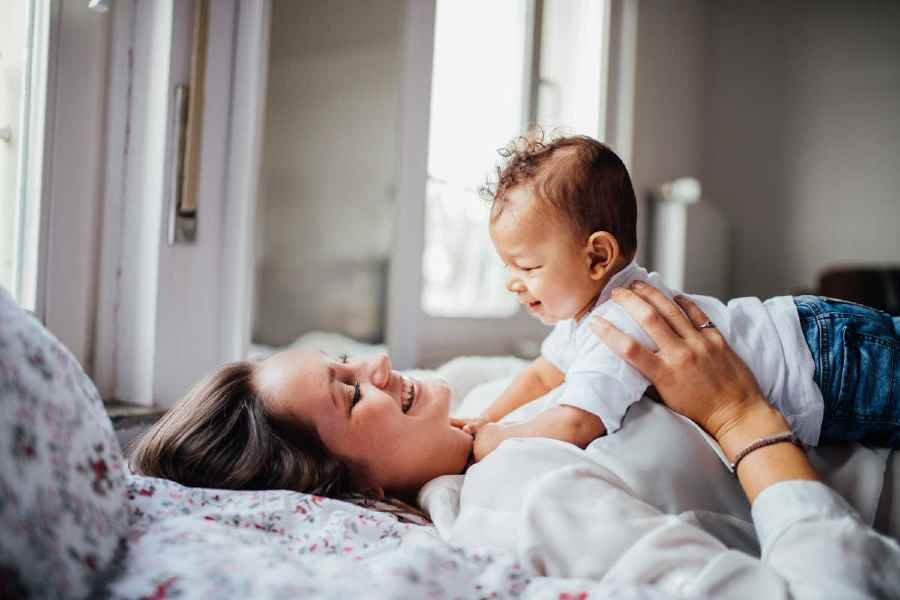 It doesn't hurt after the first 10-20 sucks
Your baby is feeding eight or more times a day after the first 24 hours. Nighttime feedings are to be expected.
Your baby gets one to three wet diapers a day in her first few days of life. By day four or six, as the milk supply rises, your infant should have five or more wet diapers a day. The pee of the baby should be light yellow.
Your baby's head and body should be in a line. 
Your baby's chin must touch your breast.
the nipple needs to go over the tongue to the back of the mouth. 
his chin is touching your breast and he can breathe through his nose.
He starts with short sucks before sucking more slowly and deeply.
You hear or see swallowing.
Your baby has returned to his/her birth weight by about two weeks.
How do I Know if My Baby is Getting Enough Milk?
Your baby's wet and soiled diapers are the best way to know how much milk is being given during feeding. Here is an example of the least amount you might expect every 24 hours: 
Day 1 . . . . . . . . . . 1 wet. . . . . . . . . . . 1 bowel movement 
Day 2 . . . . . . . . . . 2 wets. . . . . . . . . . 2 bowel movements 
Day 3 . . . . . . . . . . 3 wets. . . . . . . . . . 3 bowel movements 
Day 4 . . . . . . . . . . 4 wets. . . . . . . . . . 4 bowel movements 
Day 5 to 6 . . . . . . 6 to 8 wets . . . . . . .4 bowel movements 
After 6 weeks . . . 5 to 6 wets . . . . . . . .5 to 6 if very small in amount; 1 every few days, if large in amount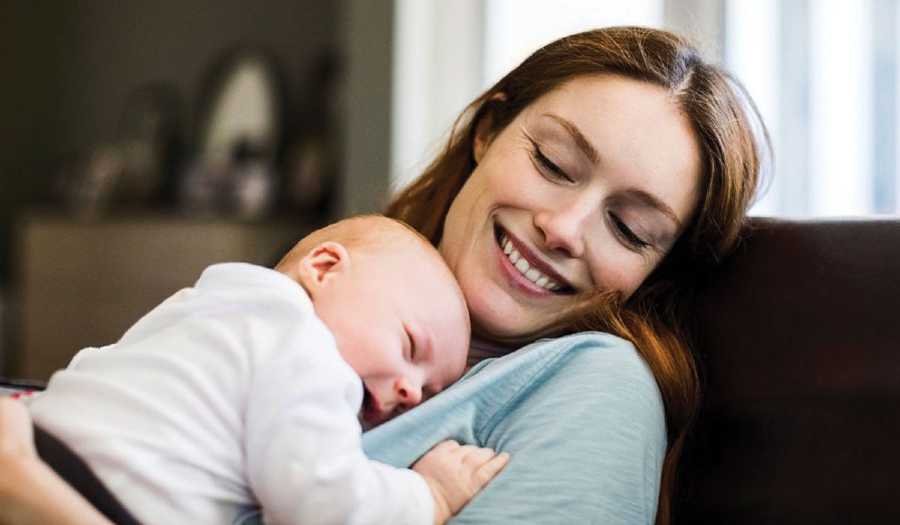 If you are using disposable diapers, it may be difficult to know if the diaper is wet in the first few days because your baby produces small amounts of urine. 
You can place tissue or a cotton ball in the diaper to help you see if there is urine. Some disposable diapers have a strip to indicate wetness. 
By the second week, wet diapers will feel heavier (indicating an increase in urine) and will be easier to count. At all ages, the urine should be pale in color and have a mild smell.
By about day 5, infant bowel movements lighten to yellow in color. This color change is the best sign that your baby is getting enough colostrum at first, and later, enough mature breast milk. 
Bowel movements will be very loose and seedy. Your baby may have a bowel movement at every feeding.Read more about what are the signs your baby is hungry or full. guide with pictures that new mother needs to know
Breastfeeding positions for a good latch 
There are 5 breastfeeding positions for good latch you can try. I have also tried these positions that really worked and give a good amount of milk to my newborn baby.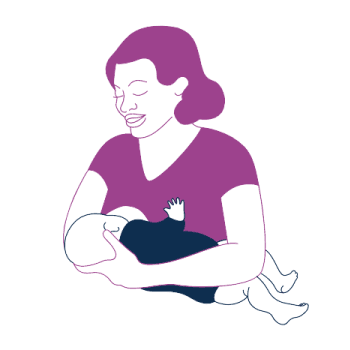 Cross-Cradle Hold
Hold your baby tummy to tummy
Support his neck and shoulder with your hand.
Baby's back will line up along the inside of your forearm.
Use the breast opposite the hand you are using to support the baby. 
If you're holding your baby in your right hand, you're latching on to the left breast.
This seems to give mom a lot of control over how the baby will latch and making sure there is enough nipple in the baby's mouth.
Watch cross-cradle hold breastfeeding position video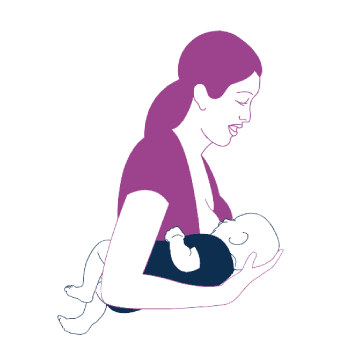 Football Hold
Baby should be tucked along the side of your body.
The tummy of your baby will be against the side of your body.
You will be holding the baby with the same hand as the breast you are using.
Watch football hold breastfeeding positions video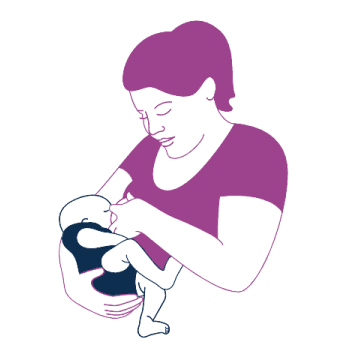 Cradle Hold
If you are using the right breast, then you will cradle your baby with your right arm.
Attach him to the breast on the same side.
Turn your baby's tummy toward your tummy. 
Your left hand is free to support your breast if needed. 
Pillows can help support your arm and elbow. To protect your back, avoid leaning down on your baby. Instead, bring your baby to you.
I call this the advanced breastfeeding position. Because newborns have poor neck control, your baby needs you to support her neck. When she is a little older, this position will work better.
Watch cradle hold breastfeeding position video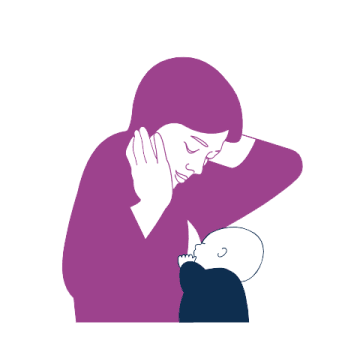 Side-Lying
In this position, You and your baby lie on your sides facing each other.
Your baby's chest should face your chest
your baby's mouth should be level with your nipple. 
you can cradle your baby's back with your forearm. 
Support yourself with pillows behind your back. Be careful not to surround your baby with loose clothing or bedding.
Watch side-lying breastfeeding position video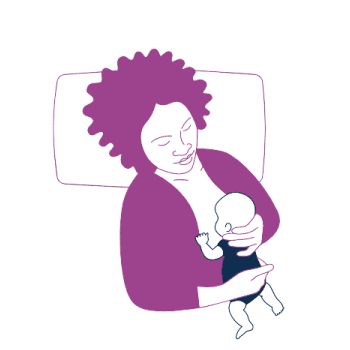 Laid-Back Nursing Position
Lean back to a comfortable position
Don't lay flat
Lay baby on your chest, between your breasts
You can let baby wriggle his way to your breast and latch on by himself
Or you can cradle him and support his head with your arm or hand
Some moms find it helpful to use one hand to position their breast near their baby. It's up to you and what you think is the most comfortable.
Your baby will naturally find your nipple, latch, and begin to suckle.
Watch laid back breastfeeding positions video 
Breastfeeding positions and latch watch this video 
Latching Tips For Sore Nipples
Sore nipples can be caused by a variety of reasons. The majority of the time, it is triggered by incorrect positioning of the baby and incorrect latching technique. (Source).
If you are suffering from sore nipples then you should do two things.
First: if you are feeling pain then you should hand express your breastmilk this way you can reduce breast pain. Store your breast milk. 
Second: you can try different breastfeeding positions. 
Third: you can try sore nipple cream try "Lansinoh Lanolin Nipple Cream for Breastfeeding, Most Recommended Nipple Cream in the US by Moms and Doctors. 
This cream protects your sore nipples
This is made of lanolin so you do not need to remove it before breastfeeding. It is safe for the baby. 
Also read:  Breastfeeding Tips For Newborns: New Mom Must Know 
Breastfeeding products for easy latch
Use breastfeeding products that make you more comfortable.
A Good Nursing Pillow
There are two nursing pillow boppy and my best friend nursing pillow you can try for good latch positions. I really love the design of the new Boppy nursing pillow,
Boppy Best Latch Breastfeeding Pillow
My Brest Friend Original Nursing Posture Pillow
I love that two different surfaces are available.
For newborns who need much support, the firm side is better.
As the baby grows the softer side is excellent.
I like that the belt is adjustable.
I like that the belt can be removed for moms who don't want to wear one.
It has a lot of positive feedback on Amazon. It's always comforting to know that other mothers are enthusiastic about a new product.
Also Read: 10 Best Nursing Pillows: For New Born Baby 2021
Final Thoughts On BreastfeedingTips On Latching
The key to breastfeeding is to know how to get a good latch. Indeed, the most important part of breastfeeding is getting a good latch! You cannot breastfeed if you don't have a good latch.
A bad latch may cause extremely painful feedings, extra sore nipples, and the baby not receiving all of the milk he needs.
Hopefully, these breastfeeding tips for latching on will make learning to breastfeed much easier for both you and your baby!
You've got a question? I'd love to help! I would be delighted if you left a comment if these tips helped you to keep going through these early days.
I would love if you left one here, even if you never leave comments! I want this to be a connecting and supporting place for women.
My other mommies out there please feel free to add in your tips and tricks to getting baby to latch on!
Refrences
Australia, H. (2021, March 18). How to breastfeed. Www.healthdirect.gov.au. https://www.healthdirect.gov.au/how-to-breastfeed
Breastfeeding. (2011). HealthLink BC. https://www.healthlinkbc.ca/health-topics/hw91687
Breastfeeding – when to start. (2012). Vic.gov.au. https://www.betterhealth.vic.gov.au/health/HealthyLiving/breastfeeding-when-to-start
Breastfeeding and Learning to Latch | Healthy Families BC. (n.d.). Www.healthyfamiliesbc.ca. Retrieved March 24, 2021, from https://www.healthyfamiliesbc.ca/home/articles/learning-latch
Breastfeeding attachment techniques. (2018, July 30). Raising Children Network. https://raisingchildren.net.au/newborns/breastfeeding-bottle-feeding/how-to-breastfeed/attachment-techniques
Breastfeeding checklist: How to get a good latch. (2017, July 4). Womenshealth.gov. https://www.womenshealth.gov/its-only-natural/overcoming-challenges/breastfeeding-checklist-how-get-good-latch
Breastfeeding Latch. (2012, April 25). American Pregnancy Association. https://americanpregnancy.org/healthy-pregnancy/breastfeeding/breastfeeding-latch-71017/
Breastfeeding problems and solutions | From Tiny Tot to Toddler. (n.d.). INSPQ. Retrieved March 24, 2021, from https://www.inspq.qc.ca/en/tiny-tot/feeding-your-child/breastfeeding-your-baby/breastfeeding-problems-and-solutions
Breastfeeding your baby. (n.d.). https://www.health.nsw.gov.au/kidsfamilies/MCFhealth/Publications/breastfeeding-your-baby.pdf
Breastfeeding: positioning and attachment. (2020a, December 7). Nhs.uk. https://www.nhs.uk/conditions/baby/breastfeeding-and-bottle-feeding/breastfeeding/positioning-and-attachment/
Breastfeeding: positioning and attachment. (2020b, December 7). Nhs.uk. https://www.nhs.uk/conditions/baby/breastfeeding-and-bottle-feeding/breastfeeding/positioning-and-attachment/
Getting a good latch. (2017, February 1). Womenshealth.gov. https://www.womenshealth.gov/breastfeeding/learning-breastfeed/getting-good-latch
Getting Started – Position and Latch. (n.d.). Newborn Nursery. https://med.stanford.edu/newborns/professional-education/breastfeeding/abcs-of-breastfeeding/getting-started—position-and-latch.html
Public Health Agency of Canada. (2015). Ten Valuable Tips for Successful Breastfeeding – Canada.ca. Canada.ca. https://www.canada.ca/en/public-health/services/health-promotion/childhood-adolescence/stages-childhood/infancy-birth-two-years/breastfeeding-infant-nutrition/valuable-tips-successful-breastfeeding.html
Steps and Signs of a Good Latch | WIC Breastfeeding. (2019). Usda.gov. https://wicbreastfeeding.fns.usda.gov/steps-and-signs-good-latch
The 6 best breastfeeding positions. (2018, September 4). Www.medicalnewstoday.com. https://www.medicalnewstoday.com/articles/322984#best-breastfeeding-positions
Trust), N. (National C. (2019, November 12). How to help your baby attach and breastfeed. NCT (National Childbirth Trust). https://www.nct.org.uk/baby-toddler/feeding/early-days/how-help-your-baby-attach-and-breastfeed
Latest posts by Nancy Williams
(see all)