you have a newborn baby girl and you do not know How to describe a cute baby girl?
Do not worry, I made a list that I could refer to of my favourite baby girl quotes. This list is an outstanding list of quotes to a baby girl, newborn baby quotes and cute baby girl sayings.
choose from these 70+ sweet baby girl quotes to congratulate your friend, sister or family members who just got newborn baby.
You can also use these baby girls saying on Instagram, factbook posts or tweet about it.
So what are you looking for? New baby girl wishes, little girl quotes, quotes for baby girl or "it's a girl" quotes. You can find all of them here!
Also read:
Baby quotes
New Mom Quotes
Baby memes with images
LOVE WATCHING FATHERS DAY QUOTE VIDEOS?
Then check out these best Quotes for Father, Mother, Baby, Kids, Uncle and Family videos and other quote videos on our "Kaveesh Mommy" 
Baby Girl Quotes
Make your card one-of-a-kind, inspiring, and, most importantly, unique. Include the most compassionate and uplifting baby girl quotes from mom in your card to help you express what you're feeling in wonder of this little one's birth.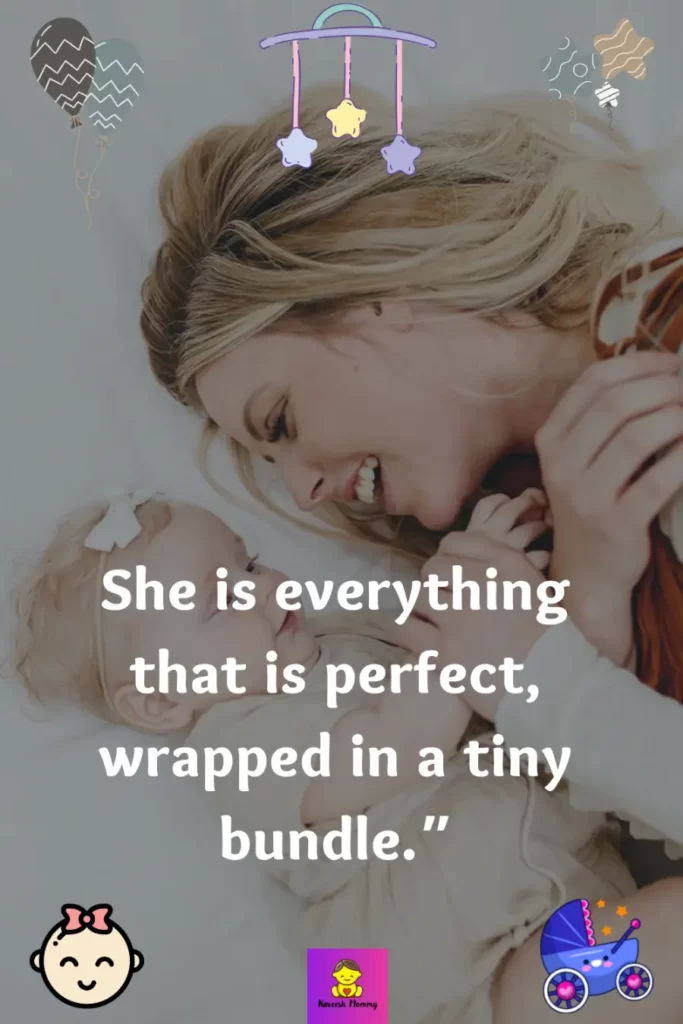 She is everything that is perfect, wrapped in a tiny bundle."
"A baby girl is a miracle that never ceases to be miraculous."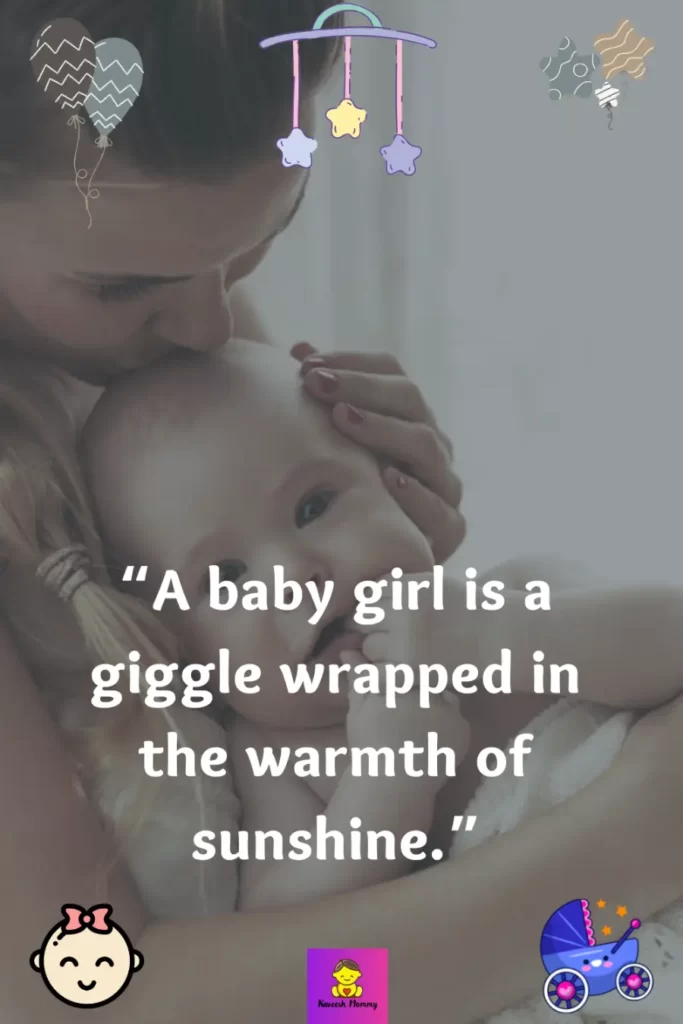 "A baby girl is a giggle wrapped in the warmth of sunshine."
"A baby girl always leaves a bit of sparkle and a bit of rainbow wherever she goes."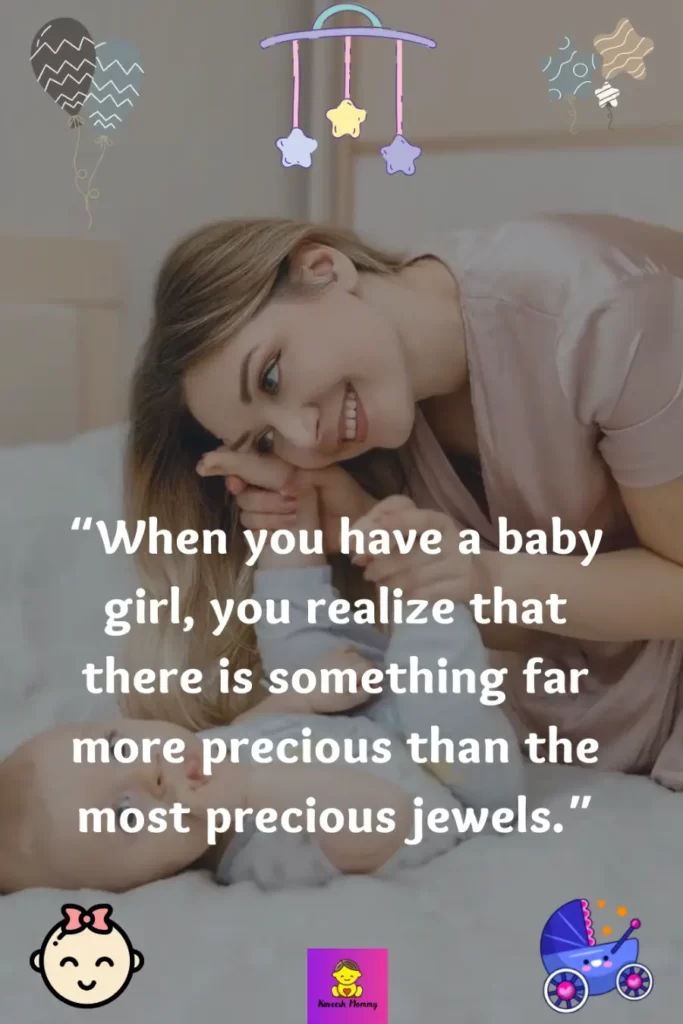 "When you have a baby girl, you realize that there is something far more precious than the most precious jewels."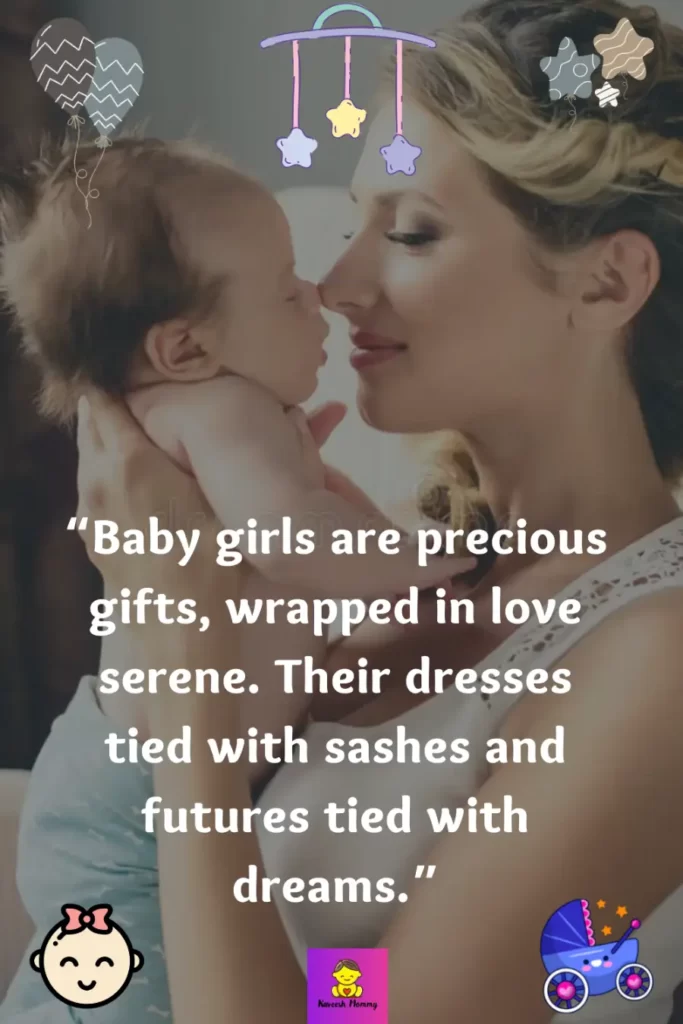 "Baby girls are precious gifts, wrapped in love serene. Their dresses tied with sashes and futures tied with dreams."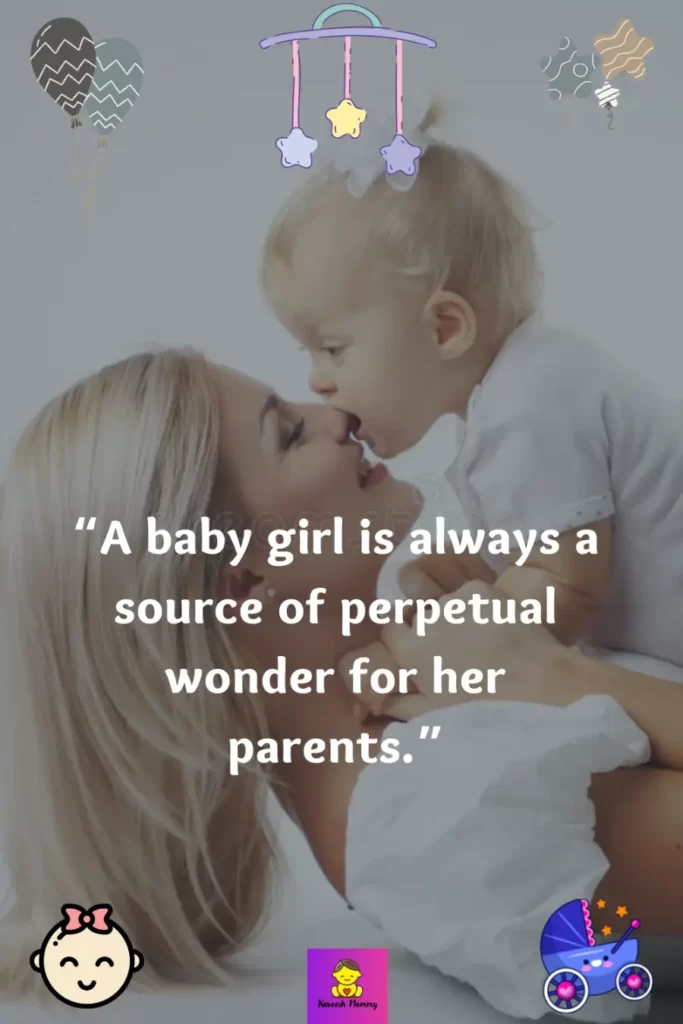 "A baby girl is always a source of perpetual wonder for her parents."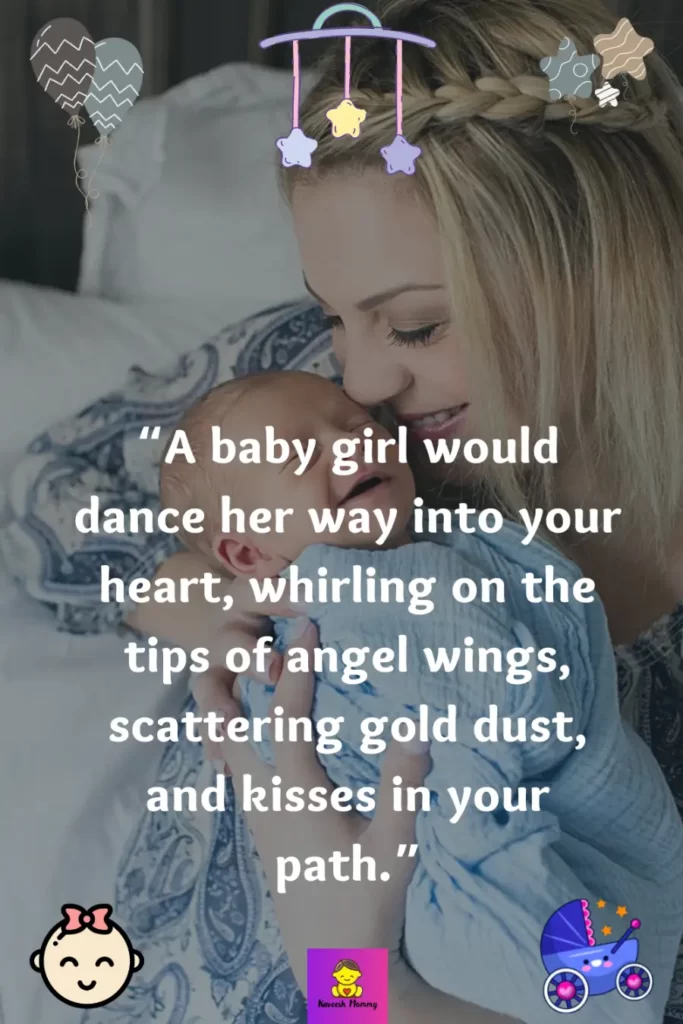 "A baby girl would dance her way into your heart, whirling on the tips of angel wings, scattering gold dust, and kisses in your path."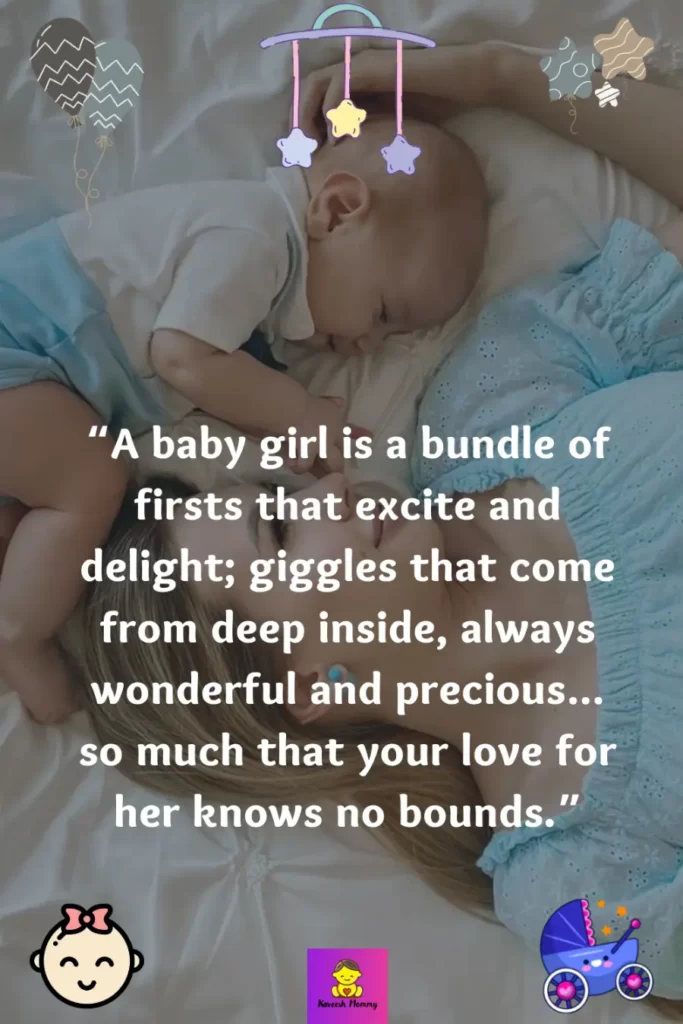 "A baby girl is a bundle of firsts that excite and delight; giggles that come from deep inside, always wonderful and precious… so much that your love for her knows no bounds."
"Baby Girls are like flowers that are forever in bloom"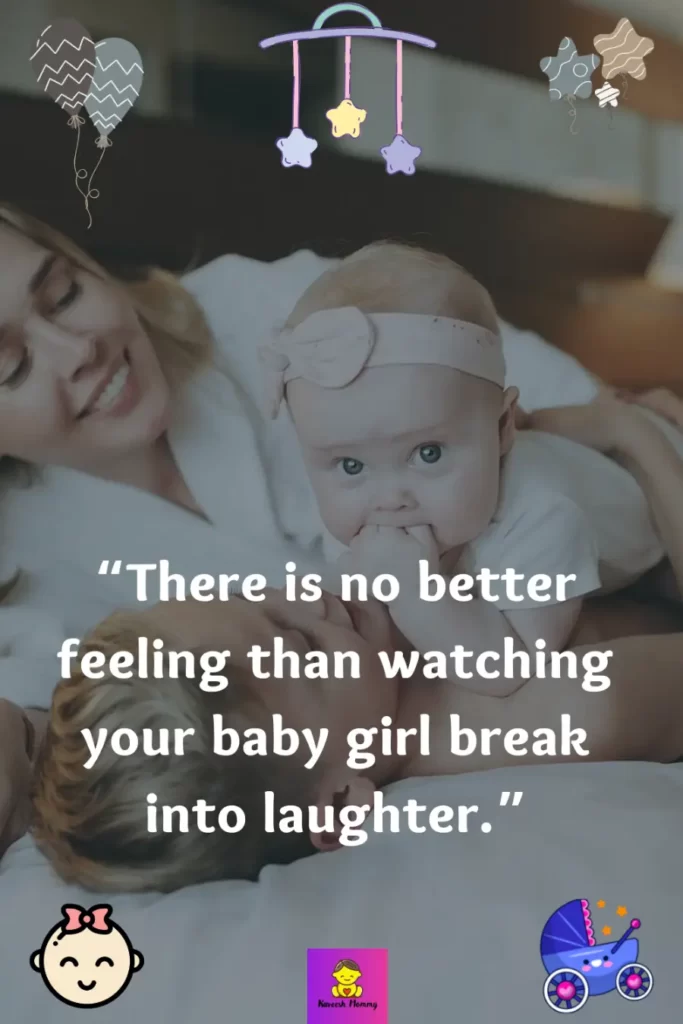 "There is no better feeling than watching your baby girl break into laughter."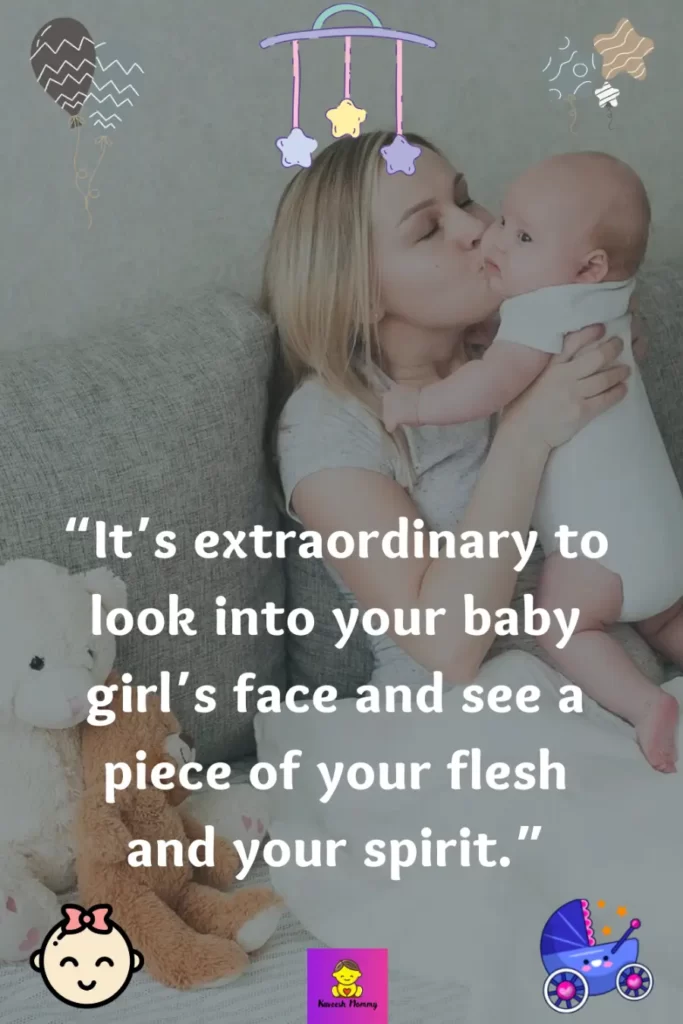 "It's extraordinary to look into your baby girl's face and see a piece of your flesh and your spirit."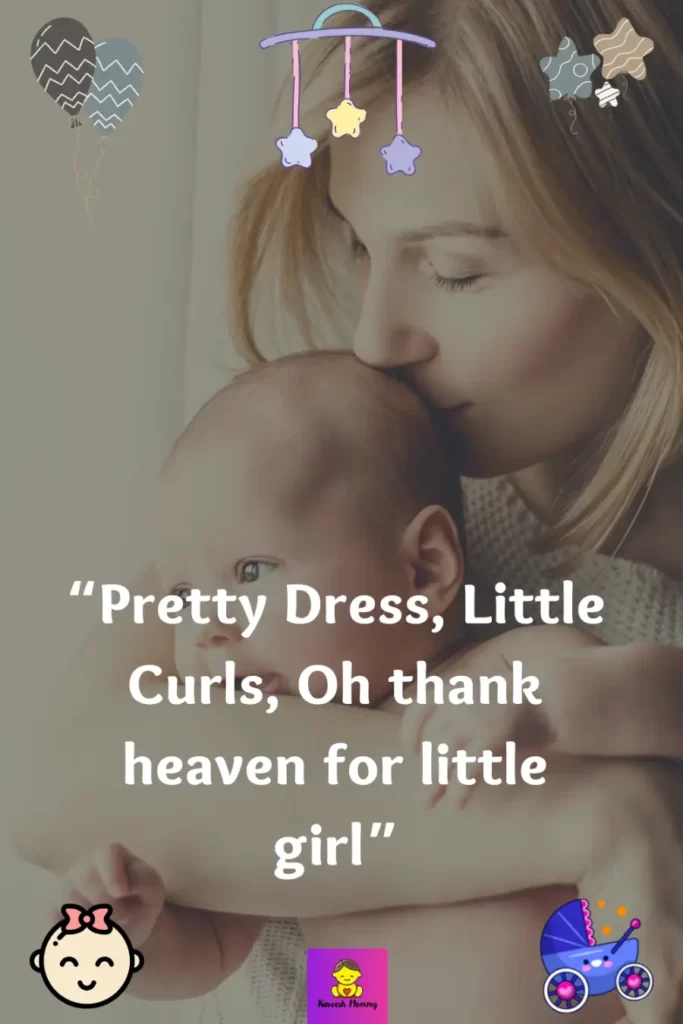 "Pretty Dress, Little Curls, Oh thank heaven for little girl"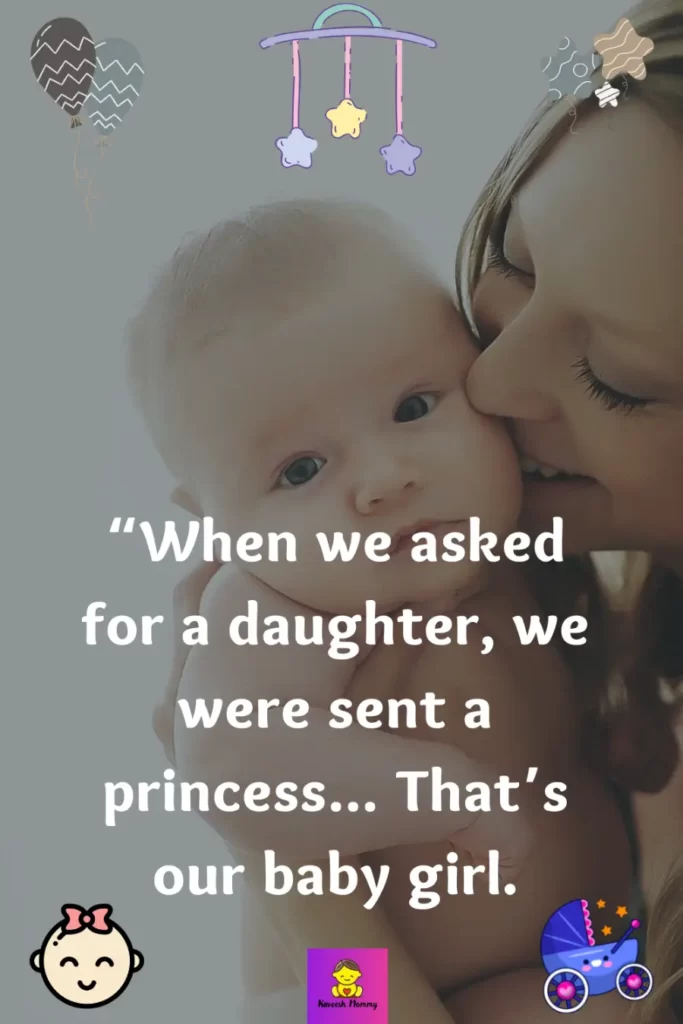 "When we asked for a daughter, we were sent a princess… That's our baby girl.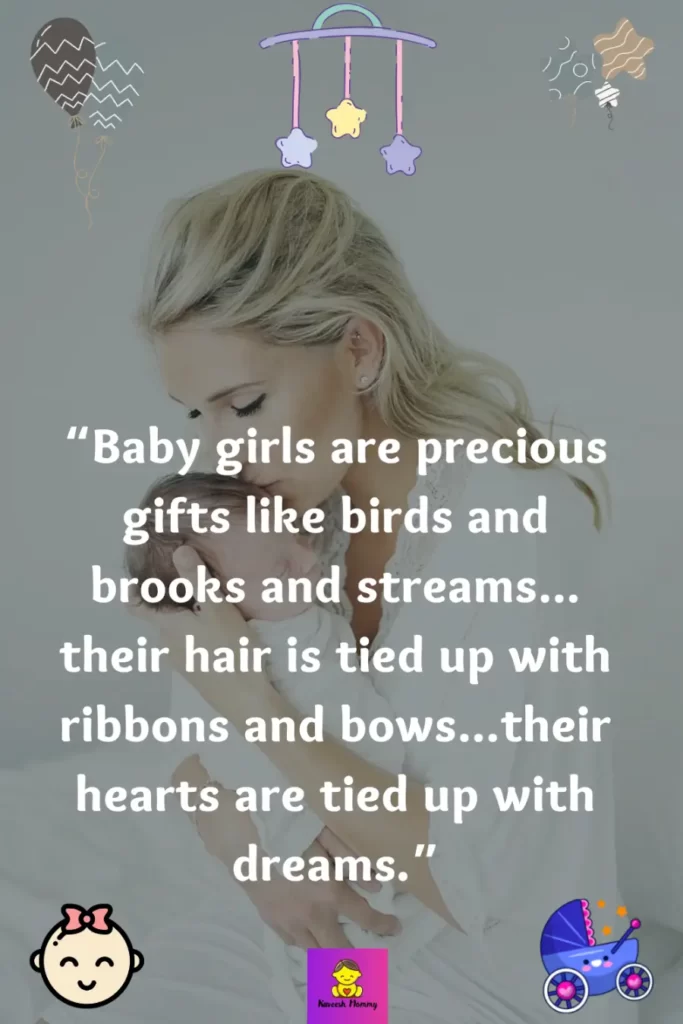 "Baby girls are precious gifts like birds and brooks and streams…their hair is tied up with ribbons and bows…their hearts are tied up with dreams."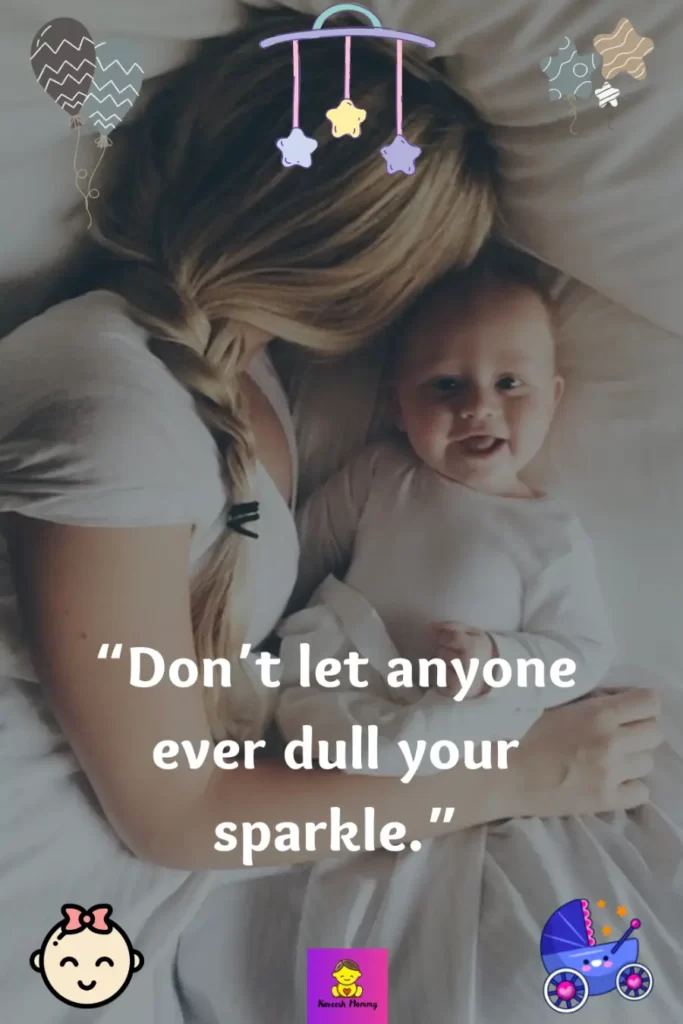 "Don't let anyone ever dull your sparkle." – Unknown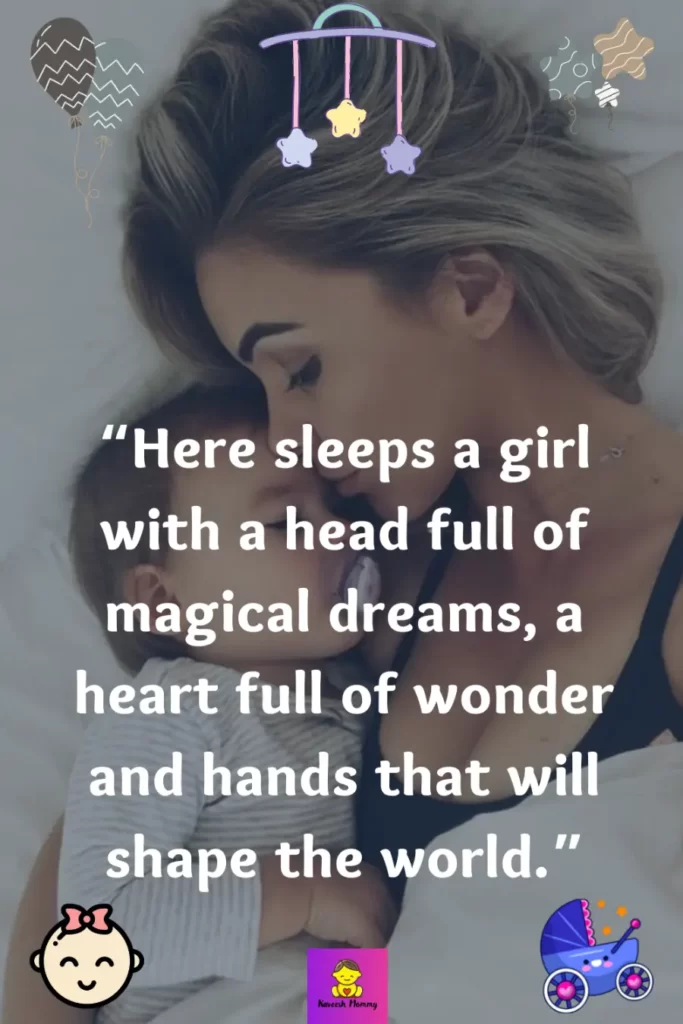 "Here sleeps a girl with a head full of magical dreams, a heart full of wonder and hands that will shape the world." – Anonymous
Sweet Baby Girl Quotes
How do you compliment a girl child?
With these sweet baby girl quotes, you can complement and encourage mom that the fun, mess, and endless love are just getting started.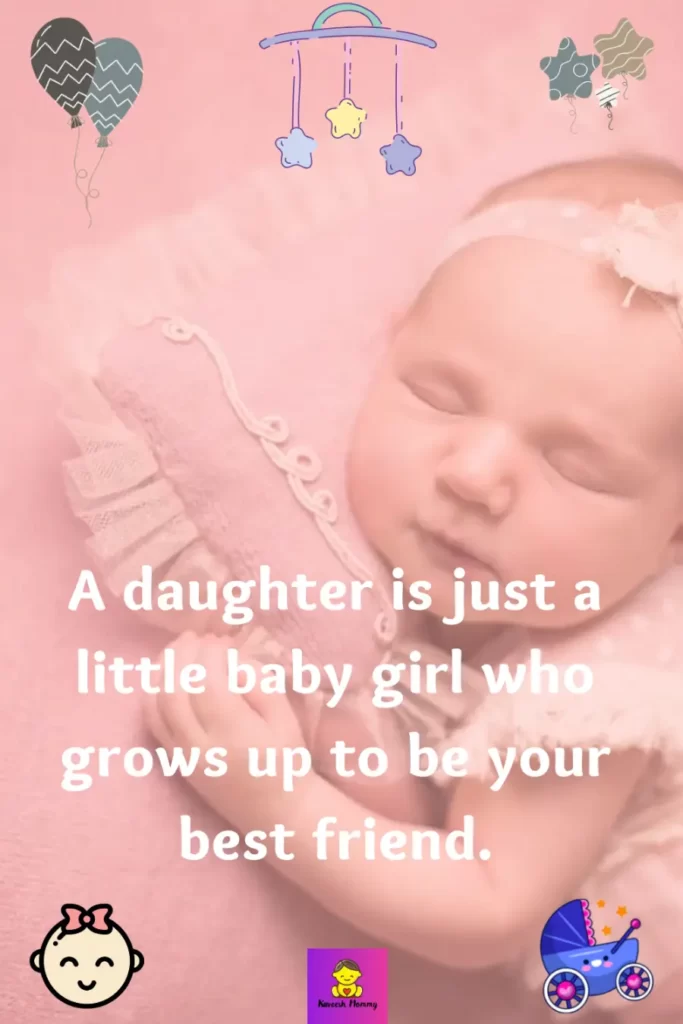 A daughter is just a little baby girl who grows up to be your best friend.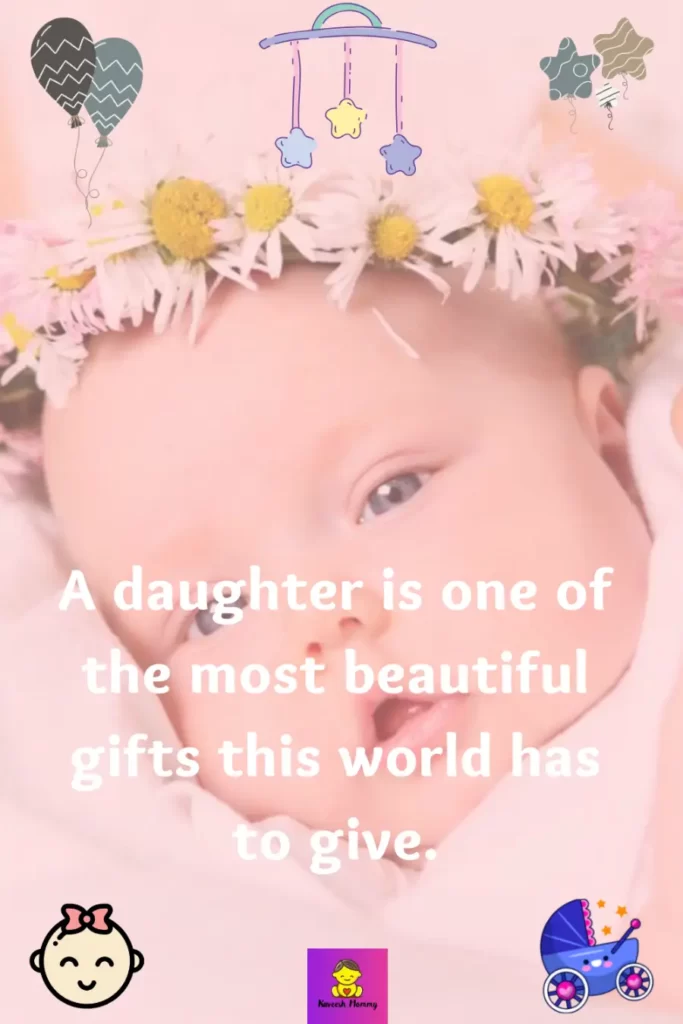 A daughter is one of the most beautiful gifts this world has to give. (Laurel Atherton)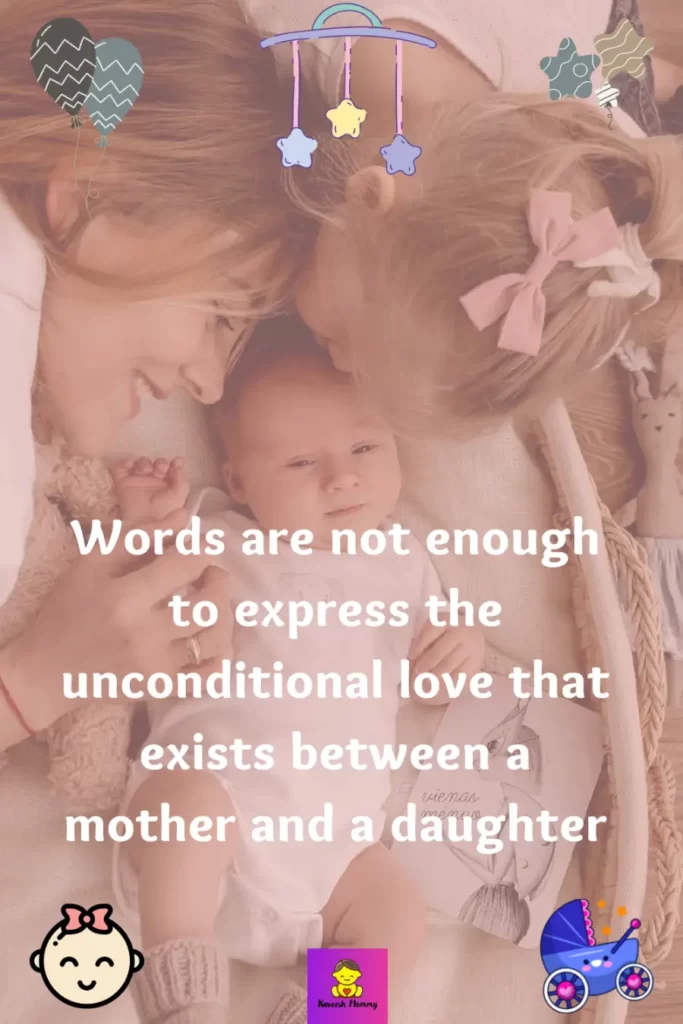 Words are not enough to express the unconditional love that exists between a mother and a daughter. (Caitlin Houston)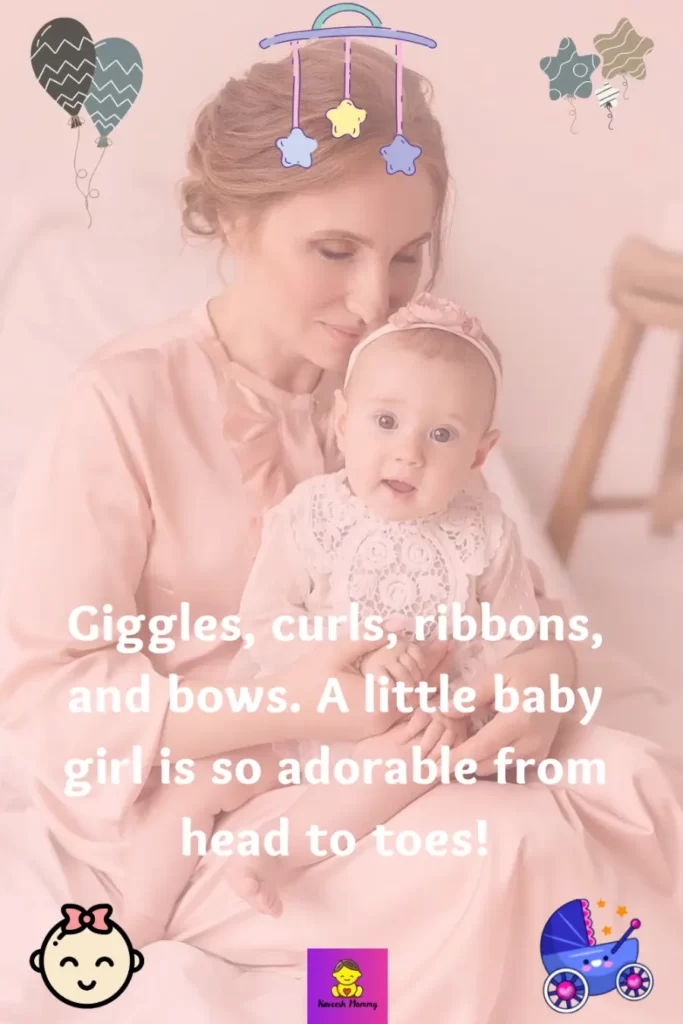 Giggles, curls, ribbons, and bows. A little baby girl is so adorable from head to toes!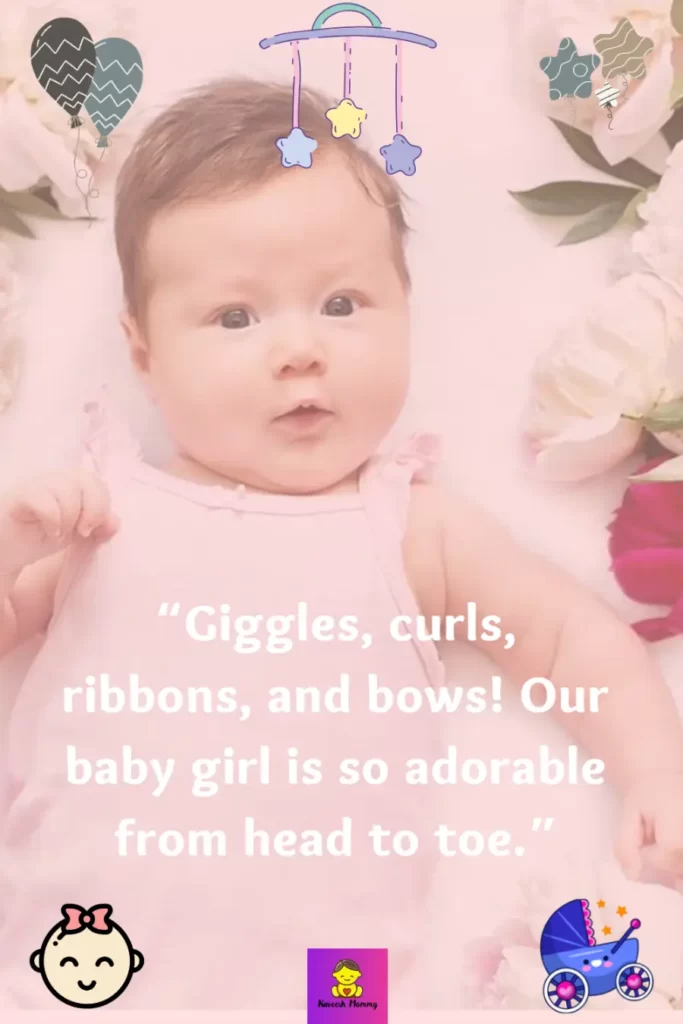 "Giggles, curls, ribbons, and bows! Our baby girl is so adorable from head to toe."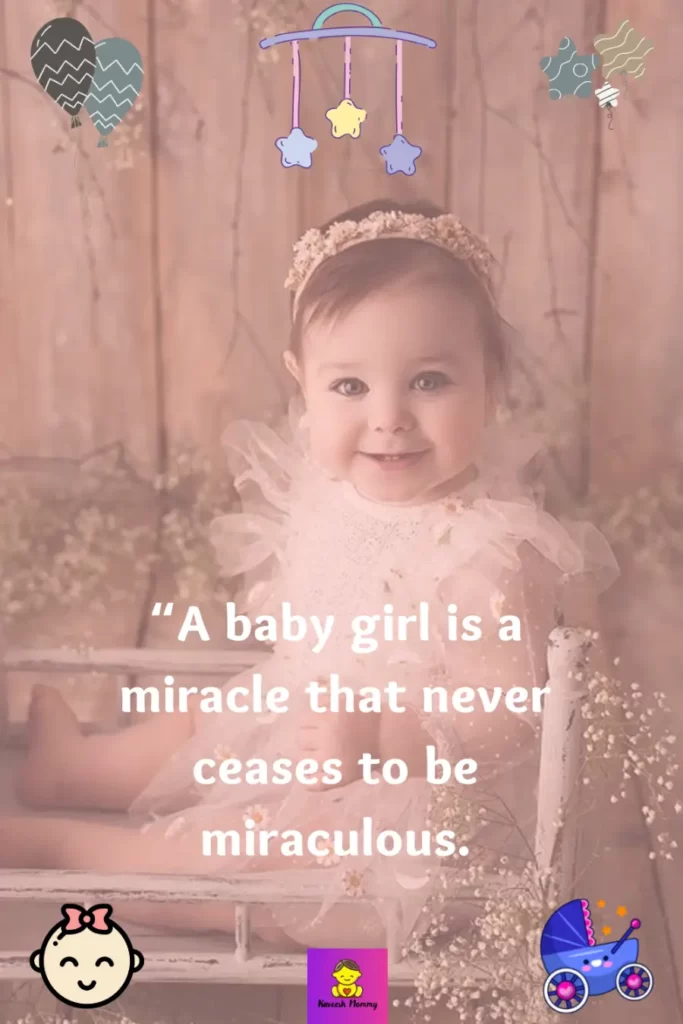 "A baby girl is a miracle that never ceases to be miraculous."
"Courage, sacrifice, determination, commitment, toughness, heart, talent, guts. That's what little girls are made of." —Bethany Hamilton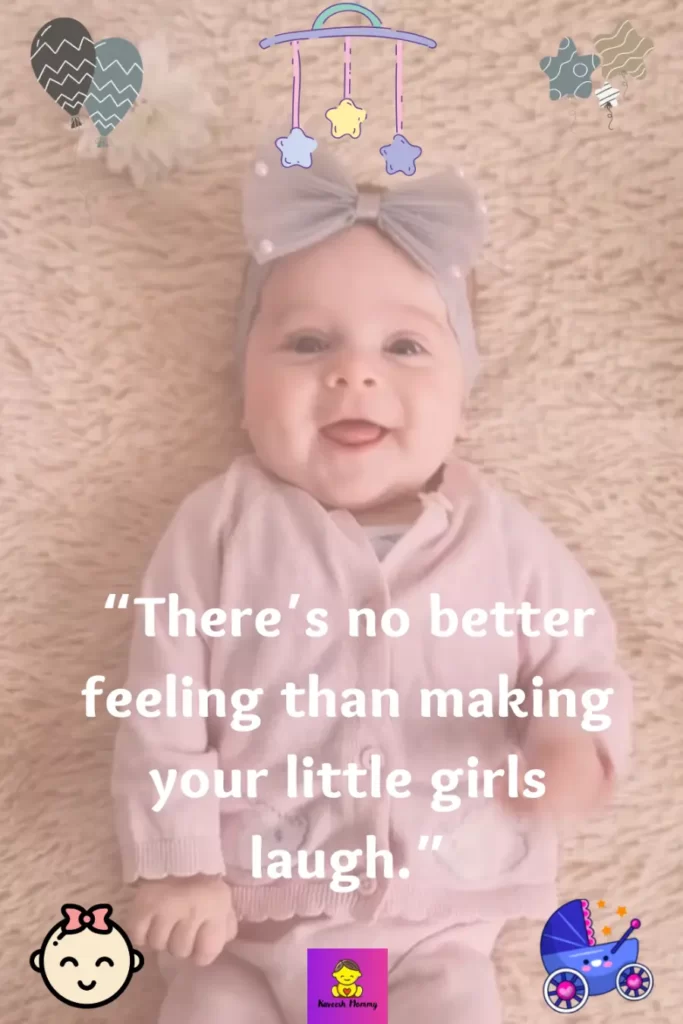 "There's no better feeling than making your little girls laugh." —Jerry O'Connell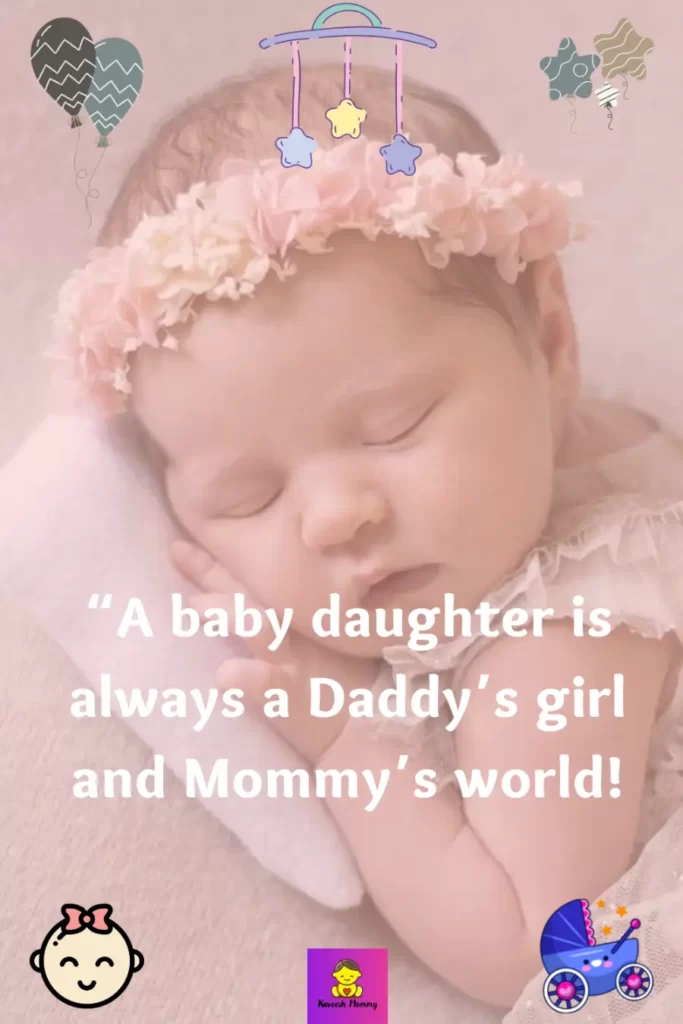 "A baby daughter is always a Daddy's girl and Mommy's world!"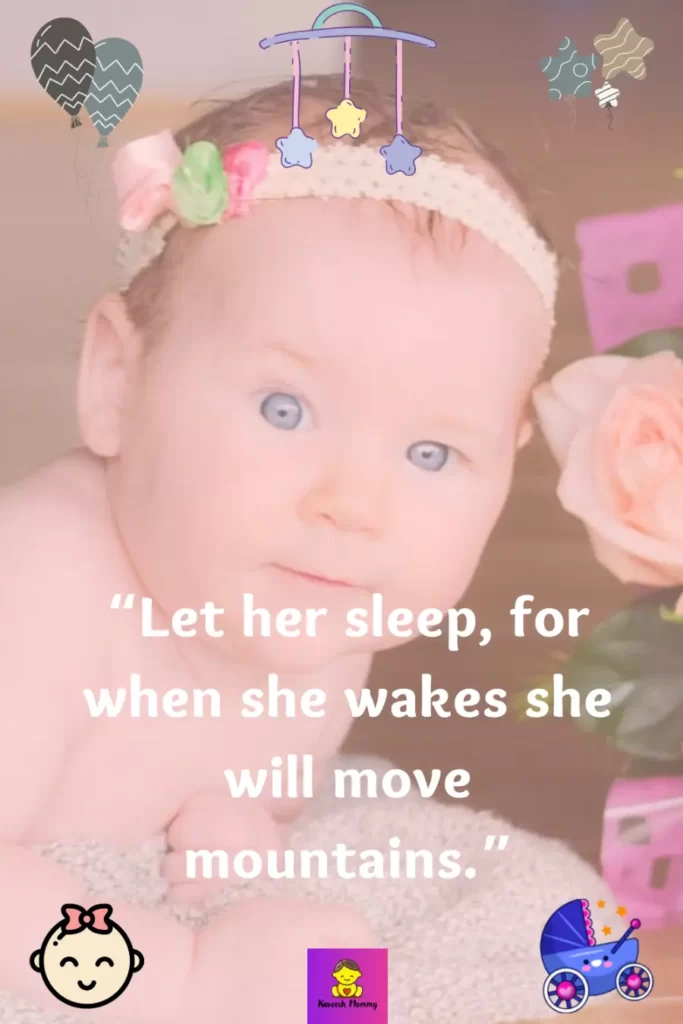 "Let her sleep, for when she wakes she will move mountains."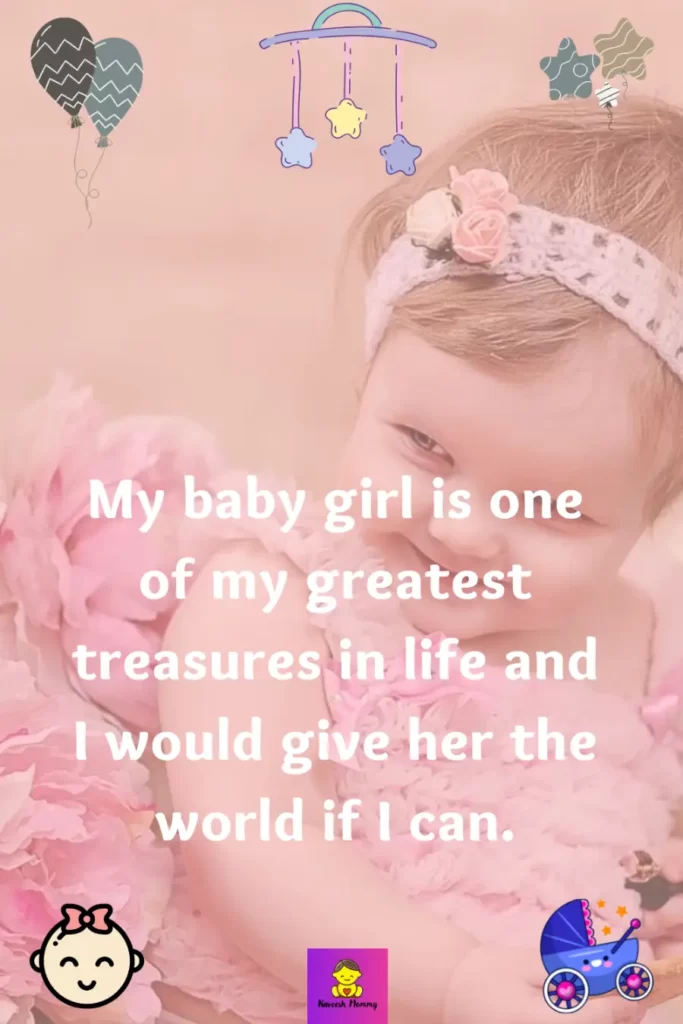 My baby girl is one of my greatest treasures in life and I would give her the world if I can.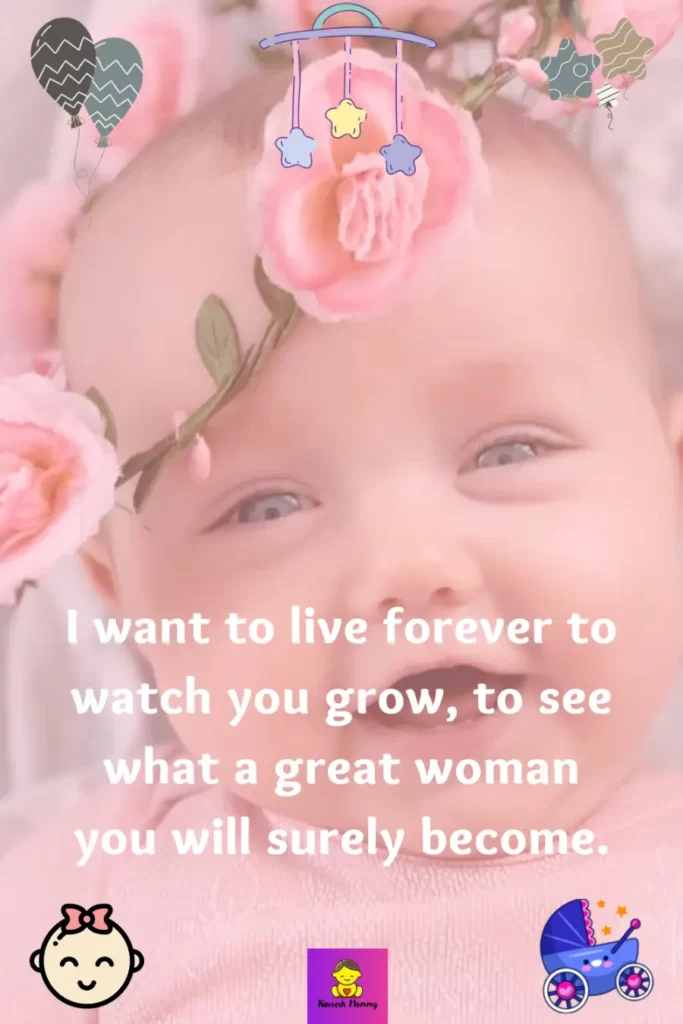 I want to live forever to watch you grow, to see what a great woman you will surely become.
Newborn Baby Girl Quotes
What can I say to a baby girl?
You can use these sweet and loving newborn baby girl quotes for customized gifts. These quotes are expressions of the journey to raising a girl and watching her grow into a strong young woman. 
Girl: a giggle wrapped in sunshine and glitter.
Such a big miracle in such a little girl.
She is everything that is perfect, wrapped in a tiny bundle.
A baby girl arrives, and just like that, everything changes. The world gets bigger, hearts grow fuller and life means more because she's in it.
You are more than we ever expected and better than we ever imagined.
Sleep, pretty darling, do not cry, and I will sing a lullaby. The Beatles
On the day you were born, the angels clapped their hands and the moon danced with the stars.
She has fire in her soul and grace in her heart.
A baby girl is a miracle that never ceases to be miraculous. Unknown
A baby daughter is always a Daddy's girl and Mommy's world. Unknown
May you touch dragonflies and stars, dance with fairies and talk to the moon. Unknown
Though she is little, she is fierce. William Shakespeare
Let her sleep, for when she wakes she will move mountains. Napoleon
Cute Baby girl saying
How can I praise my baby?
Bringing a new baby girl  into the world is one of life's greatest joys. Sure, there will be sleepless nights and high pitched screams along the way, but every minute of rocking and soothing eventually leads to heart-warming smiles and peaceful slumber.
Choose a greeting from a well-known storybook or a cute saying that expresses their feelings for this new beautiful bundle of joy.
'Daddy's little girl and mommy's whole world.'
'Let her sleep, for when she wakes, she will move mountains.'
Never forget, you are so so very loved.'
'The love a mother has for her child is immeasurable.'
'She is the exclamation point in the happiest sentence I could ever write.'
A daughter is one of the most beautiful gifts this world has to give. Laurel Atherton
I believe in love at first sight…because I'm a mom. Unknown
A baby girl with ruffles and frill,
the lord provides no greater thrill,
to see her eyes light up with love,
is to experience a gift from above. Unknown
A babe in the house is a well-spring of pleasure, a messenger of peace and love, a resting place for innocence on earth, a link between angels and men. Martin Farquhar Tupper
Mothers hold their children's hands for a short while, but their hearts forever. Unknown
On the night you were born,
the moon smiled with such wonder,
that the stars peeked in to see you,
and the night wind whispered,
'Life will never be the same again'. Unknown
A daughter is just a little baby – By girl who grows up to be your best friend.
Unknown
Baby girls bring us a piece of heaven on earth. Unknown
How To Congratulate Someone On Their New Baby Girl
If you want to congratulate new parents on their baby girl arrival then you must use these best baby girl sayings and blessings.
I have collected 20 baby girls saying on birth all over the internet you can use them on Facebook, Instagram to congratulate new mother and father for having a new baby girl.  
Congratulations, guys! May life forever treat your adorable little angel with an extraordinary amount of love, kindness, and care. 
It's a little princess! What great news! Now the color of your sky is forever going to be blue.
My warmest congratulations to you on the safe arrival of your sweet angel onto this planet. May God never stop smiling down on you and your little princess.
Congratulations on achieving something many a couple strives in vain to achieve. I hope your sweet little daughter brings you all the beauty and joy this universe possesses.
Congratulations to you on your baby girl's safe arrival into this amazing world. May happiness wrap its heavenly arms around your lovely family.
I'm so happy God has blessed you with the most beautiful baby girl in the world. Big congrats to you, my dear. May the birth of your baby bring oceans of happiness and prosperity into your life.
I'm so thrilled to join you in welcoming your princess. I can't wait to shower her with all my love and watch her grow into the outstanding person she has been destined to become. Congratulations.
How wonderful it is to see you begin the grandest and most beautiful adventure of your lives. Congratulations to you and your beautiful family.
Congratulations on your little miracle. It's my prayer that she'll bring into your life the best kind of happiness in the universe.
Planet Earth has been abundantly blessed today because you have brought into it one of God's most precious little angels. May this angel forever enrich your heart with happiness and love. Congrats!
I am glad that God saw you worthy to be the father and mother of one of His most beautiful angels. Congrats.
Today, I shall toast the birth of your new baby girl with the most expensive champagne money can buy! Congratulations! You're blessed. Don't you ever forget that!
I would like to use this quick note to congratulate you on the birth of your sweet daughter. May your newborn blossom beautifully like a rose and light up your world. Congratulations.
Cheers to the new parents! It's my prayer that your sweet baby girl will be an absolute blessing to you and the world at large. Congratulations!
Congratulations to the proud new mother/father. May your new baby girl make everything in your life heavenly delicious.
Big congratulations to you on your entry into the world of parenthood! May the life of your beautiful baby girl be blessed abundantly with great joy, good health, and remarkable achievements.
The birth of your newborn is such wonderful news. May all the happiness on this planet settle in your home forever. Congratulations on gifting this world such a beautiful princess.
Heard it's an adorable baby girl! Get ready to enjoy real paradise on earth! Congratulations!!
I am more than thrilled to congratulate you on the birth of your little angel. I can't wait to meet her soon. May the face of true joy always be present in your family.
Massive congratulations to you on the arrival of your sweet, precious baby girl. Get ready to be sent to the highest heaven with all the blessings that your new baby girl brings with her.
Final Thought
On this page, you'll find a vast range cute baby girl quotes and sayings written to help you find the perfect words to write a baby card message and help to kick off celebrations with a smile!
We've compiled a list of inspirational quotes and sayings about babies, these phrases are perfect for birth announcements, baby shower invitations, baby shower gifts, and personalized baby gifts.
Whether you're about to attend a baby shower, gender reveal party, or welcome a new baby of your own, these inspirational baby quotes speak of the unmatchable beauty of parenthood, the wonder, and curiosity of young children and the hilarious moments in between
write on a baby card to send or you can share baby girl blessing Instagram, Facebook, tweeter.
Latest posts by Nancy Williams
(see all)