Looking for some of the best marriage quotes for wedding or anniversary occasion.
Perfect quote to highlight those memories and remember your wedding vows, or even just what to write on an anniversary card, we've got you covered. We've got you covered with quotes about love and marriage!
Marriage is a mix of emotions and experiences with the person you love.
But married life can also be full of happiness, support, and love.
Having someone by your side to help you and love you no matter what happens, is a beautiful thing.
Here you'll find happy marriage quotes, love marriage quotes, married life quotes, inspirational quotes about marriage, husband and wife quotes, and strong marriage quote to remind you what marriage is all about!
Related Reading: 100+ Best Love Quotes For Her (SWEET, DEEP, ROMANTIC, CUTE) MORE
And if you love these quotes for married couples, check out these husband quotes and wife quotes.
LOVE WATCHING FATHERS DAY QUOTE VIDEOS?
Then check out these best Quotes for Father, Mother, Baby, Kids, Uncle and Family videos and other quote videos on our " Kaveesh Mommy"
YouTube channel! you will also find Quotes Videos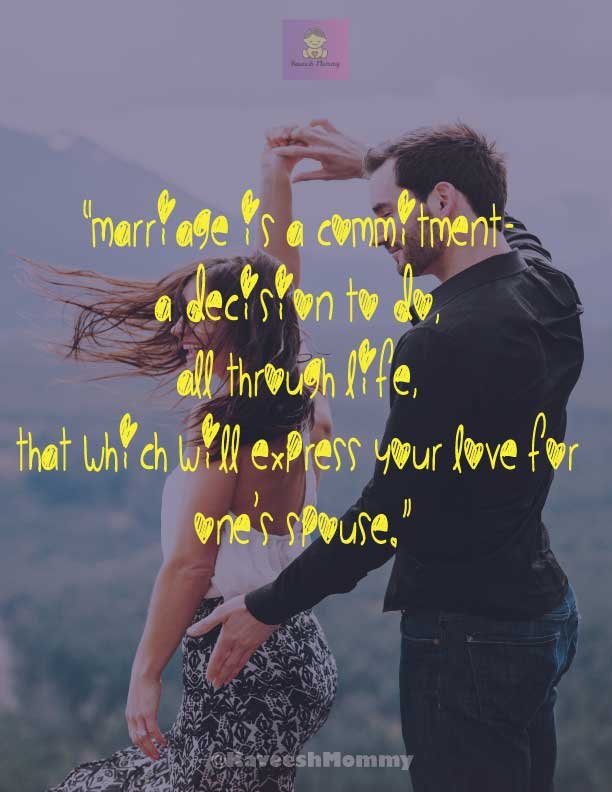 Love To Marriage Quotes
Looking for the right words to express your feelings on the marriage anniversary? Turn to this famous romantic love to marriage quotes for your vows, toast, décor, or more.
50+ Best Anniversary Wishes for Husband (WITH IMAGES)
'Don't marry the person can live with; marry someone you can't live without.'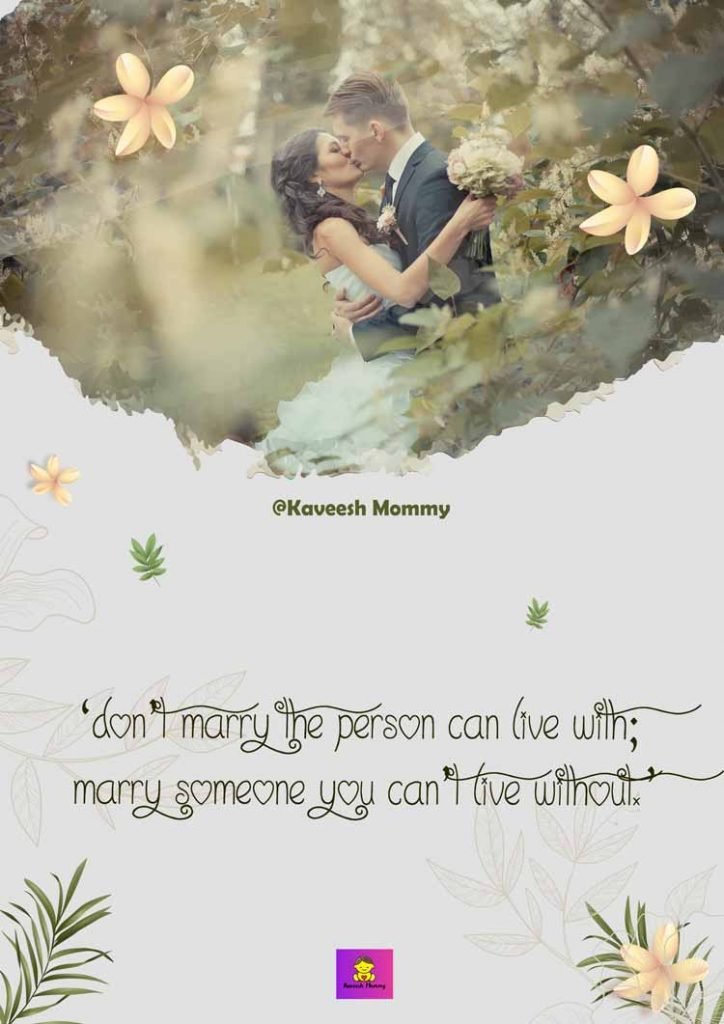 'Who we marry is one of the most important decisions in life. One that will influence the level of happiness, growth, and success like no other choice.' – Nathan Workman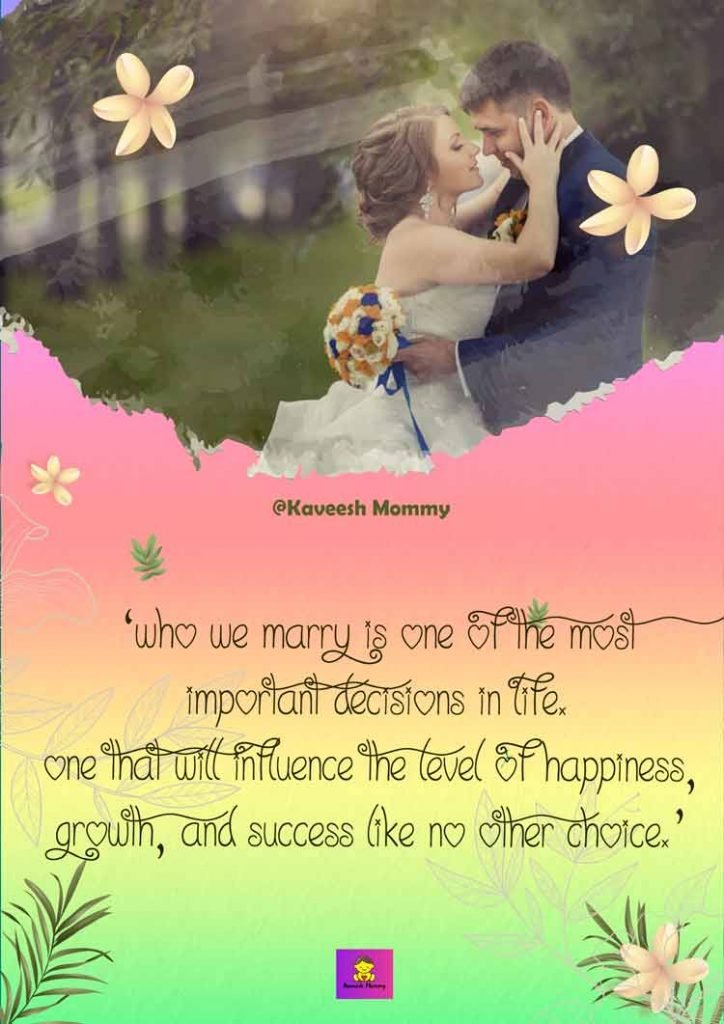 'You will forever be my always.'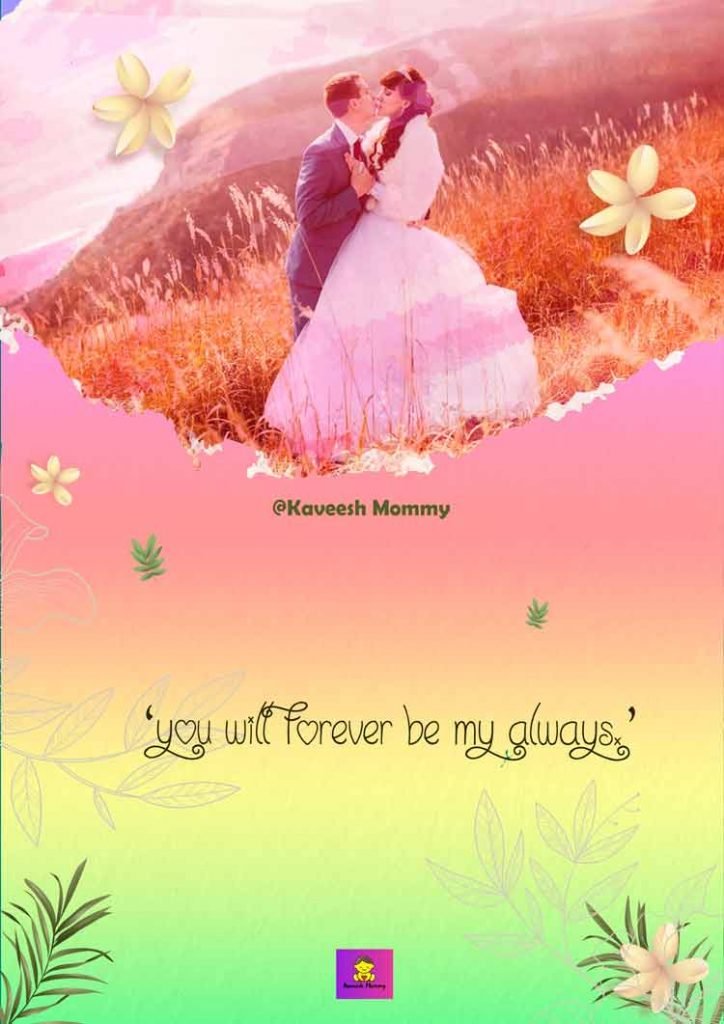 'The only way love can last a lifetime is if it's unconditional. The truth is this: love is not determined by the one being loved but rather by the one choosing to love.' – Stephen Kendrick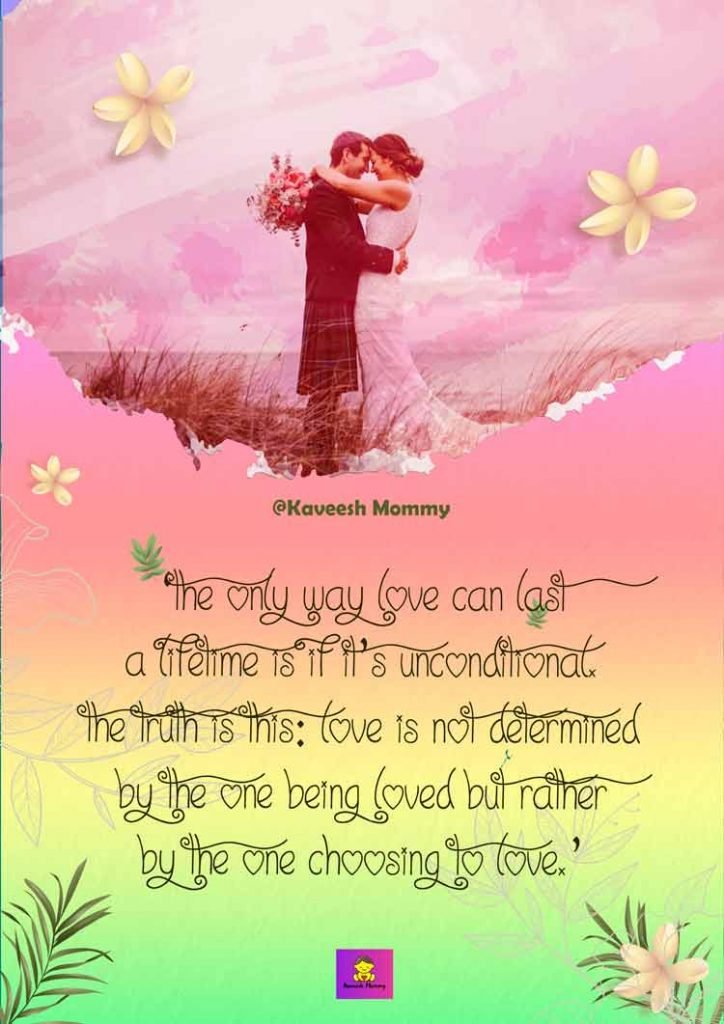 'In you, I've found the love of my life and my closest, truest friend.'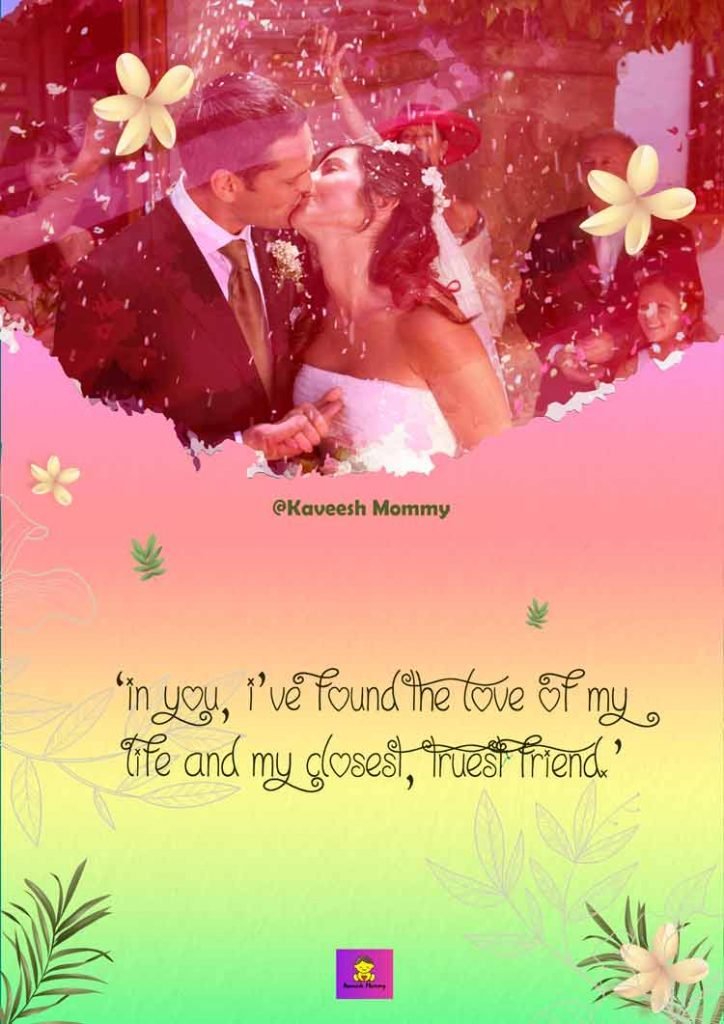 'I love you, and that's the beginning and end of everything.' – F. Scott Fitzgerald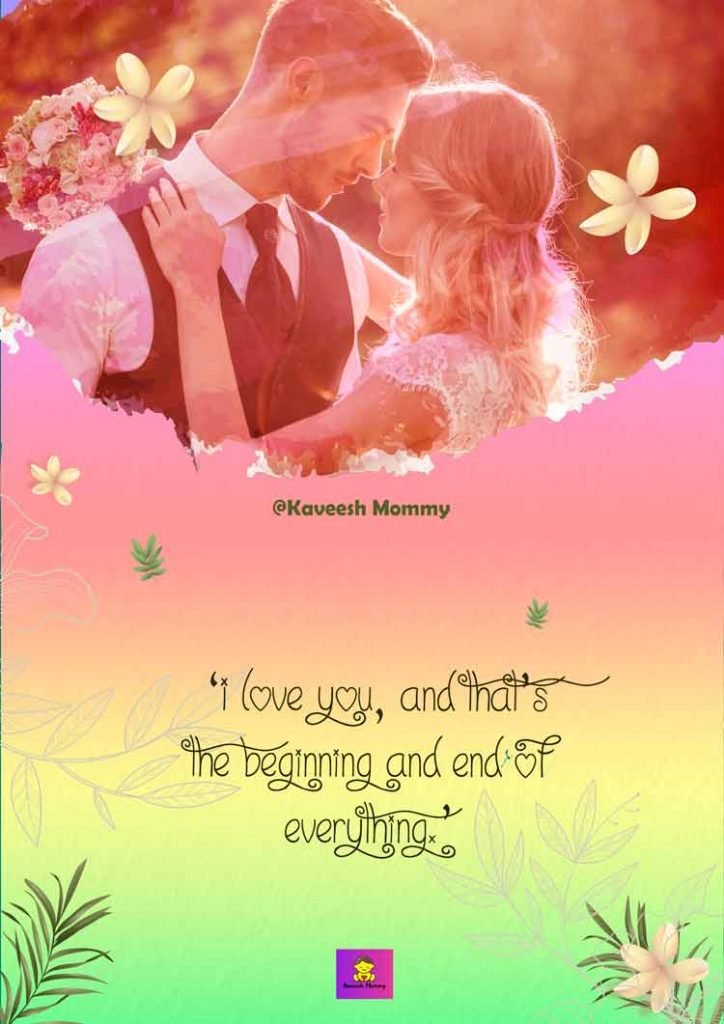 'Marriage isn't 'I promise to love you until I stop loving you'. It's 'I promise to make a conscious decision to continue to love you even when it's hard because I'm aware no on is perfect, but you are worth it'.' – Brandalin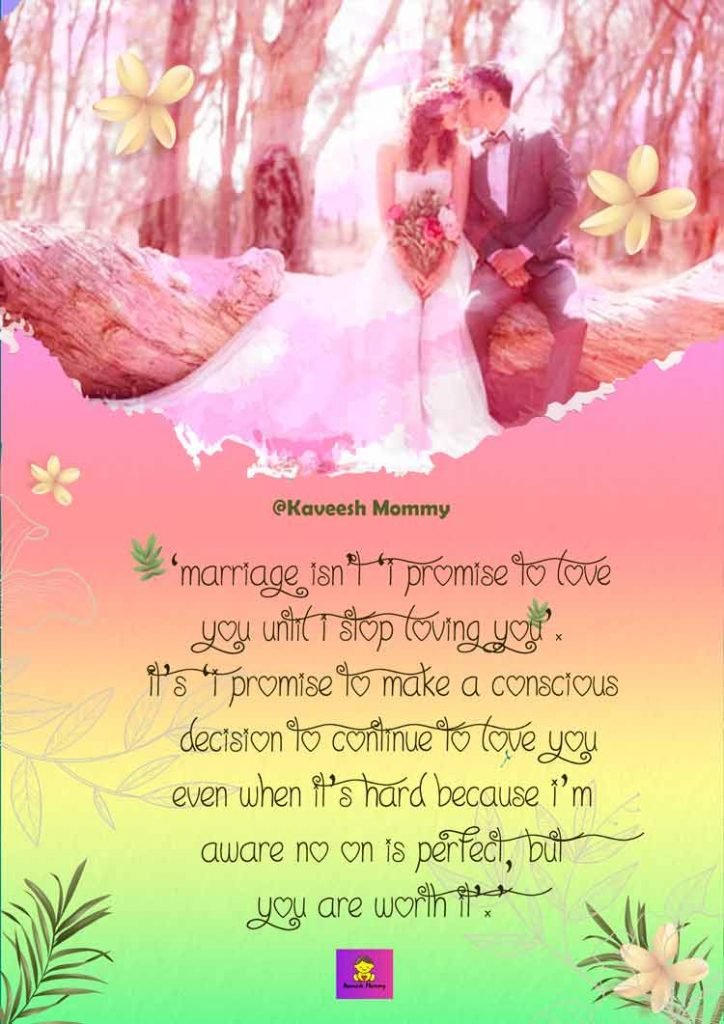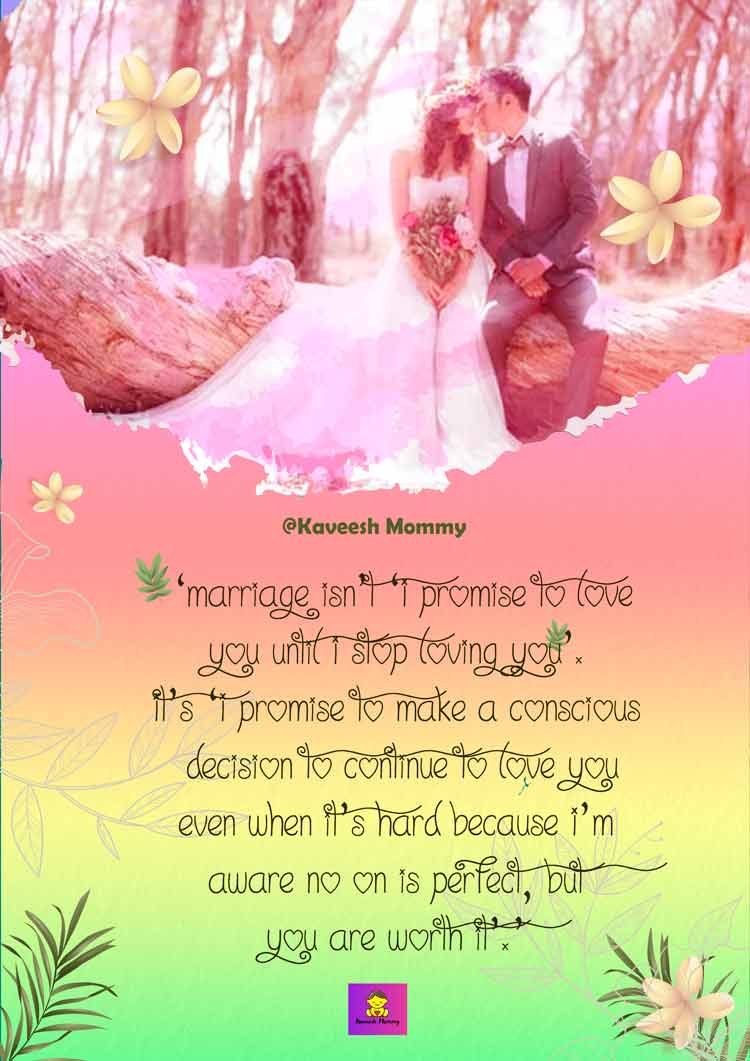 "A successful marriage requires falling in love many times, always with the same person." – Mignon McLaughlin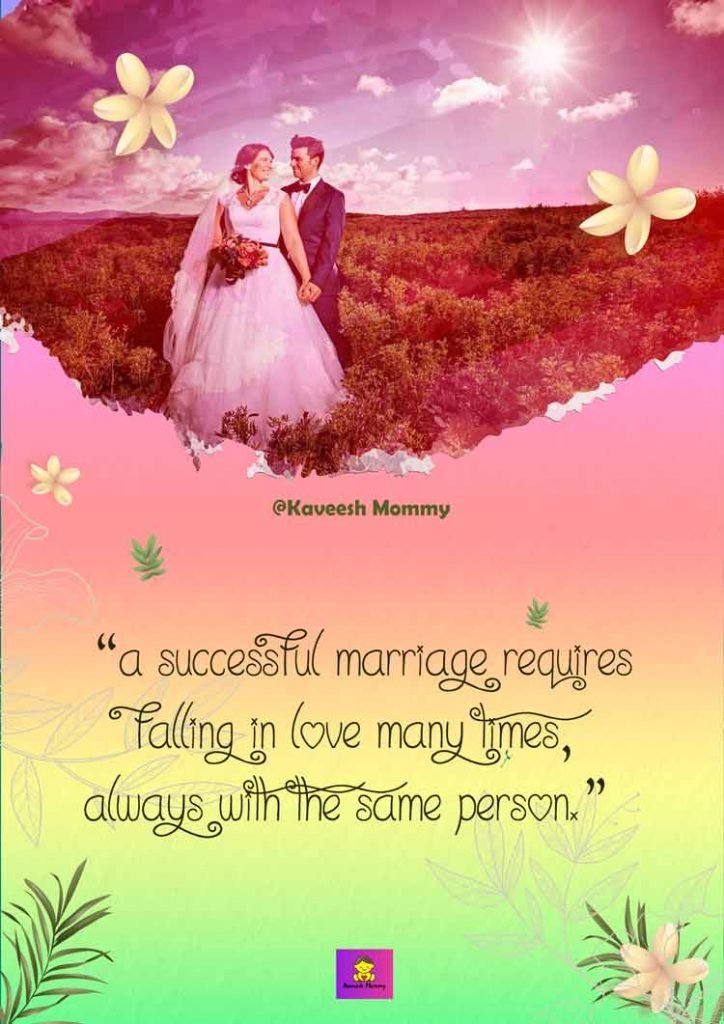 Funny Marriage Quotes
These funny marriage quotes are worth much more than the time you take to read them. Stop for a bit and laugh with these funny marriage quotes.
125 BEST FUNNY ANNIVERSARY WISHES FOR HUSBAND (WITH IMAGES)
"Marriage lets you annoy one special person for the rest of your life."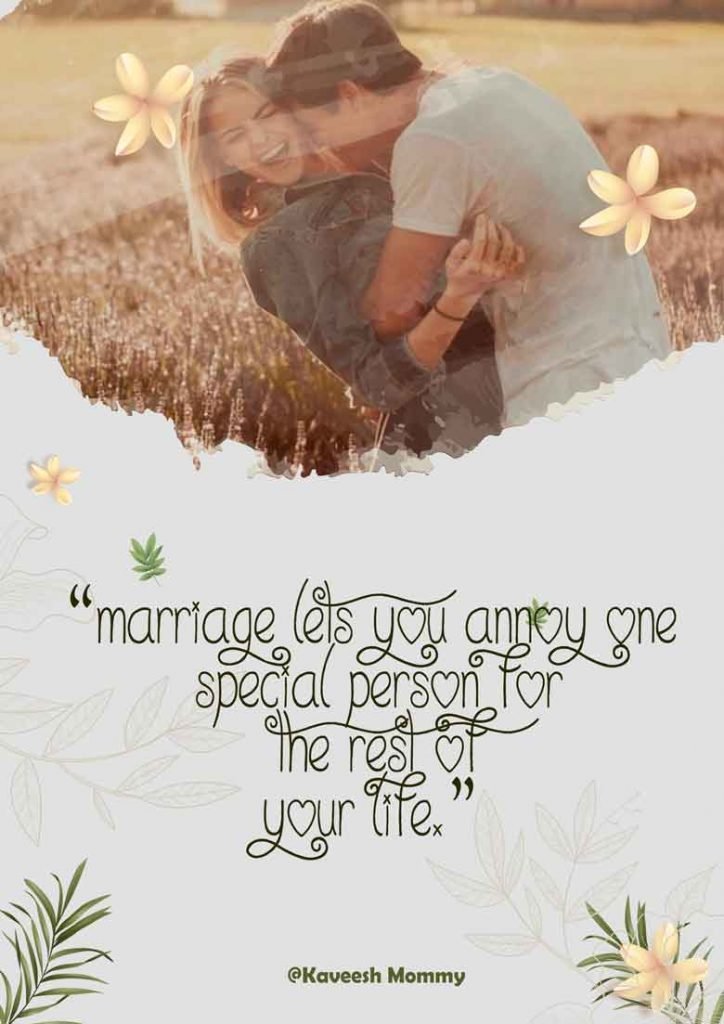 "There is nothing more admirable than when two people who see eye to eye keep house as man and wife, confounding their enemies and delighting their friends."― Homer, The Odyssey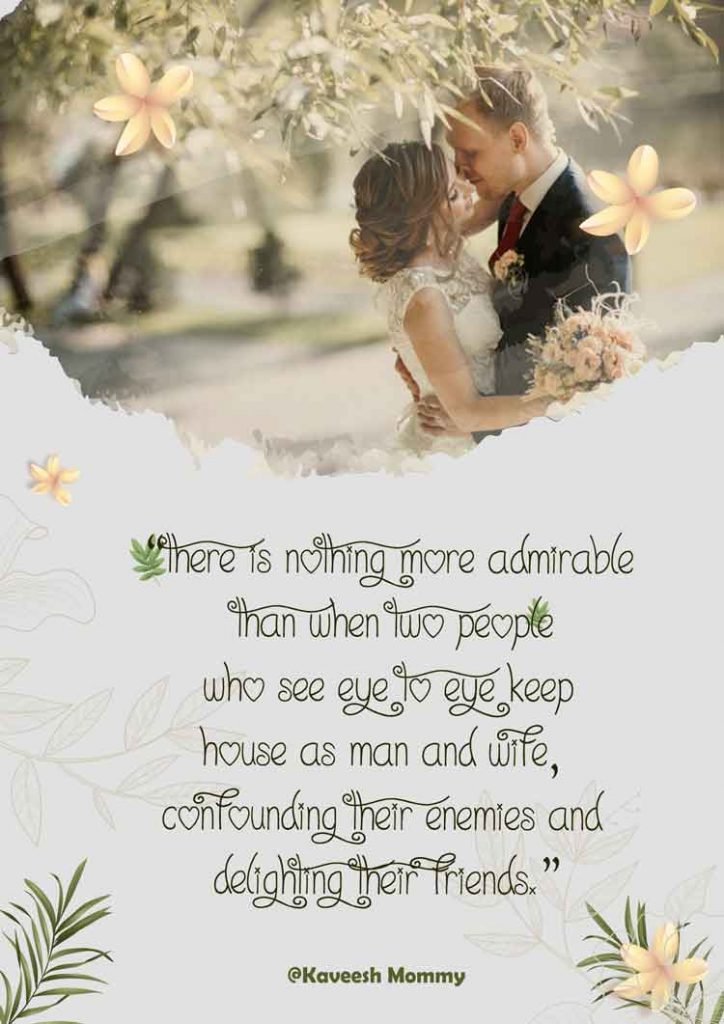 "Men marry because they are tired; women, because they are curious: both are disappointed."― Oscar Wilde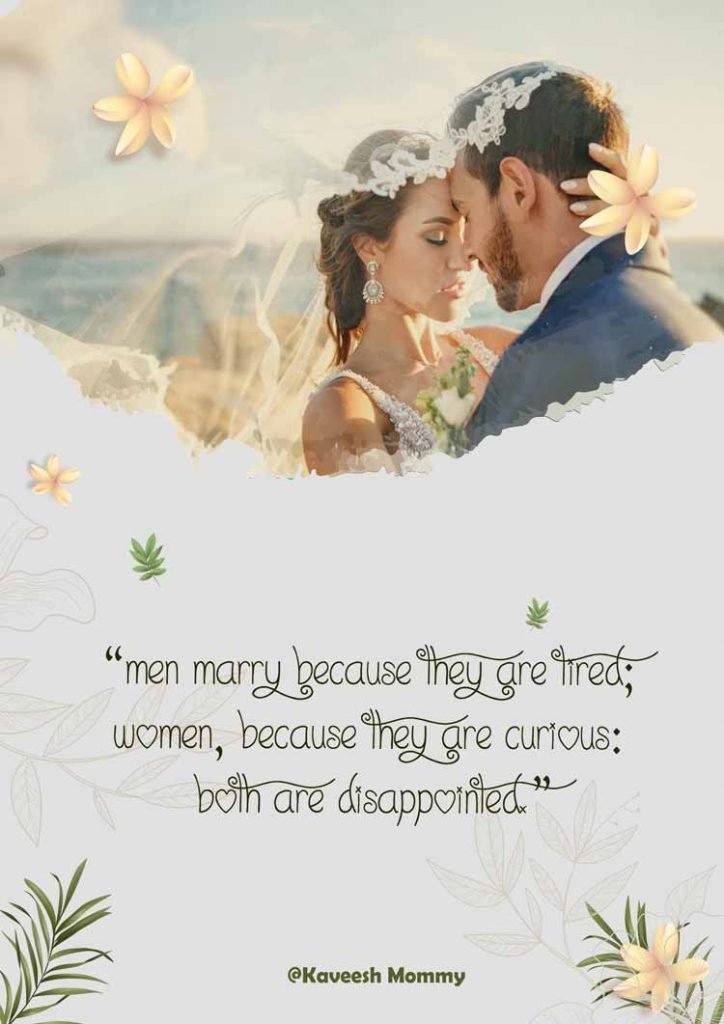 "Being in a long marriage is a little bit like that nice cup of coffee every morning – I might have it every day, but I still enjoy it."― Stephen Gaines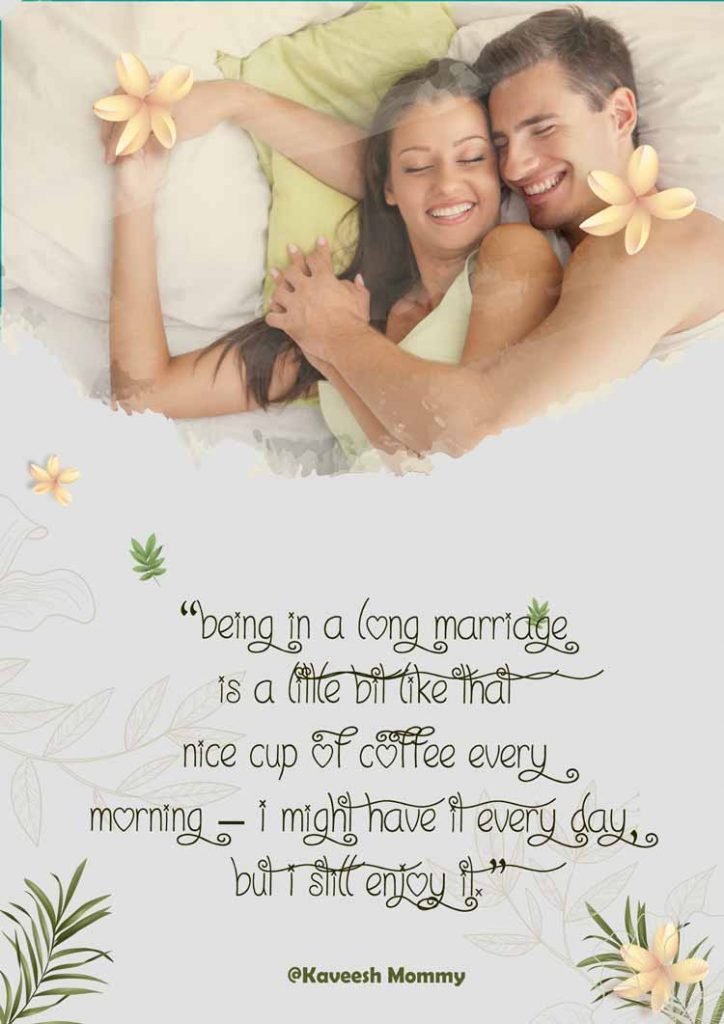 "The problem with marriage is that it ends every night after making love, and it must be rebuilt every morning before breakfast."― Gabriel García Márquez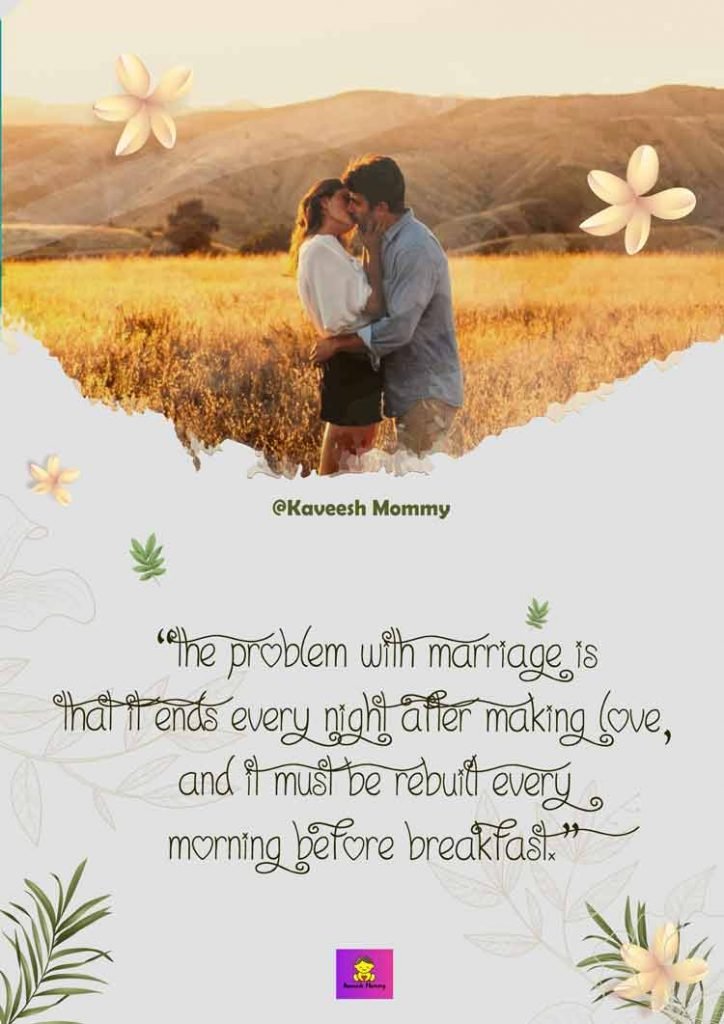 "I was married by a judge. I should have asked for a jury."― Groucho Marx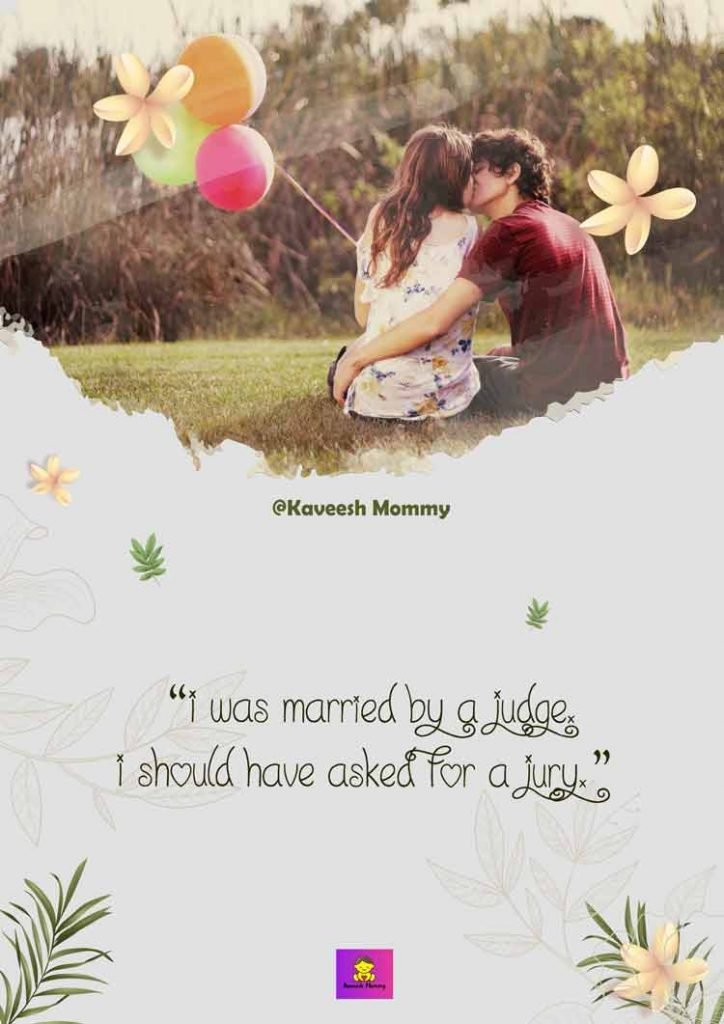 "Sexiness wears thin after awhile and beauty fades, but to be married to a man who makes you laugh every day, ah, now that is a treat."― Joanne Woodward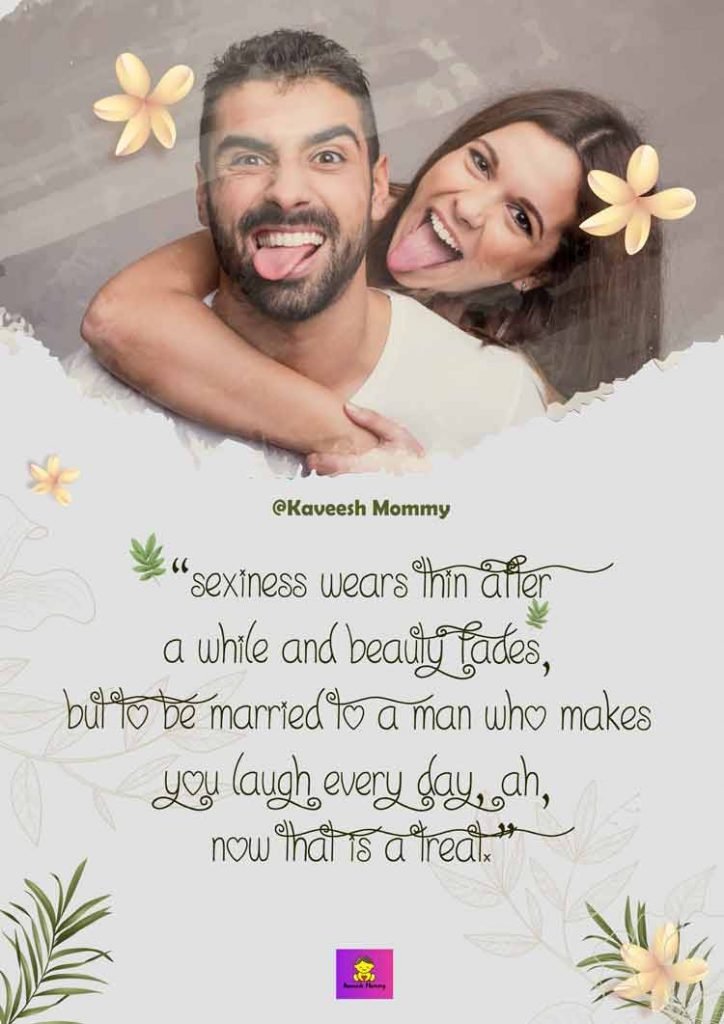 "A journey is like marriage. The certain way to be wrong is to think you control it." ― John Steinbeck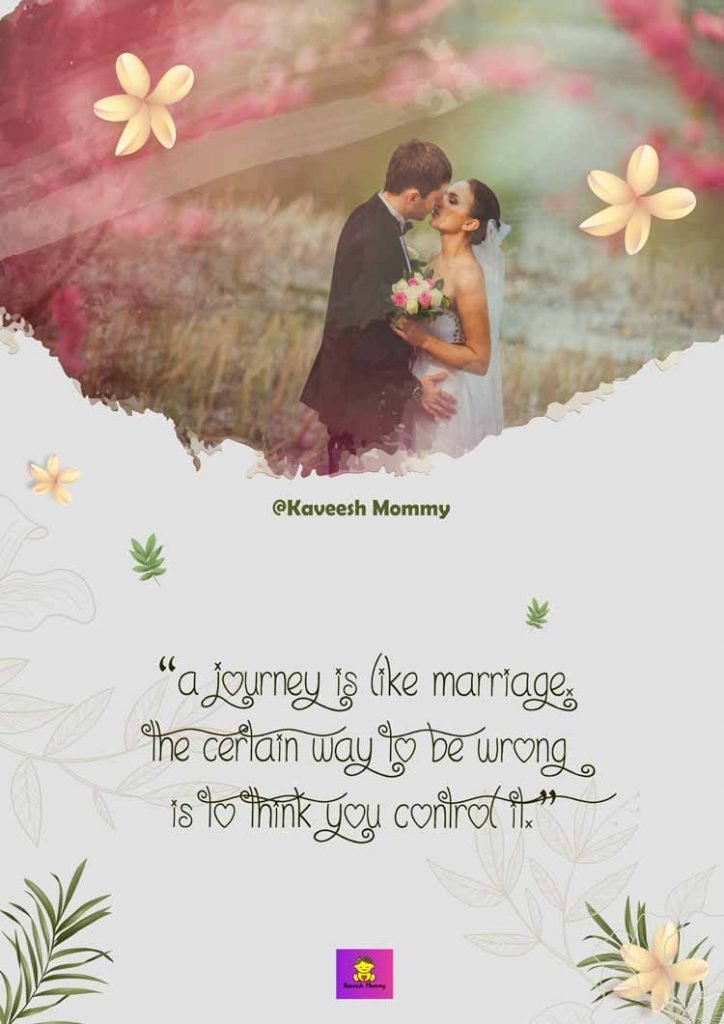 Happy Marriage Quotes
What is a good marriage quote?
These marriage quotes are perfect for anniversaries or any occasion. Add them to a heartfelt letter or save them for a rainy day. And if you like these, make sure to check out our list of anniversary quotes.
100+Best Heartfelt Wedding Anniversary Wishes For Wife [WITH IMAGES]
'A successful marriage requires falling in love many times, always with the same person.' – Mignon McLaughlin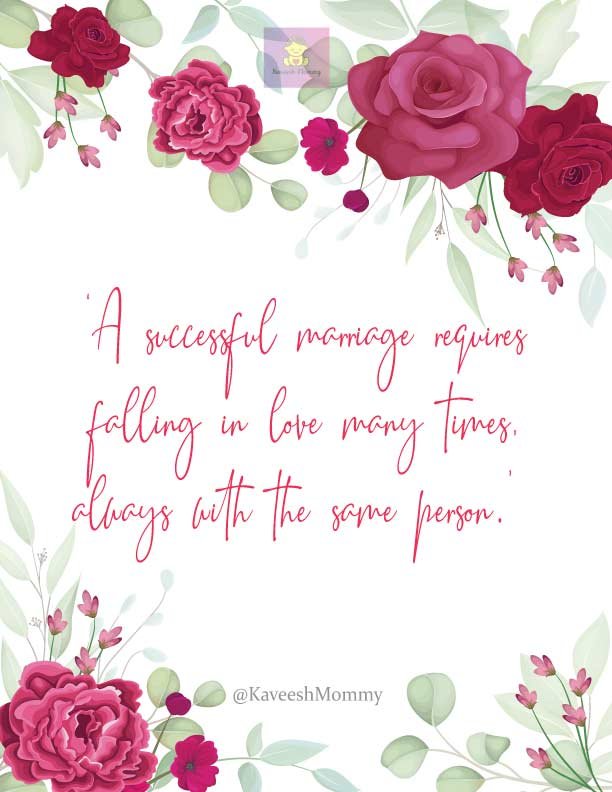 'Happy is the man who finds a true friend, and far happier is he who finds that true friend in his wife.' – Franz Schubert
'Happy marriages begin when we marry the ones we love and they blossom when we love the ones we marry.' – Tom Mullen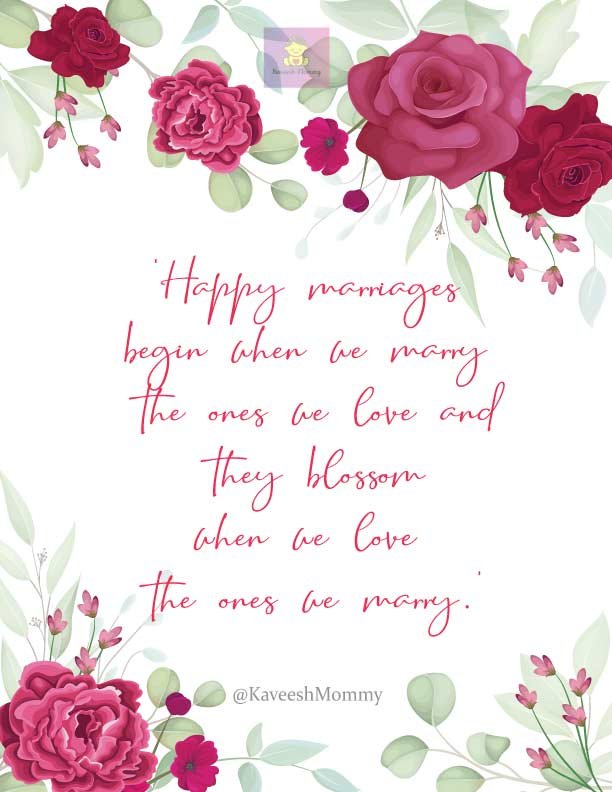 The secret of a happy marriage is finding the right person. You know they're right if you love to be with them all the time.' – Julia Child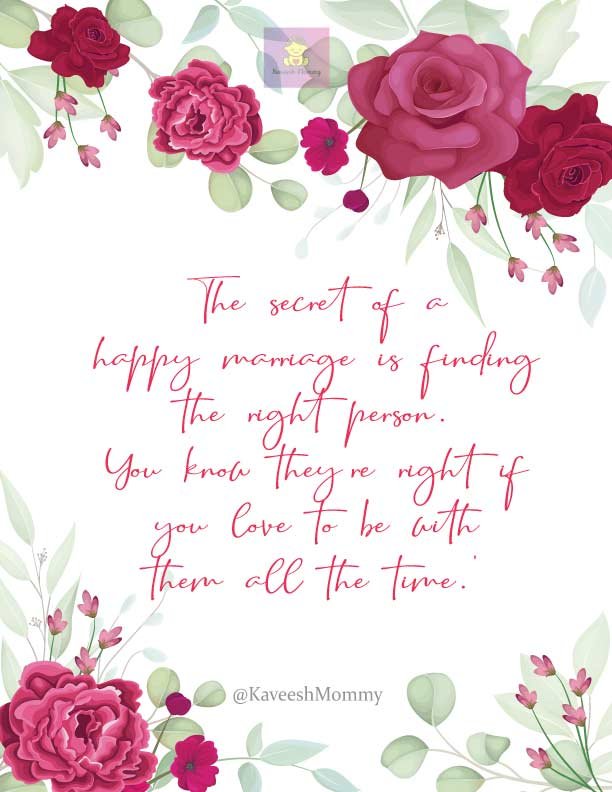 'A happy marriage is about three things: memories of togetherness, forgiveness of mistake, and promise to never give up on each other.' – Surabhi Surendra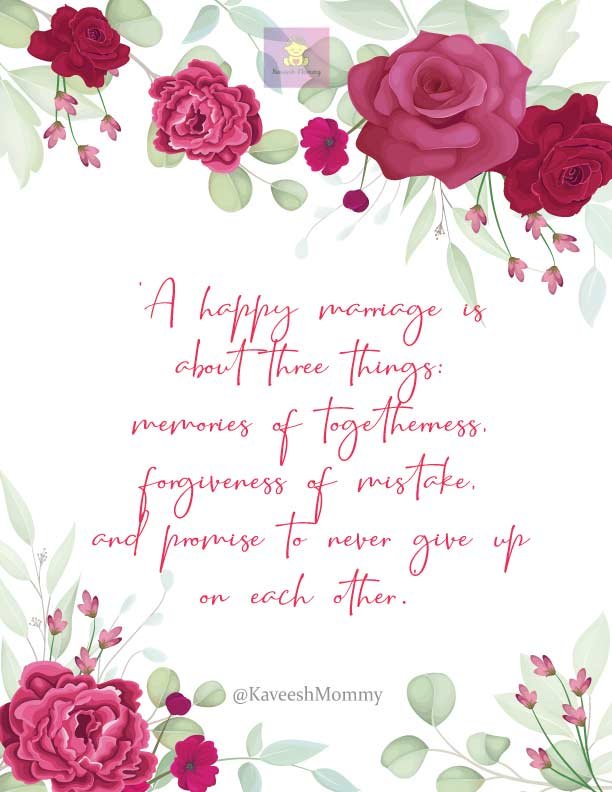 A happy marriage is not guaranteed. A happy marriage is a daily choice.'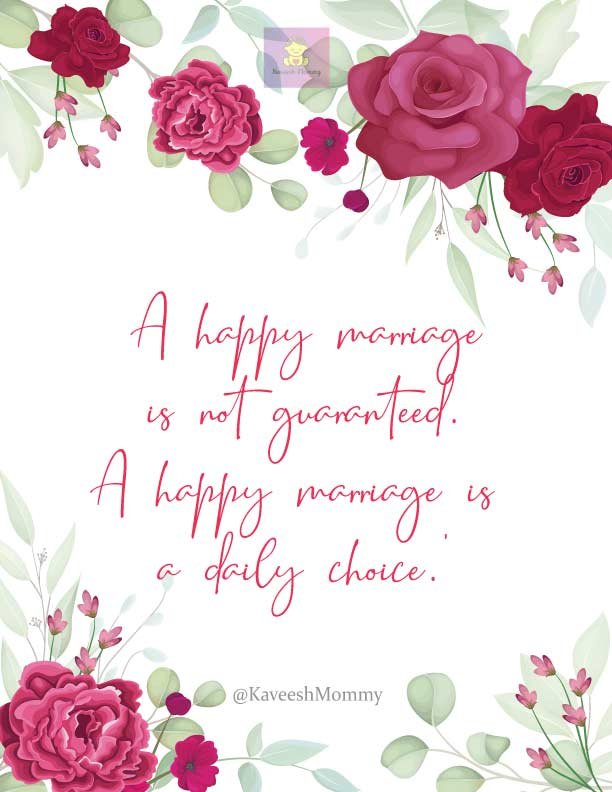 'A happy marriage is a selfless journey in which the happiness of another person is essential to your own.'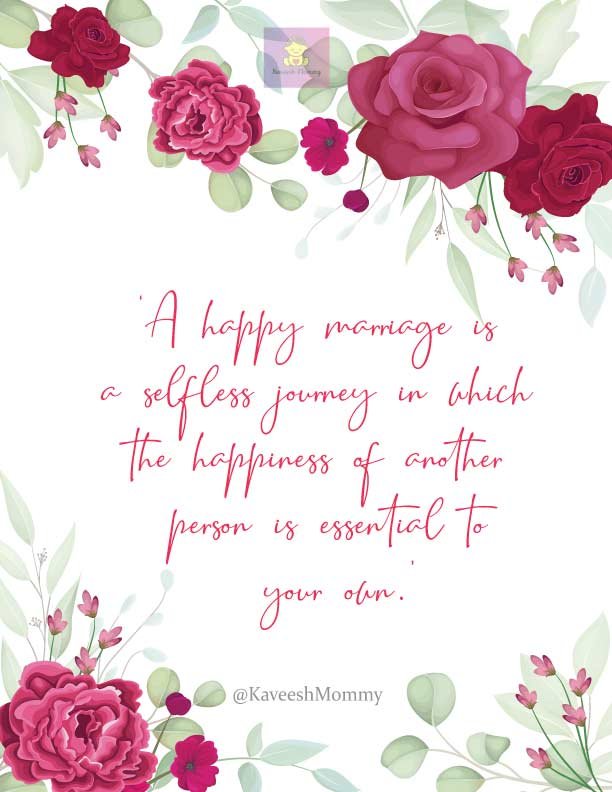 'A happy marriage is a long conversation which always seems too short.' – Andre Maurois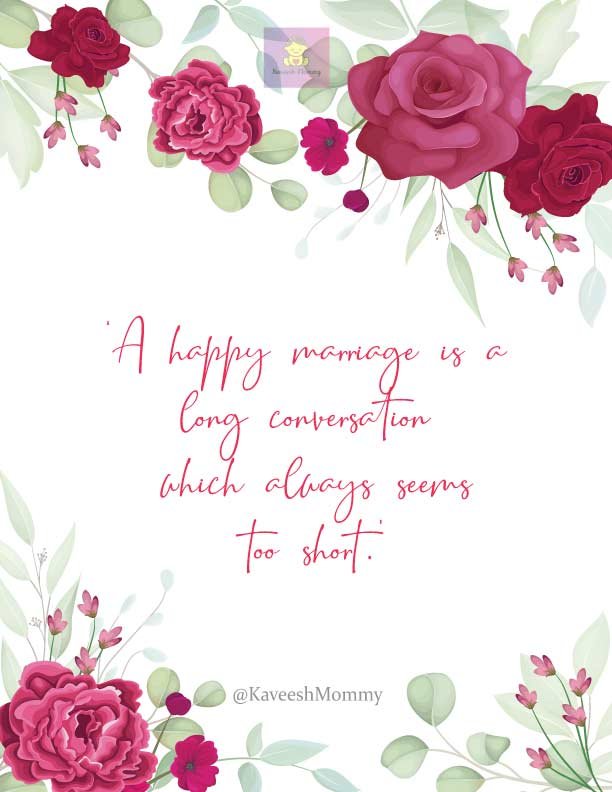 'Happy marriages look to the future not the past.' – Dale Partridge
"Marriage is a commitment- a decision to do, all through life, that which will express your love for one's spouse." – Herman H. Kieval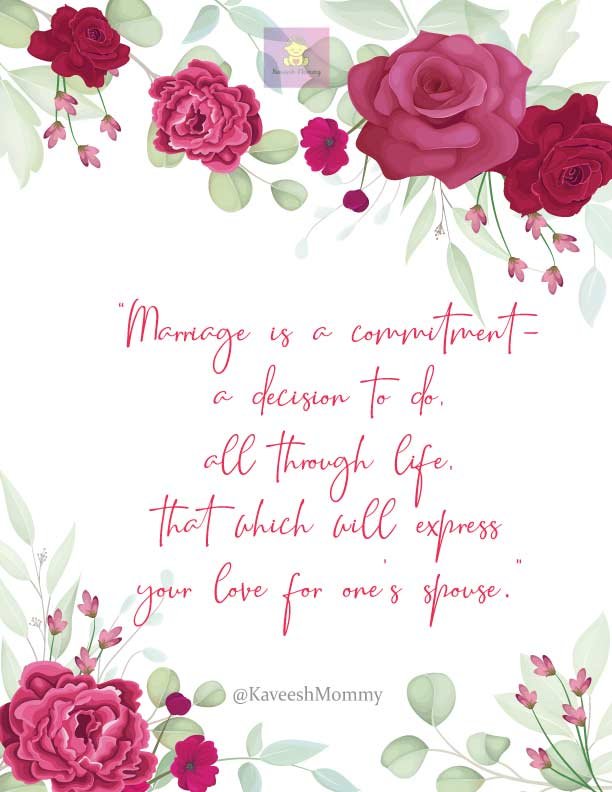 Love Marriage Quotes
What makes a happy marriage quote?
50+ Blessed Christian Wedding Anniversary Wishes (WITH IMAGES)
'The best thing to hold onto in life is each other.' – Audrey Hepburn
'It's amazing how one day someone walks into your life, and you cannot remember how you ever lived without them.'
'True love stands by each other's side on good days and stands closer on bad days.'
'A good marriage is one which allows for change and growth in the individuals and in the way they express their love.' – Pearl S Buck
'Being someone's first love may be great, but to be their last is beyond perfect.'
'Marriage is sharing life with your best friend, enjoying the journey along the way, and arriving at every destination together.' – Fawn Weaver
'Marriage is not about the wedding. It's about the years of growing together and as individuals and not giving up on one another.'
'The best and most beautiful things in the world cannot be seen or even touched, they must be felt with the heart.' – Helen Keller
'Marriages are like fingerprints; each one is different and each one is beautiful.'
Strong Marriage Quotes
50+ Religious Wedding Anniversary Wishes for Husband (WITH IMAGES)
'A strong marriage requires two people who choose to love each other even on those days when they struggle to like each other.' Dave Willis
'Sometimes, marriage is about picking up your spouse when they can't get up.' – Katie & Mike Sullivan
'A perfect marriage is just two imperfect people who refuse to give up on each other.'
'A strong marriage isn't two people being strong at the same time. It's two people taking turns at being strong for each other.'
'A perfectly happy marriage? There is no such thing. There are strong marriages that can survive problems, but happiness is such a brief condition, interrupted by difficulties and plain, boring routine.' – Ursula Hegi
'In marriage choose to honor your spouse, not because you are weak, but because you are strong.'
'Being deeply loved by someone gives you strength, while loving someone deeply gives you courage.' – Lao Tzu
Inspirational Marriage Quotes
These inspirational marriage quotes will remind you of why you're getting married (or why you got married).
'Couples who make it aren't the ones who never had a reason to get divorced; they are simply the ones who decided that their commitment to each other is always more important than their differences and flaws.'
'In every disagreement in marriage, remember this one important truth; my spouse is my partner, not my enemy. We will either win together or we'll lose together.'
'A good marriage isn't something you find, it's something you make, and have to keep on making it.'
'Stop saying that marriage is 'just a piece of paper'…So is money but you still get up every day and work hard for it.'
'No marriage is all sunshine, but two people can share one umbrella and the survive the storm together.'
Love And Marriage Quotes
How do you write a marriage caption?
These quotes highlight the love that holds a strong marriage together. And if you like these love and marriages quotes, make sure to check out our wedding quotes.
Read more: Wedding Anniversary Quotes & Messages (WITH IMAGES)
'Even on our bad days, I'm still glad that I married you.'
'Coming together is the beginning. Keeping together is the process. Working together is success.' – Henry Ford
'True love stories never have endings.' – Richard Bach
'Every love story is beautiful, but ours is my favorite.'
'Together is a beautiful place to be.'
'Together they built a life they loved.'
'A happy marriage is the union of two good forgivers.' – Ruth Graham
"A successful marriage requires falling in love many times, always with the same person." – Mignon McLaughlin
"A great marriage is not when the 'perfect couple' comes together. It is when an imperfect couple learns to enjoy their differences." – Dave Meurer
"A good marriage is one which allows for change and growth in the individuals and in the way they express their love." – Pearl S. Buck
Marriage Advice Quotes
Every couple is different, and so is their relationship. So there's no one-size-fits-all magic formula for a happily ever after. However, there are marriage advice quotes to a long-term, healthy marriage life and give you motivation.
'Always strive to give your spouse the very best of yourself: not what's left over after you have given your best to everyone else.' – Dave Willis
'Make your marriage your own. Don't look at other marriages and wish you had something else. Work to shape your marriage so that it is satisfying for both of you.'
'No matter how old you get, never stop holding hand, never stop dancing, and never stop saying 'I love you'.'
'Marriage does not have an opt in or opt out button depending on how good or bad things are. If you want a thriving relationship, you have to train yourself to say 'I still do' even when you feel like you don't. Marriage is for keeps.' – Ngina Otiende
'Wear your wedding ring. It's not just jewelry. It's a symbol that reminds the world that your are off-limits and it can also remind you to consider your spouse in every decision you make.' – Dave Willis
Choose to love each other even in those moments when you struggle to like each other. Love is a commitment, not just a feeling.
Make time together a priority. Budget for a consistent date night. Time is the "currency of relationships" so consistently invest time into your marriage. There are no shortcuts. Building a strong marriage takes time.
Make laughter the soundtrack of your marriage. Share moments of joy, and even in the hard times, find reasons to laugh.
In every argument, remember that there won't be a "winner" and a "loser." You are partners in everything so you'll either win together or lose together. Work together to find a solution.
Remember that marriage isn't 50-50, divorce is 50-50. Marriage has to be 100-100. It's not splitting everything in half, but both partners giving everything they've got!
Marriage Quotes In The Bible
There are several passages in the Bible to the sanctity and beauty of marriage.
Its beautiful love scriptures elegantly summarise what it means to be in love and to dedicate yourself to someone for the rest of your life.
These Bible passages on marriage are an excellent addition to your wedding vows, and they also make lovely readings to help make the ceremony even more memorable.
Consider utilising additional Bible verses about love that everyone may connect to for your reception toast, wedding programmes, or invites.
After all, there are several ways to love one another outside from marriage.
1. Genesis 1:27-28: "So God created man in his own image, in the image of God he created him; male and female he created them. And God blessed them. And God said to them, 'Be fruitful and multiply and fill the earth and subdue it and have dominion over the fish of the sea and over the birds of the heavens and over every living thing that moves on the earth.' "
2. Malachi 2:14-15: "But you say, 'Why does he not?' Because the LORD was witness between you and the wife of your youth, to whom you have been faithless, though she is your companion and your wife by covenant."
3. Isaiah 54:5: "For your Maker is your husband, the LORD of hosts is his name; and the Holy One of Israel is your Redeemer, the God of the whole earth he is called."
4. Song of Solomon 8:6-7: "Set me as a seal upon your heart, as a seal upon your arm, for love is strong as death, jealousy is fierce as the grave. Its flashes are flashes of fire, the very flame of the LORD. Many waters cannot quench love, neither can floods drown it. If a man offered for love all the wealth of his house, he would be utterly despised."
5. Ephesians 4:2-3: "With all humility and gentleness, with patience, bearing with one another in love, eager to maintain the unity of the Spirit in the bond of peace."
6. Colossians 3:14: "And over all these virtues put on love, which binds them all together in perfect unity."
7. Ecclesiastes 4:9: "Two are better than one, because they have a good return for their labor: If either of them falls down, one can help the other up. But pity anyone who falls and has no one to help them up. Also, if two lie down together, they will keep warm. But how can one keep warm alone?"
8. Ephesians 5:25: "For husbands, this means love your wives, just as Christ loved the church. He gave up his life for her."
9. Genesis 2:24: "Therefore a man shall leave his father and his mother and hold fast to his wife, and they shall become one flesh."
10. Ecclesiastes 4:12: "Though one may be overpowered, two can defend themselves. A cord of three strands is not quickly broken."
60+ Best Bible Verses For Wedding Anniversary (WITH IMAGES)
Read more: Bible Verses About Marriage
Final Thoughts
We've compiled a collection of the best happy marriage quotes of all time to celebrate the joys of marriage.
You'll love these joyful marriage quotes from literature, cinema, comedians, and celebrities, whether you're engaged, recently married, or have been married to the same person for decades.
In honour of marriages everywhere, we've put together a list of the best marriage quotes of all time.
So, whether you're looking for laughs, inspiring words, or the perfect sentiment for an anniversary card, read these wish you happy married life quotes. you'll find what you're looking for here.