It's your love anniversary again and you want some spiritual messages and prayers (bible verses for wedding anniversary) for your friends, family, and yourself.
Share any of the bible wedding anniversary quotes.
Send religious wedding anniversary wishes to help them feel closer to God. Biblical wedding anniversary wishes might make them feel more important than ever.
You can also send bible verses as anniversary wishes, or prayer messages on a wedding anniversary, or anything else that fits the occasion to make them feel special.
Make an effort to embrace God's love and optimism, and to spread joy.
We have also collected wedding wishes for everyone. You will love to use these anniversary messages in card.
From wedding anniversary quotes to wedding anniversary wishes, here are our favourite and funny ways to wish your partner or friends a very happy wedding anniversary!
Whether you're writing a wedding anniversary card for your partner or sending wedding anniversary messages to your parents, best friends, sister, wife, husband, sibling,
Wedding Anniversary prayers
everyone appreciates a handwritten note remembering the day they tied the knot and how far they've come as a couple since then.
LOVE WATCHING FATHERS DAY QUOTE VIDEOS?
Then check out these best Quotes for Father, Mother, Baby, Kids, Uncle and Family videos and other quote videos on our"Kaveesh Mommy" 
YouTube channel! you will also find Quotes Videos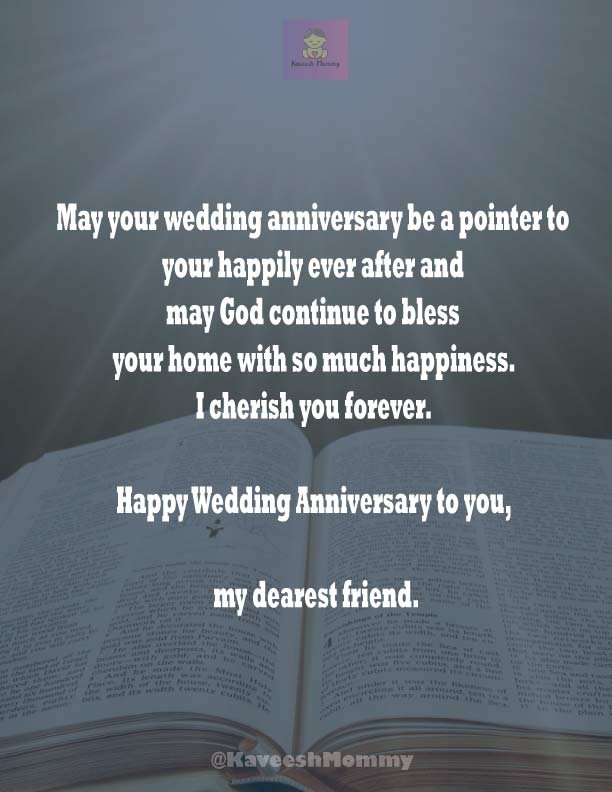 Bible Verse For Wedding Anniversary
What are God's promises for marriage?
When creating a poem, letter, or card for your partner, the Bible is a great place to start. Are you searching for some motivation to renew your vows?
The Bible contains many wonderful texts and verses that are ideal for a wedding anniversary. I encourage you to look through the Bible and discover a verse that relates to your marriage.
10 Bible Verses for a Wedding Anniversary
1. Rejoice
Marriage is a joyous occasion, and you should celebrate your anniversary accordingly. This romantic biblical passage celebrates the union of marriage and the intoxicating qualities of physical love and romance.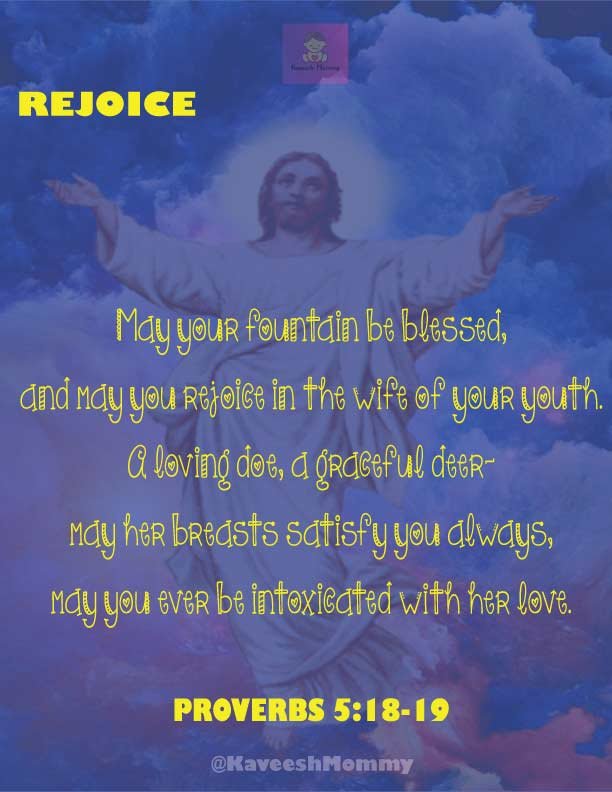 May your fountain be blessed,
and may you rejoice in the wife of your youth.
A loving doe, a graceful deer—
may her breasts satisfy you always,
may you ever be intoxicated with her love.
2. Gentleness and Patience
Marriage can be difficult, and anyone that's been in one for a while knows that patience is key. This Bible verse emphasizes the importance of humility and patience in maintaining a quality marriage—use it to tell your spouse how much you appreciate their efforts to do so.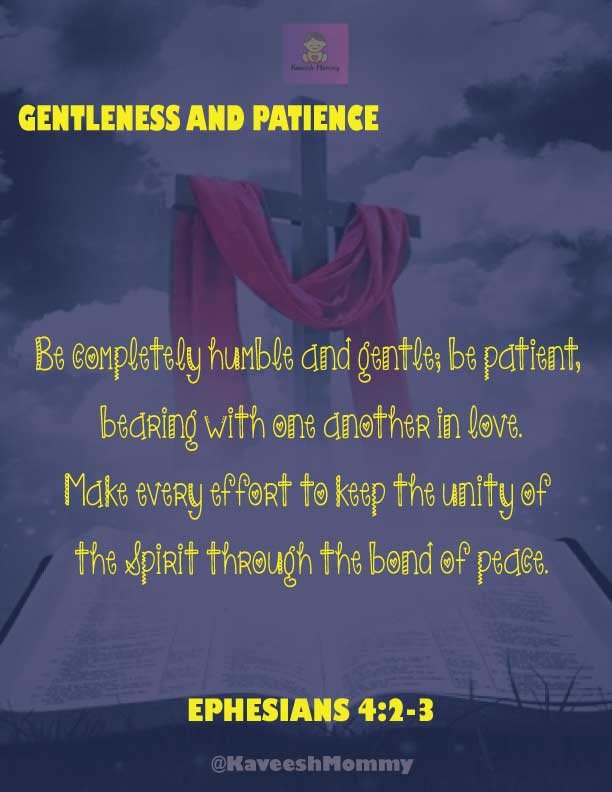 Be completely humble and gentle; be patient, bearing with one another in love.
Make every effort to keep the unity of the Spirit through the bond of peace.
3. Love
Love is, of course, one of the most essential qualities of a marriage. Use this quote to tell your partner how their love has eradicated the fear in your heart and opened you up to an amazing world of hope and possibilities.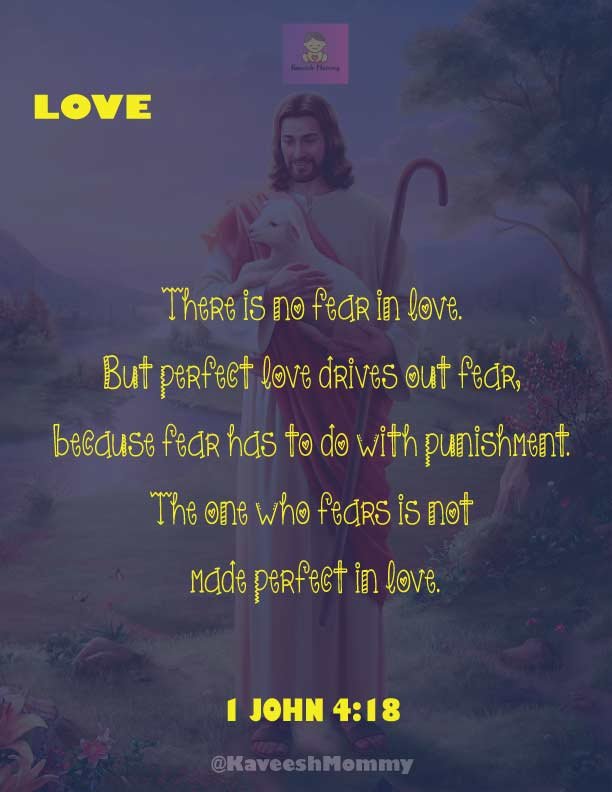 There is no fear in love. But perfect love drives out fear, because fear has to do with punishment. The one who fears is not made perfect in love.
4. Love Over Riches,
This passage illuminates the importance of love over material items and wealth. Use it if you want to show your spouse how much you care and how, despite years of marriage, the joy their love brings you will always eclipse that which is provided by material wealth.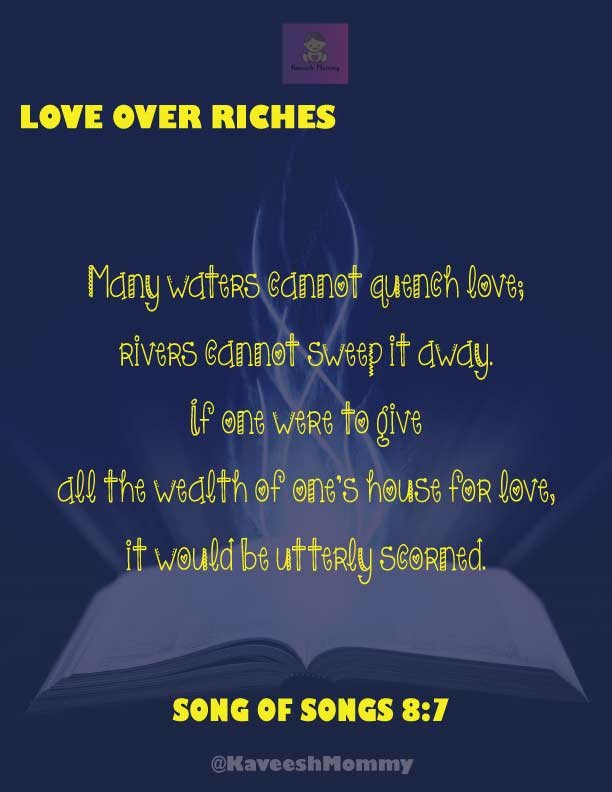 Many waters cannot quench love;
rivers cannot sweep it away.
If one were to give
all the wealth of one's house for love,
it would be utterly scorned.
5. Unity
Simply put, love is unity. Love obviates our differences and fuses our strengths together so that we can become one perfect unit as husband and wife. Use this passage to tell your significant other that love has bound you together in perfect unity.
And over all these virtues put on love, which binds them all together in perfect unity.
6. Love as God Loved Us
In this passage, John explains that we should love each other because God loves us and his given us the ability to love one another. Especially in marriage, love can be a challenge. Here, John reminds us that we must remember God's love for us and accept it into our hearts to love each other.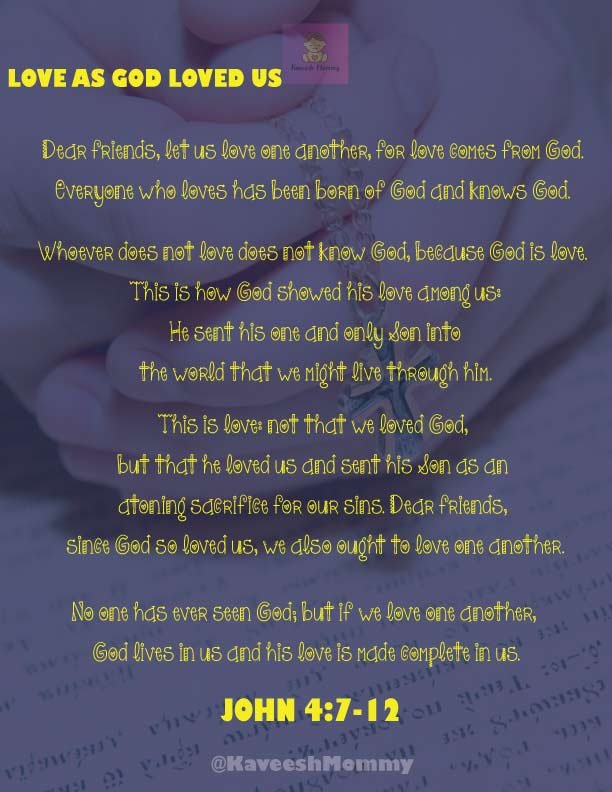 Dear friends, let us love one another, for love comes from God. Everyone who loves has been born of God and knows God. Whoever does not love does not know God, because God is love.
This is how God showed his love among us: He sent his one and only Son into the world that we might live through him.
This is love: not that we loved God, but that he loved us and sent his Son as an atoning sacrifice for our sins. Dear friends, since God so loved us, we also ought to love one another. 
No one has ever seen God; but if we love one another, God lives in us and his love is made complete in us.
7. Definition of Love
This is one of the most well-known Bible passages of all time. Use this romantic quote to tell your spouse just how much you love and appreciate them—use the all-time sweetest and most beautiful definition of love to describe your feelings for a romantic anniversary message.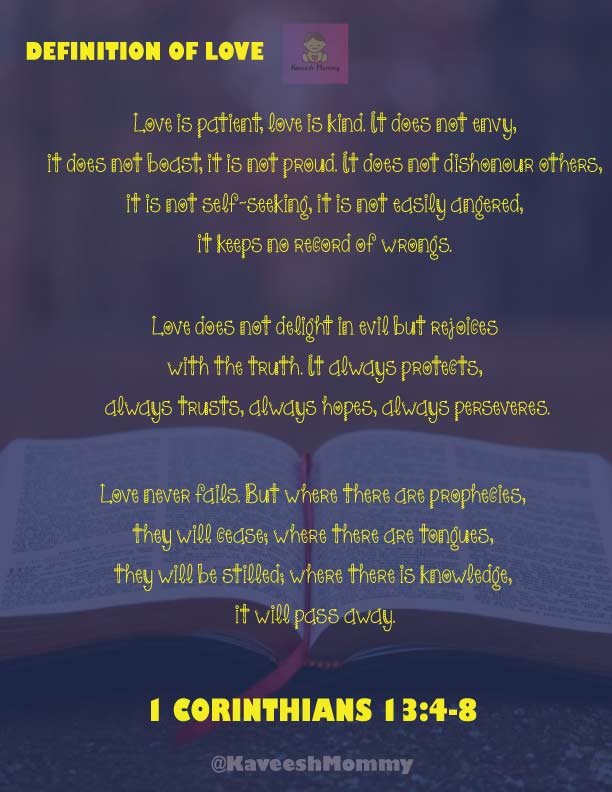 Love is patient, love is kind. It does not envy, it does not boast, it is not proud. It does not dishonour others, it is not self-seeking, it is not easily angered, it keeps no record of wrongs.
Love does not delight in evil but rejoices with the truth. It always protects, always trusts, always hopes, always perseveres.
Love never fails. But where there are prophecies, they will cease; where there are tongues, they will be stilled; where there is knowledge, it will pass away.
8. Two Are Better Than One
This sweet passage can be used to illustrate how much your husband or wife means to you. If you can't imagine living without them and want to let them know that you'll always be there for them, this is the quote to use.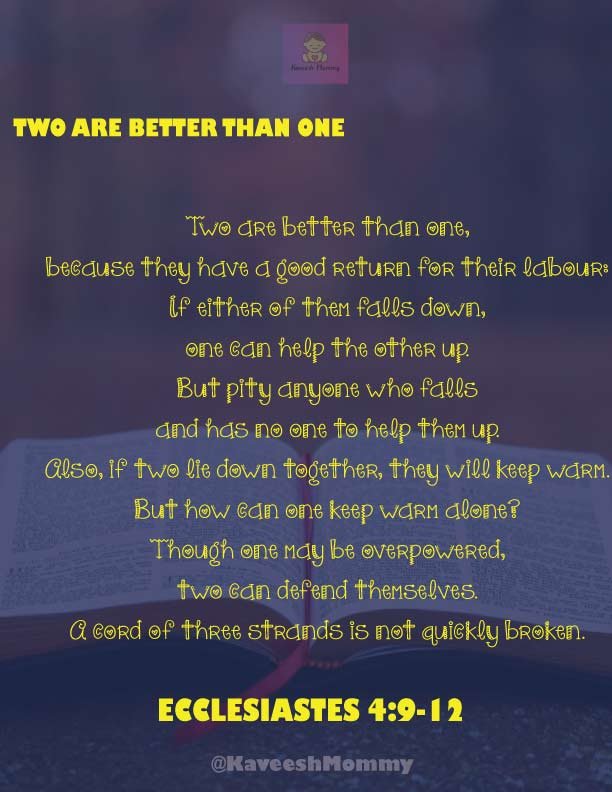 Two are better than one,
because they have a good return for their labour:
If either of them falls down,

one can help the other up.
But pity anyone who falls
and has no one to help them up.

Also, if two lie down together, they will keep warm.
But how can one keep warm alone?
Though one may be overpowered,

two can defend themselves.
A cord of three strands is not quickly broken.
9. A Wife Is a Good Thing
This passage can be used to tell your wife how grateful you are to have found her and received favour from the Lord. Or, you can pen it in an anniversary card or letter to your husband to remind him just how lucky he is to have found you.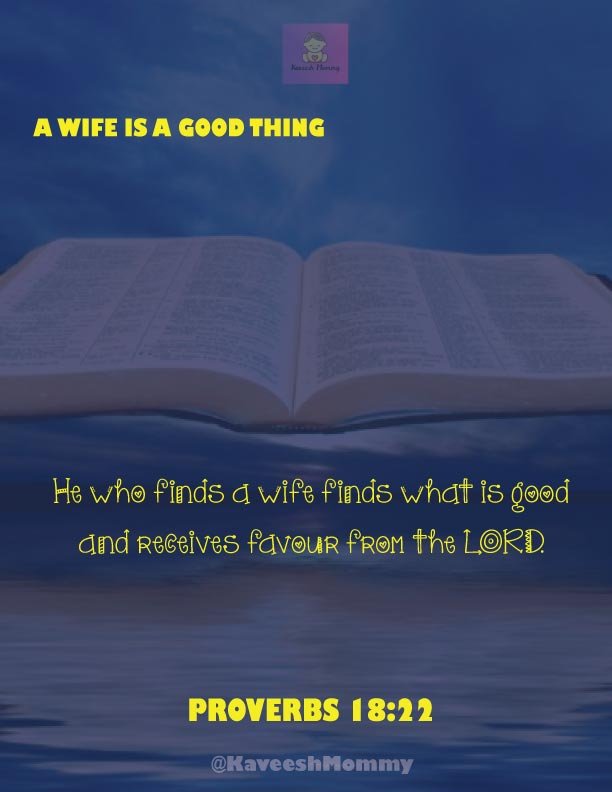 He who finds a wife finds what is good
and receives favour from the LORD.
10. Loving One Another
Here, John says we must love each other. Use this passage to show that you're willing to make the ultimate sacrifice for your spouse because you love and appreciate them with all your heart.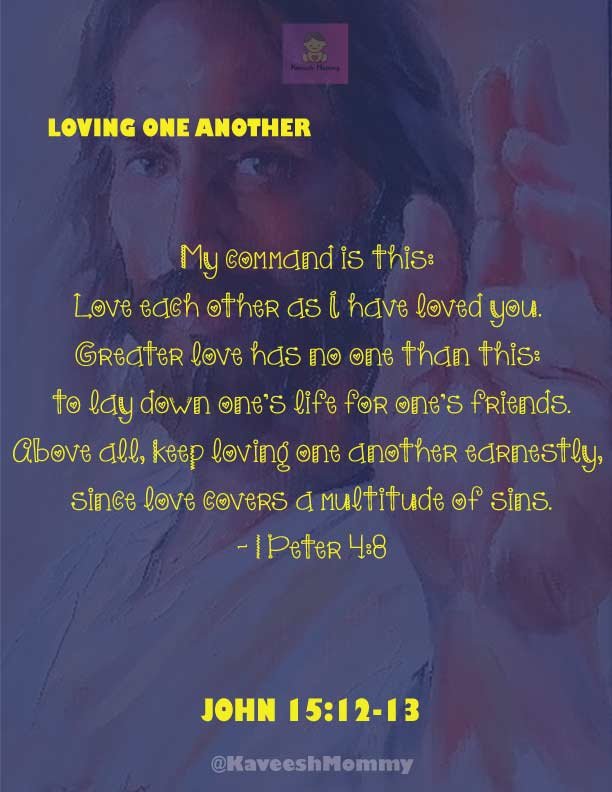 My command is this: Love each other as I have loved you. Greater love has no one than this: to lay down one's life for one's friends.
Above all, keep loving one another earnestly, since love covers a multitude of sins.
— 1 Peter 4:8
How do you pray for someone on their wedding anniversary?
As a family member, friend or loved one, the best thing to do for the couple on wedding anniversary is to say a simple prayer for God to bless and always flourish their marriage.
Look through our list of wedding anniversary prayers. You will definitely find a nice prayer to send to your loved one that is celebrating their wedding anniversary.
May your wedding anniversary be a pointer to your happily ever after and may God continue to bless your home with so much happiness. I cherish you forever. Happy Wedding Anniversary to you, my dearest friend.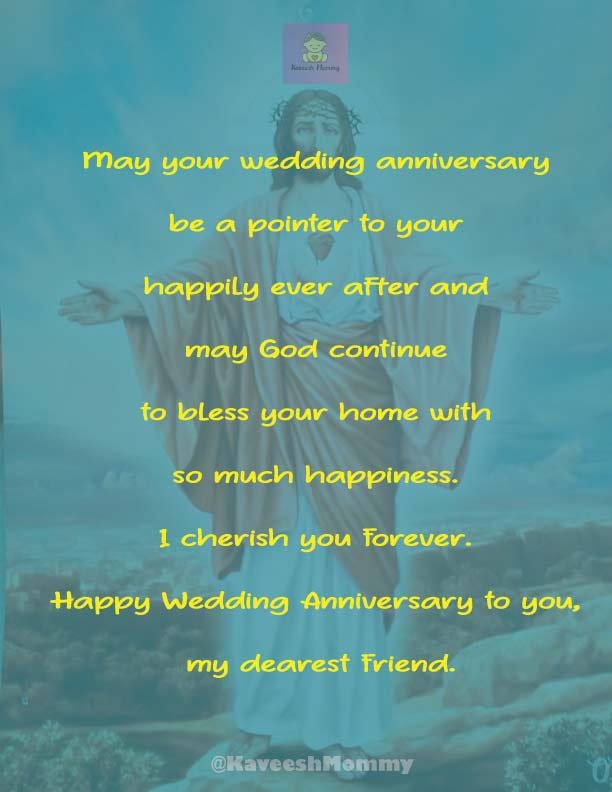 On this beautiful day of yours, I wish you the very best as you begin another joyous year together and may God continue to bless you both with long life and peace. Happy Wedding Anniversary, my good friend.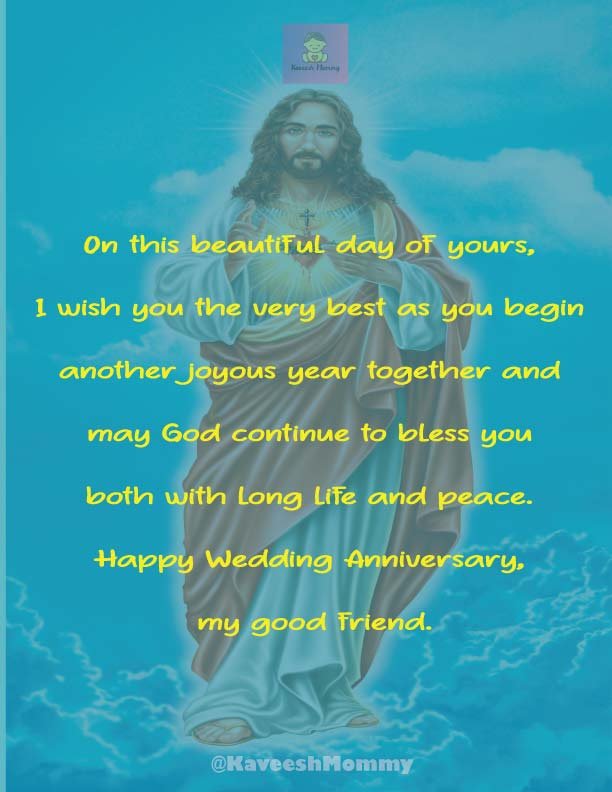 May the beautiful love you both share never end and may God continue to keep you both in good health of mind and body. Happy Wedding Anniversary to you, my lovely friend.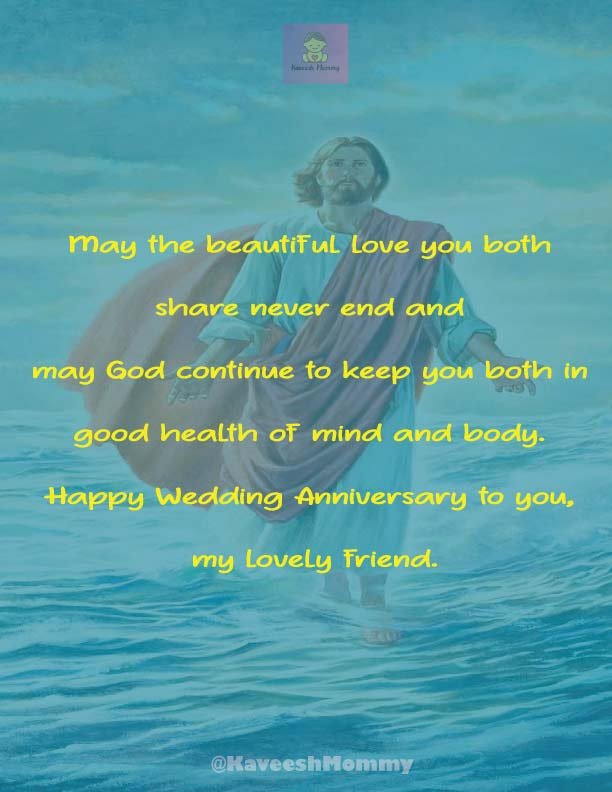 Here's wishing you a wonderful and joyous wedding anniversary and may the Almighty God continue to bless you and every member of your family. Happy Wedding Anniversary, buddy.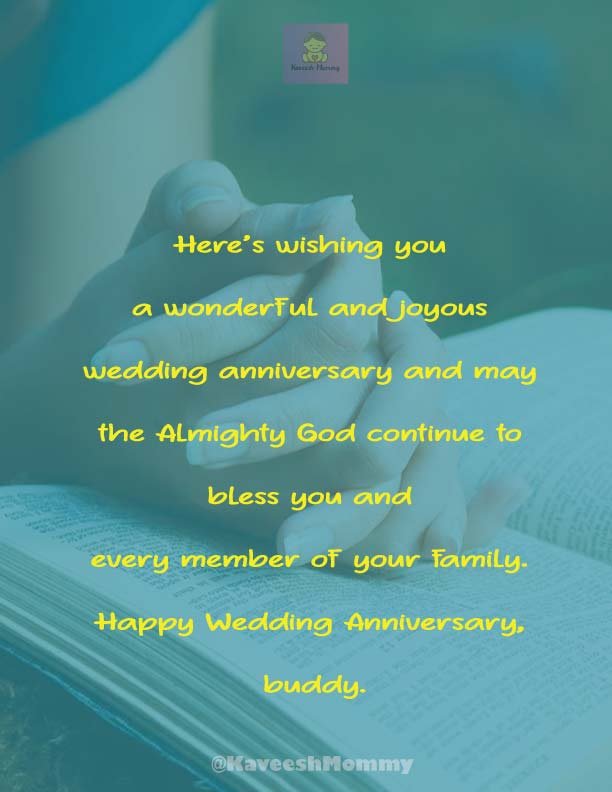 Happy Wedding Anniversary to you, my beautiful friend. May God bless you both with many more years of unending love and bliss. I love you more than you know.
Cheers to many more marital bliss, joy, love and peace. May God continue to keep you and bless you both abundantly. Happy Wedding Anniversary, my beautiful friend.
May God's love continues to be the foundation of your home and I wish you have a wonderful wedding anniversary today and always. Happy Wedding Anniversary to you, my best friend.
May the radiance of your love for each other continue to shine brighter and brighter. I cherish you forever. Happy Wedding Anniversary, my wonderful friend.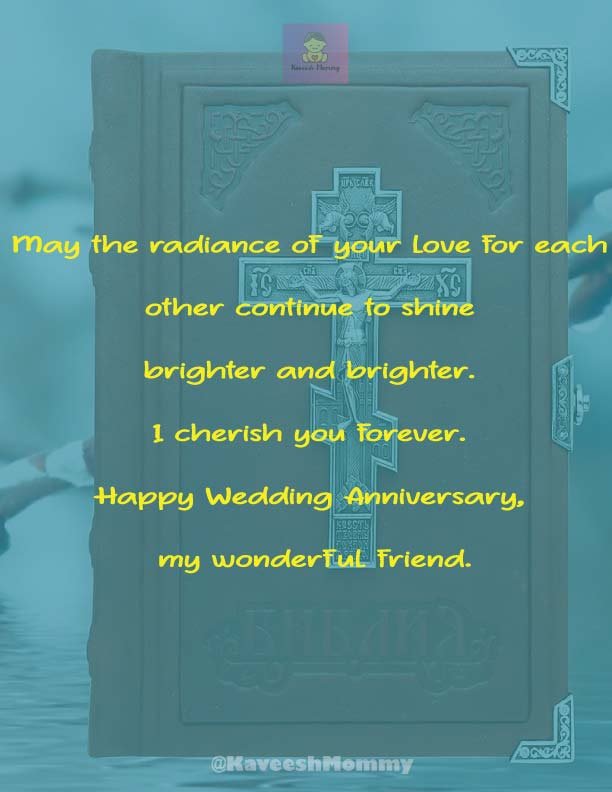 Your marriage is a true example of how married couples should live together and on this special day, I wish you both all the best things in life. Happy Wedding Anniversary to you, my good friend.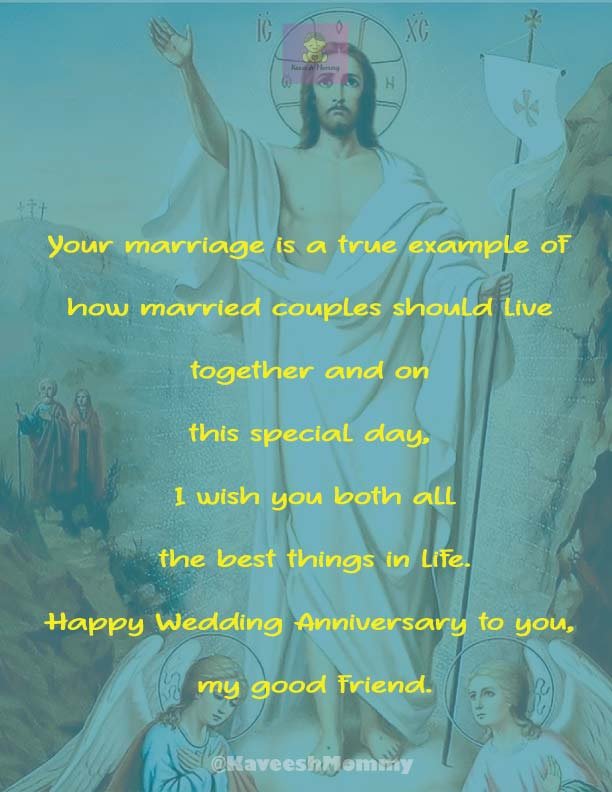 As you celebrate another wedding anniversary today, may you continue to cherish and love each other more than ever before. Happy Wedding Anniversary!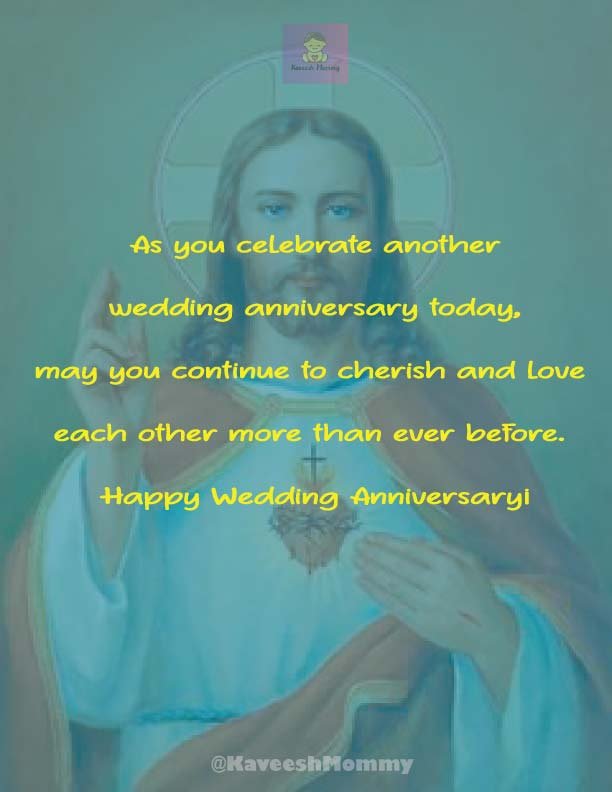 May God continue to bless your home with so much happiness and great tidings. I wish you many more years of marital bliss. Happy Wedding Anniversary, my charming brother.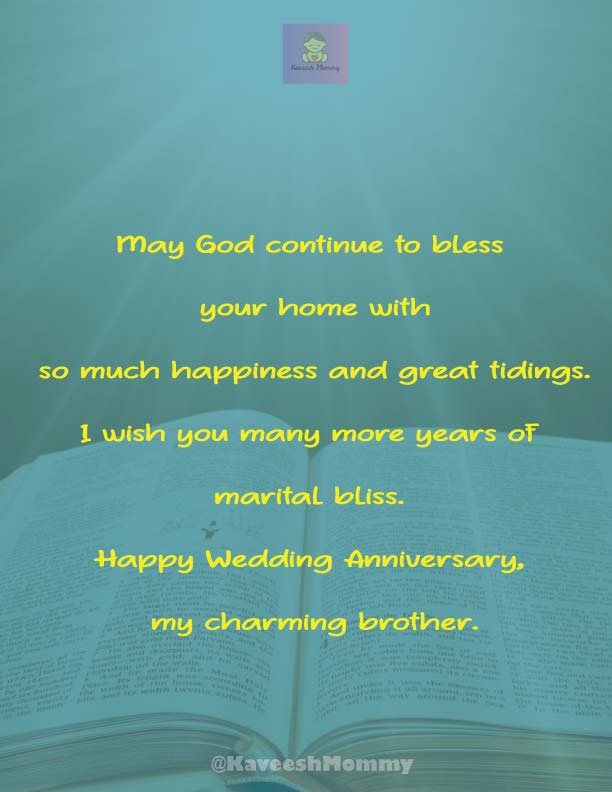 Wedding Anniversary Wishes Biblical
"Therefore, what God has joined together, let no one separate." – Mark 10:9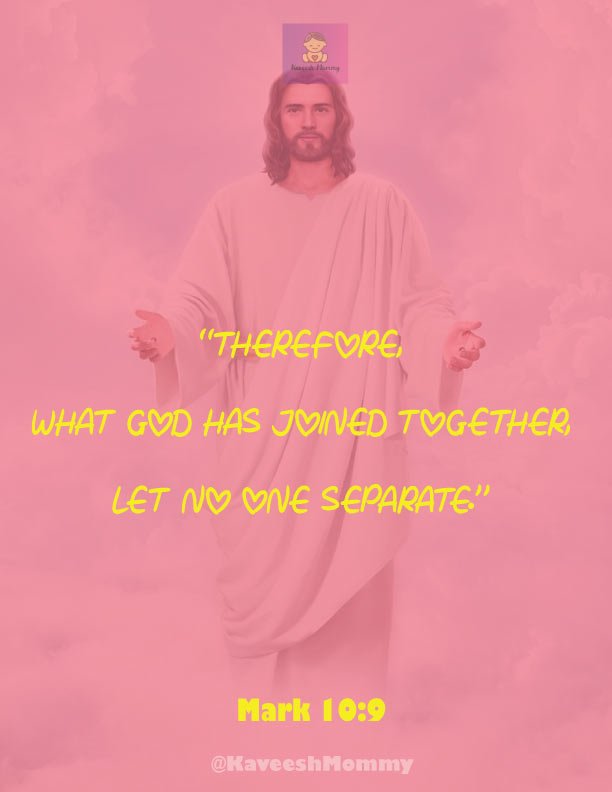 "Above all, keep loving one another earnestly, since love covers a multitude of sins." – 1 Peter 4:8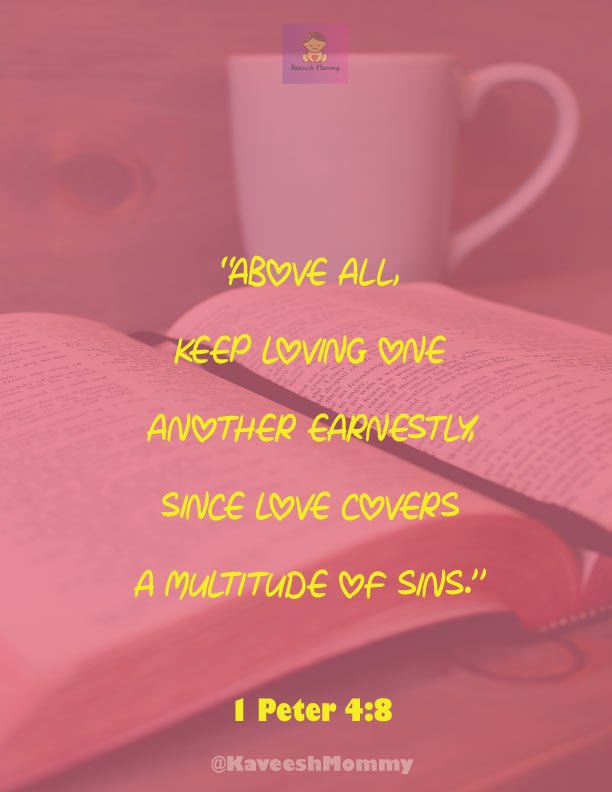 "Therefore encourage one another and build each other up, just as in fact you are doing." – 1Thessalonians 5:11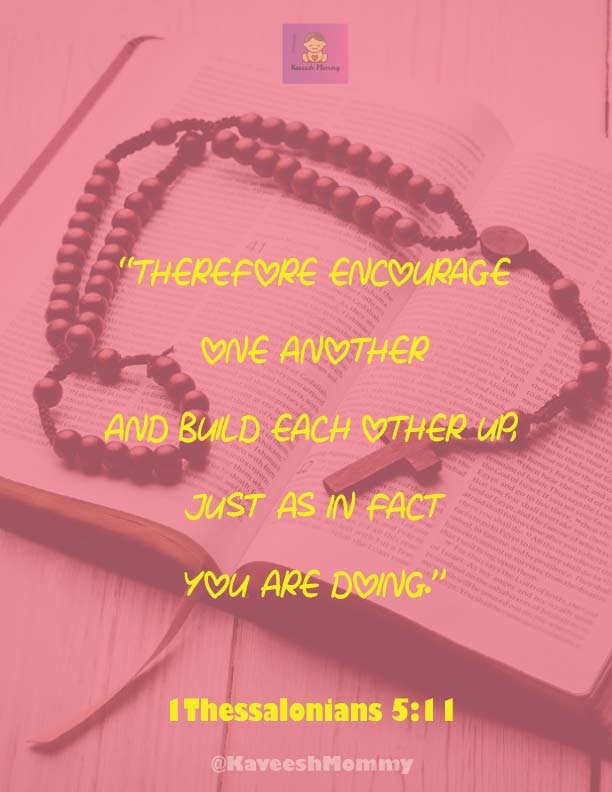 "For husbands, this means love your wives, just as Christ loved the church. He gave up his life for her." – Ephesians 5:25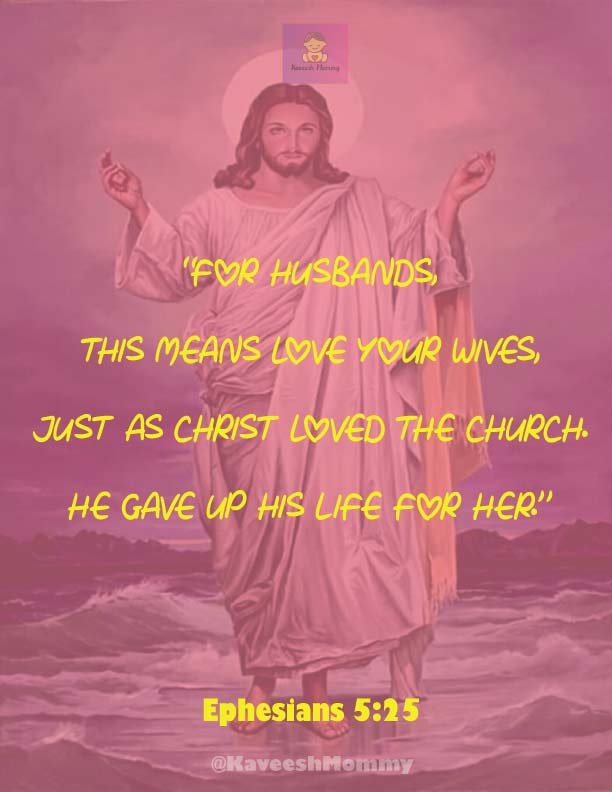 "With all humility and gentleness, with patience, bearing with one another in love, eager to maintain the unity of the Spirit in the bond of peace." – Ephesians 4:2-3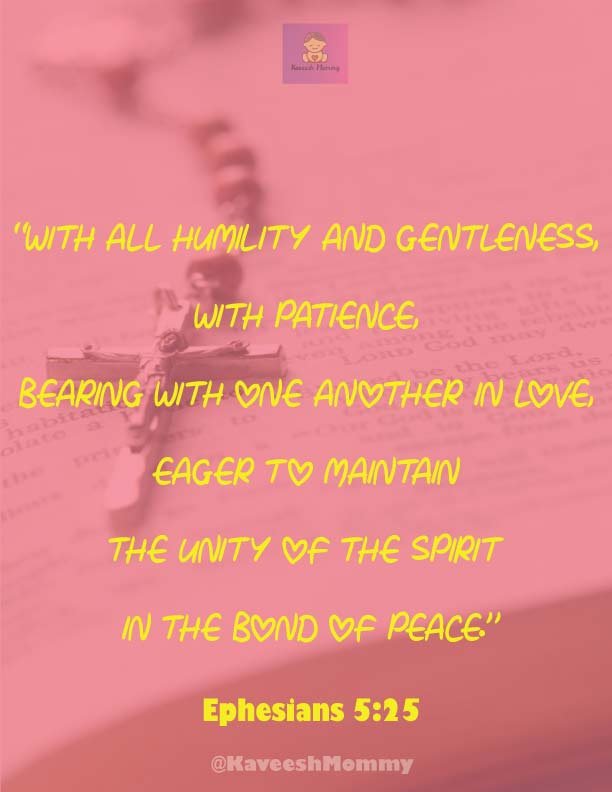 "And over all these virtues put on love, which binds them all together in perfect unity." – Colossians 3:14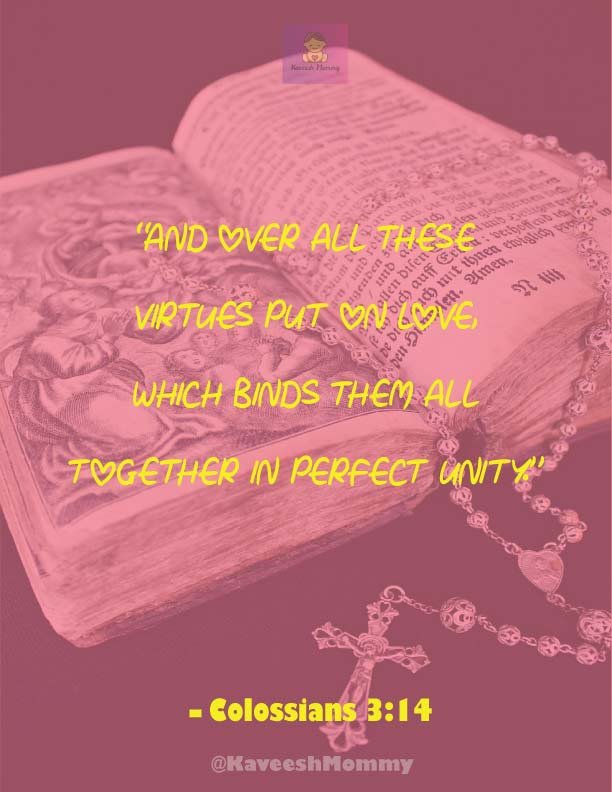 "However, each one of you also must love his wife as he loves himself, and the wife must respect her husband." – Ephesians 5:33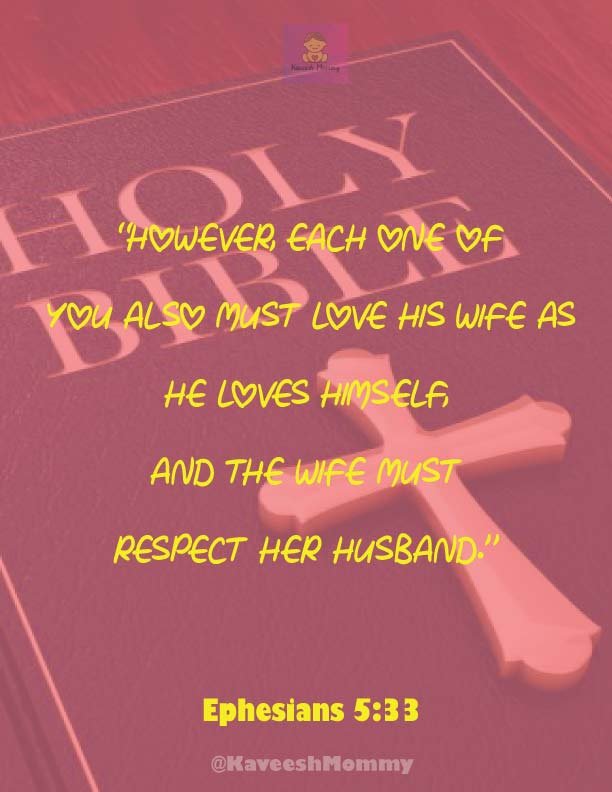 "Owe no one anything, except to love each other, for the one who loves another has fulfilled the law." – Romans 13:8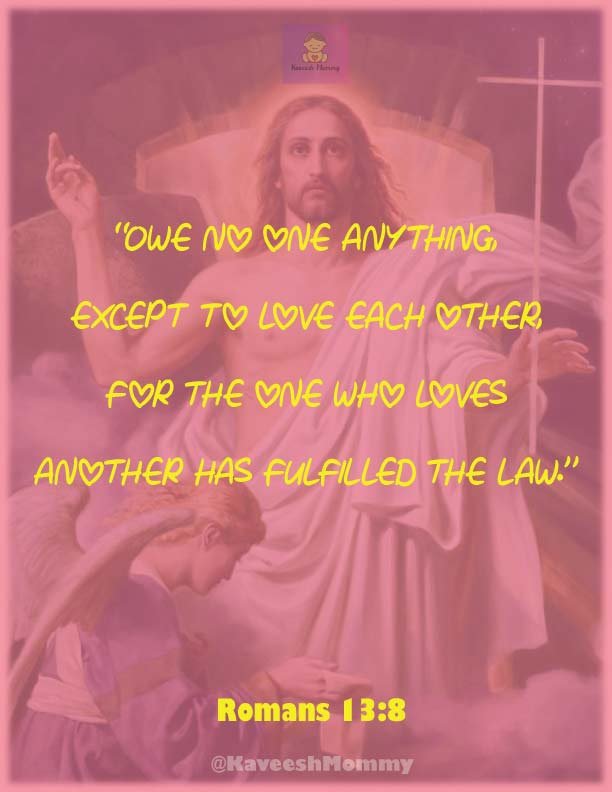 "Be devoted to one another in love. Honora one another above yourselves." – Romans 12:10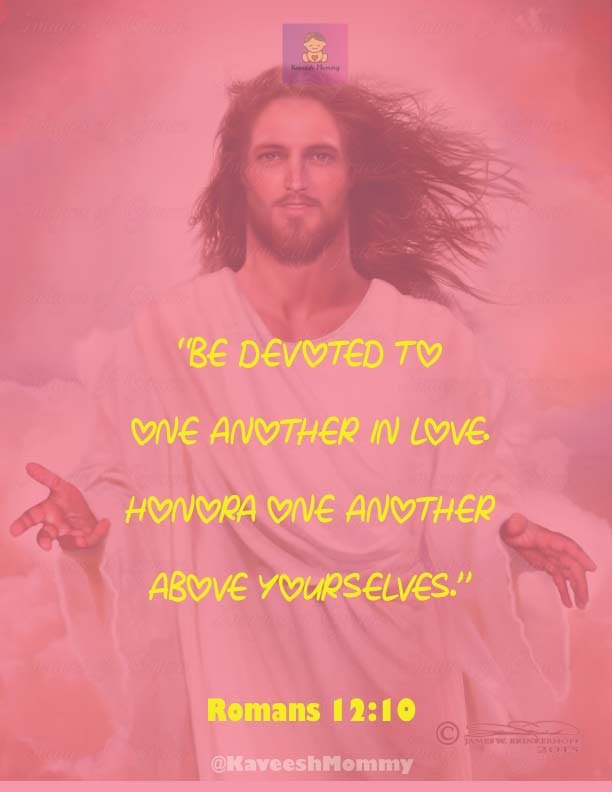 "Let love and faithfulness never leave you; bind them around your neck, write them on the tablet of your heart. Then you will win favour and a good name in the sight of God and man." – Proverbs 3:3-4
I took all passages from the New International Version (NIV) of the Bible.
Thank You, Message, To God For Our Wedding Anniversary
How do you thank God for anniversary?
God has blessed us with life. We should direct all of your praises to the Creator. Thank the Lord for all of His blessings and express you thanks to Him.
You are the Lord's servant, and you should keep that in mind at all times. When you're in need, turn to your Lord; thank him even when you're pleased.
Thank him for pouring great wisdom and joy upon you. Here are some Thank You Messages to God on Anniversary. Take God as your friend, and you will have a beautiful life.
Get all "Bible Verses For Wedding Anniversary," Images from Pinterest Page
Dear Father, you are worthy of our praise. Thank You for the privilege and gift of marriage you have so graciously bestowed upon us, as well as for the joy that comes from sharing our life together. We thank You Father, for bringing us to this anniversary day, where we remember the vows that we made before you, and the amount of love we have for each other.
Lord, we pray that Your light would increasingly shine through our marriage. We wish to grow closer to you. In these tough times especially, everyone needs Your light. Therefore, may Your light may be reflected in our fellowship with each other and our community. 
God, thank you so much for Your sacrifices and Your love for us throughout these years. Our marriage would not have been like it is now if it wasn't for Your grace and power. That is why we have worked to glorify Your name. On this religious anniversary, we hope that we have satisfied You through our work, and we surely hope to be able to keep on going.
We would kindly ask you to continue being a huge part of our lives, for You have been our anchor and light post in difficult times. In Your Holy name, we pray. Amen.
Lord Jesus, thank you for uniting us together as husband and wife many moons ago. Thank you for giving us love on a daily basis. We are thankful that we get to celebrate a memorable anniversary this year, and we know what we owe you. 
Thank you, God, for making me lucky to have such a great companion in my life. I can never finish listing all the reasons why I should be grateful to you. Keep blessing my family, dear Lord.
Thank you, God, for blessing me with such an amazing partner who brings me closer. Thank you for making a dream come true. We are grateful for everything.
May the God who has kept you together for these number of years, of his infinite goodness and mercy continue to keep you together and bless your union. I pray that the Father who created you, Christ the son who redeemed you, and the Holy Spirit who sanctifies you daily, keep and preserve you all your days. May the Lord look upon you with favour and fill you with every spiritual benediction and grace. So that you will be able to please him in this life and that you may have life everlasting in the world to
Oh Lord help us to remember how and when we met for the first time and the strong love and bond that we shared. Help us to channel our love into practical things so that nothing can come between us. We pray that we always have kind and loving words for one another. And for our hearts to always be ready to ask for forgiveness and also to forgive. Dear Lord, we commit our marriage into your hands. Amen. Read
Heavenly Father, we bless your Name for all the blessings we have enjoyed in this marriage. We say thank you from the bottom of our heart for helping us reach another anniversary. We bless you for helping us deepen our love and for helping us to overcome the period of trials. Without a doubt, we know that without your daily assistance, we would never have remained as close as we are this day. We pray to you Lord, to continue to watch over this union, over our family and over our home. Help us to renew our vows of loyalty and love. Help us to strive to remain united as one in you and with you, and to remain steadfast in our faith and service to you. Amen.
Final thought
Bible Verses for Wedding Anniversary can be a great way to express god blessing, as well as a great opportunity to renew your promises and develop your intellectual writing skills.
Anniversaries are the milestones of a happy married life and the perfect occasions for bringing out the photo album from the shelf and going through it.
This blessed wedding anniversary bible verses may be used in a variety of ways, including texts, cards, letters, emails, presents and notes, social media postings, and other places.
Share God's blessings to the sacred couple in the form of words.
Make wedding anniversary day by not only giving gifts and throwing a grand party but also by sending God saying or blessing.
Latest posts by Nancy Williams
(see all)